November 14, 2011
New Journal Focuses on Emerging Writing and Artists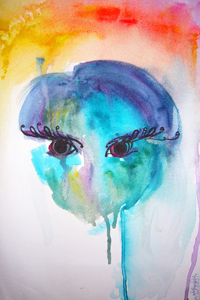 A lack of publishing opportunities frustrated two friends.
Up-and-coming writers have few opportunities, so Marci Calabretta (HS'11) and Inès Pujos (HS'12) decided to do something about it. The creative writing majors launched their own literary journal.
"We always talked about wanting to start a journal because there are not enough national-based journals out there designed to discover new talent," Pujos said. "New writers — especially undergrad and graduate students — need chances to be published."
Thanks to the Department of English's Charles C. Dawe Memorial Award, an annual $2,000 grant to encourage innovation in publishing, Pujos and Calabretta were able to start "Print-Oriented Bastards."
For the inaugural edition, Pujos and Calabretta relied mostly on social networking to elicit submissions. It worked — by posting to their Facebook accounts and starting a blog, they received roughly 100 submissions. The issue features 18 literary and art pieces by 13 authors and artists from California to Kuwait.
"It's not just text," Pujos said. "It's art, too. There's a little bit of everything - all different genres, but the works are all punchy."
Calabretta agreed and added, "The pieces are all polished but at the same time sharp, distinctive and pretty evocative."
Two hundred copies of the first edition were printed and sent to creative writing programs across the country to encourage submissions for the next issue.
"We don't want the journal to be affiliated with a particular university, class or artist," Calabretta said.
Another part of Pujos and Calabretta's goal is to build an emerging writers' community. Having their writers spread out across the world presents a challenge, but they plan to use technology to make it happen.
"After each issue is out, we'd like to invite an author to come speak or ask all of the authors to submit videos of them reading their work," Pujos said. "Right now, there are few networks for young writers, and it will be good to have a solid community."
For more information on "Print-Oriented Bastards," including how to receive a copy of the first edition and instructions on how to submit work, visit
http://printorientedbastards.wordpress.com/
.
Work in the premiere edition of the new journal includes pieces from authors and artists from California to Kuwait. Among the artwork is a piece by CMU professional writing graduate student Mariluz Orbay-Cerrato, titled "Ninfa."