November 14, 2011
Trustee Opens Innovators Forum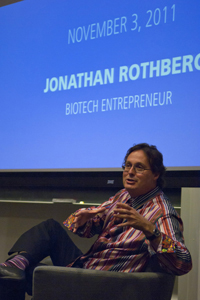 Jonathan Rothberg (E '85) has innovation on his mind.
Earlier this month, Rothberg returned to Carnegie Mellon as the first guest of The Innovators Forum, an exciting new series connecting the world's top innovative minds with the university community. Led by Provost and Executive Vice President Mark Kamlet, the conversation with Rothberg spanned topics ranging from his entrepreneurial roots to his innovative work in biotechnology and the "computer programming language of life."
In the last 20 years, Rothberg has founded several companies that sequence DNA and stand to reshape the fields of medicine, agriculture, nanotechnology and alternative fuels. His latest, Ion Torrent, combines genetic biology with integrated chip technology. His Personal Genome Machine — named by Science magazine as one of the top 10 breakthroughs of 2008 — is leading to revolutionary discoveries that could one day allow doctors to provide medications personalized to each individual's unique genomic make-up.
Rothberg noted that while he has followed in the entrepreneurial footsteps of his father, a chemical engineer who founded Laticrete, it was CMU's interdisciplinary mix that really set him apart.
"I came to Carnegie Mellon, and while I studied chemical engineering, I loved computer science, the cognitive psychology that was going on at the time, and biomedical engineering. So, it was both in my DNA, and then, at Carnegie Mellon, I first started to think about DNA sequencing."
His student days are over, but Rothberg, a member of CMU's Board of Trustees as a life trustee, is still making his mark on the university. This past summer he established and awarded seven Rothberg Research Awards in Human Brain Imaging to allow CMU faculty, post-doctoral researchers and students to push research to further investigate how the brain thinks, learns and ages. He is currently working with Michael Tarr, co-director of the Center for the Neural Basis of Cognition, and Nathan Urban, head of the Department of Biological Sciences, to bring a conference on imaging to campus early next year.
He also fuels innovative minds through caffeine at Rothberg's Roasters, a coffee corner named for him, in the Maggie Murph Café.
Future editions of The Innovators Forum will continue to host "big thinkers" such as Rothberg. The series is supported by Greenlighting Startups, an initiative that highlights the network of campus resources designed to foster the organic growth of company creation at CMU.
Jonathan Rothberg (E'85) said he first started to think about DNA sequencing as a student at CMU. Read more about Rothberg in the January 2012 issue of Carnegie Mellon Today.