November 14, 2011
CMU-Australia Strengthens Educational Ties With Vietnam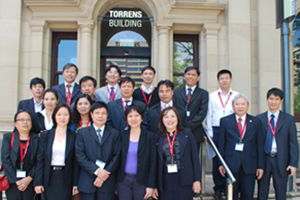 Carnegie Mellon-Australia is strengthening ties with Vietnam through a new short course program.
The Adelaide-based campus held a 10-day short course in October on Human Capital Management in IT & Communications for 18 delegates from the Vietnamese Government's Ministry of Information and Communication.
The delegates were taking the course as part of Vietnam's Program 165 — a scholarship program funded by the Central Vietnamese Government, and administered by the Central Committee of the Communist Party of Vietnam, to train government leaders and managers abroad.
The course was led by Terry Buss, Carnegie Mellon-Australia's executive director and distinguished professor of public policy.
"The course included presentations from a number of experts in human capital management, IT and communications from Australia and overseas," Buss said.
"Topics included workforce planning, talent management, organizational theory and practice, leadership development, strategic human capital management and government ethics, to name a few," he said.
"This is the second time Carnegie Mellon University-Australia has delivered a short course to delegates from the Vietnamese Government and we look forward to further collaboration in the future."
Uyen Bui Nhu, director general of the Department of Personnel and Organization of the Ministry of Information and Communication, who headed the delegation, said the course content was thorough and relevant to the ministry.
"The lecturers were both professional and enthusiastic with not only a good command of knowledge, but also practical experience," he said.  
Delegates also undertook study with officials from the South Australian Government, including: Chief Information Officer Andrew Mills; Deputy Chief Executive of the Department of Further Education, Employment, Science and Technology Craig Fowler; and Warren McCann, commissioner for Public Sector Employment from the Office for Ethical Standards & Professional Integrity in the Department of the Premier and Cabinet.
They also attended a number of external activities during their stay, including a tour of Parliament House, Victor Harbor and the Adelaide Hills wine region, and attended a farewell dinner hosted by the education organization Study Adelaide, with special guests Lieutenant Governor Hieu Van Le, The Honorable Michael Atkinson, and the University of Adelaide's Pro Vice Chancellor (International) Professor John Taplin.
Carnegie Mellon-Australia Vietnamese alumna Dao Thi Thuy, who graduated from the Master of Science in Public Policy and Management program in August 2010, also attended the short course as the delegates' translator.
Eighteen delegates from the Vietnamese government recently visited CMU-Australia for a course on human capital management in IT and communications.