November 14, 2011
Alumni Achievers
Clever Clevenger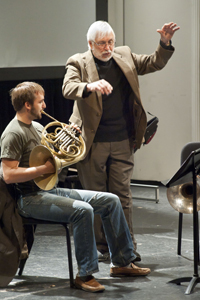 Dale Clevenger calls the French horn a "catalyst, protagonist and a culprit" for launching his lifelong love of music. As a child, he said "I saw it from a long ways away. I liked the way it looked and sounded, and it was magical."
Clevenger, principal horn of the Chicago Symphony Orchestra since 1966, received an Alumni Distinguished Achievement Award during this year's Cèilidh Weekend.
During a lecture Clevenger said that art pays dividends for those who participate in it.
"The world wants to see baseball and football more than an opera, but a symphony concert can change lives," he said.
"Spiderman" Returns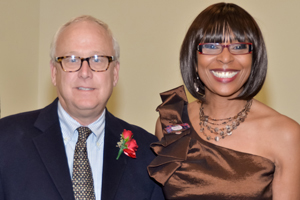 Alumni Achievement Award winner Neil Spisak (A'78) (left) and Alumni Board President Beverly Wheeler pose for a snapshot at the Alumni Awards reception during Cèilidh Weekend.
Spisak, a top Hollywood production designer, has created stunning visuals for blockbusters such as the "Spider-Man" trilogy, the Al Pacino/Robert DeNiro thriller "Heat" and the John Travolta/Nicolas Cage action film "Face/Off." Spisak has returned to Carnegie Mellon's Pittsburgh campus to conduct workshops and portfolio reviews for students.
In Los Angeles, he has helped students to become familiar with the entertainment industry, hired several Carnegie Mellon alumni and hosted fundraising events for the School of Drama.
Spisak and Clevenger were two of 16 alumni and students to be honored for achievement and service.