May 02, 2011
Rooms With a View
Student Lounges Connect Pittsburgh and Doha
Opportunity used to knock on doors, but today it is just a click away.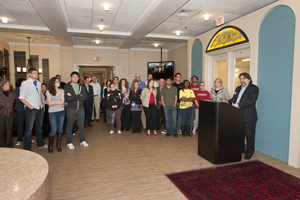 The new student lounge at Carnegie Mellon's Pittsburgh campus, currently referred to as the "Doha Room," connects students to Carnegie Mellon Qatar through a continuous video conferencing link. The room, located next to Resnik Café, will be open from 7:30 a.m. – 2:30 a.m., Monday through Friday. The sister space in Doha, tentatively referred to as the "Pittsburgh Room," connects students to the university's main campus.
The rooms were created to promote awareness and communication.
"I came up with the idea of a Qatar room on campus that would allow members of the Carnegie Mellon Pittsburgh community to gain a glimpse of what life and work at CMU-Q is all about," said Kim Abel, director of Housing and Dining Services.
Abel said she created the idea for the room after hearing stories from students in the Initiating Meaningful Pittsburgh and Qatar Ties (IMPAQT) program. The program was founded in fall 2008 to exchange students between the campuses during spring break. These students travel to develop strategies and initiatives to build relationships between the two campuses and enhance student experiences.
Renee Camerlengo, assistant dean of Student Affairs, said both sides are working on building a library of videos and images to run when no live material is available. The Doha campus will receive recordings from events during Spring Carnival, such as a video of this year's Buggy Races.
"We don't have the technical capacity right now to put the webcam up live from Midway on their screen. One of my ambitions is to get us to that point," Camerlengo said.
While the Doha campus does not have an annual Spring Carnival they celebrated "International Day" on April 12. The festival showcased the diverse cultures of the region through clothing, talent shows and dance performances. The event was streamed live during the Doha Room's opening ceremony and is available for replaying.
In addition, students have been talking about collaborative meetings for groups that have a presence on both campuses. Organizations such as The Finance Club and The Women's Leadership Project can hold joint meetings and host speakers in the room, allowing the other campus to participate virtually.
Such collaborations can benefit from the input of new perspectives and cultural values, which will raise awareness and enrich students.
"Qatar is a melting pot of that region. I met people from Lebanon, Syria, Egypt, Tunisia, Pakistan, from all over. I was really impressed by how warm they were and how welcoming they were," said Andres Velez, a first-year student in economics and member of IMPAQT 2011. "This room is here to raise awareness of Qatar, the Middle East, and of different people."
IMPAQT students also have been discussing ways to use the space. During their trip to Doha this past spring break, the students had a chance to experience Doha Debates, which provide a place for people to discuss the major political topics in the region. As part of that, students used video chat to talk to people at the American University in Cairo about the riots and political instability that recently shook Egypt. The group asked questions to top scholars in the field and in the country about the current state of events.
"In that spirit, we are thinking about this room being another chance for us to have debates between the two campuses, whether that be talking about racial and cultural stereotypes or other issues," said Daniel Chow, a junior in design and human-computer interaction. "We want to try to increase dialogue and communication between the two campuses."