May 02, 2011
Diplomatic Relations
India's Ambassador Visits CMU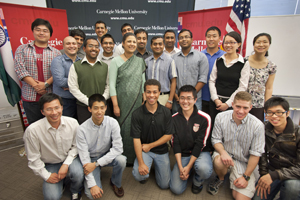 Meera Shankar, India's Ambassador to the United States, toured Carnegie Mellon CyLab on April 29. Faculty and students demonstrated recent advances in biometric security technologies, such as a next-generation identity system to automatically detect and label various facial landmarks on faces — a technology that has broad applications for a variety of sectors.
Carnegie Mellon has more than 900 students from India, by far its largest contingent of international students. The university employs more than 100 faculty from India, and has more than 1,200 alumni in the country, its largest concentration outside the U.S.

Indian Ambassador Meera Shankar (center) recently met students from Marios Savvides' biometrics lab.