March 01, 2011
Running Commencement a Real Marathon This Year
Get Here Early To Avoid Street Closings, Says University Events Director
By Bruce Gerson bg02(through)andrew.cmu.edu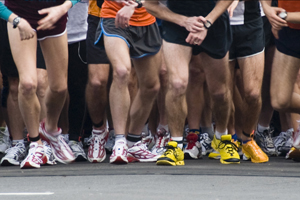 When does a marathon become an obstacle course?
When it falls on Sunday, May 15, and more than 2,000 graduates, their families, guests, faculty and staff will be navigating the crowds and street closings associated with the Pittsburgh Marathon on their way to Carnegie Mellon's 114th commencement and diploma ceremonies.
The Dick's Sporting Goods Pittsburgh Marathon gets under way at 7 a.m. and streets in many Pittsburgh neighborhoods along the route will be closed to vehicular traffic for several hours to allow for the majority of runners to pass through.
CMU's main commencement ceremony begins at 11 a.m. in Gesling Stadium. The portion of the marathon that passes closest to CMU (miles
11-14) includes:
Forbes Avenue between the Birmingham Bridge and Craig Street;
Craig Street between Forbes and Fifth avenues;
Fifth Avenue between Craig Street and Aiken Avenue;
Fifth Avenue between South Highland and Penn avenues.
Streets along the route will close at rolling intervals as the lead runners approach, according to Pittsburgh Marathon representatives. The elite runners are expected to pass the halfway point (13.2 miles) at Fifth and Morewood avenues between 8 and 8:30 a.m. The slowest runners will most likely reach the midway point between 10:30 and 11 a.m.  Marathon reps said they hope that streets in Oakland will reopen by 11 a.m.
"We have been working diligently with the marathon staff to ensure that commencement guests are impacted as little as possible," said Jennifer Logan Boyer, director of University Events.
Boyer and her staff recently met with commencement coordinators from the academic departments to review details and to discuss the marathon's impact.
"We're telling folks who will be affected by the street closings to get to campus that day as early as they can," Boyer said. "If you can arrive on
campus by 8:30 a.m. you shouldn't have a problem."
Boyer said marathon organizers are creating a hotline for people to call regarding rolling street closures. She also noted that extensive directions and information will be provided on the commencement website (www.cmu.edu/commencement) to help participants and guests navigate to campus and find parking locations. She said she's working with bobsmaps.com to obtain detailed maps depicting the affected roads and routes around campus.
University Events will send emails to graduating students with information and encouraging them to monitor the website for updates. Carnegie Mellon also will employ its Facebook and Twitter pages to help get the word out.
"We're asking students to forward this information on to their parents, family members, and guests who will be attending to keep everyone informed," Boyer said.
In addition to the parking locations on campus and in Oakland, she noted that free parking would be available in the Squirrel Hill parking lots near the Carnegie Library and Jewish Community Center at Forbes and Murray avenues. Shuttles to and from campus will be provided for those parking there as well.
Additional signage will be posted on commencement day to direct guests to campus and parking locations. Staff also may be stationed at intersections to help with directions. Boyer noted that pedestrians would be permitted to cross streets that are closed once a break in
the crowds of runners occurs.
A map of the complete marathon route can be downloaded from the commencement website. Also on the site is a listing of diploma ceremonies and other information for students, faculty and visitors attending or participating in commencement weekend activities.
"The early bird gets the worm, or in this case, an easy commute to commencement," Boyer said.