October 17, 2016
Immigrants' Dreams the Focus of CMU Film Festival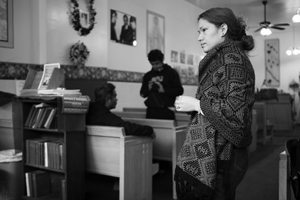 Veteran film and TV producer Esaú Meléndez, a native of Mexico City who now lives in Chicago, sees the United States as a country built by immigrants — generation after generation with people much like himself.
When he saw the intense public reaction and protests to the 2006 federal law that criminalized undocumented citizens and anyone who assisted them, he knew he had to do something.
"The May 1st protest drew a large crowd, over a million people," Meléndez said. "I was very inspired by that. I'd never seen anything like that in my life. When I turned on the TV, the media wasn't covering all sides, and I thought 'Where's the balance?'"
Meléndez wanted to personalize the story of the modern immigrant rights movement through a character who represented the immigrants' challenges. He found Elvira Arellano, a single mother who was arrested by federal authorities and ordered to appear before immigration. Facing almost certain deportation, Arellano instead made the decision to seek sanctuary at Adalberto United Methodist Church in Chicago.
"No one did what she did — fight to stay — and her story needed to be told," said Meléndez.
Meléndez's resulting documentary, "Immigrant Nation! The Battle for a Dream," combines Arellano's actions with the larger pro-immigrant movement that primarily began in Chicago, including coverage of anti-immigration activists. The film has won several major independent film awards, including the 2011 Best Documentary at the Cine Festival of San Antonio, the 2010 Cine Latino Award at the Washington, D.C., Independent Film Festival and the 2010 Best Documentary at the Latino Film Festival in Chicago.
For Meléndez, the film's biggest accomplishments aren't the trophies. It's having the film serve as a historical reference for the 2006-2009 movement.
"People forget. And, the media and a lot of people in power try to push this movement aside," he said. "This film is a tool to tell history — told by the people who were there."
In early April, Meléndez will be in Pittsburgh to debut "Immigrant Nation!" as part of the 2011 Carnegie Mellon International Film Festival, "Faces of Migration."
"Esaú's film deals with very important issues regarding American immigration and captures a piece of history from the perspective of an artist," said Jolanta Lion, festival director. "Having him here will allow us to create a dialog with the audience to understand better and beyond what the politicians and media create."
For more information about "Immigrant Nation! The Battle for a Dream," visit www.cmu.edu/faces/film_immigrant.html.

Elvira Arellano sought sanctuary at a Chicago church when she was facing possible deportation. Her story is told in "Immigrant Nation! The Battle for a Dream," as part of CMU's 2011 International Film Festival, "Faces of Migration."