October 17, 2016
Lecture Spotlight: Cells Become Factories for Dickson Prize Lecturer
By Jocelyn Duffy jhduffy(through)andrew.cmu.edu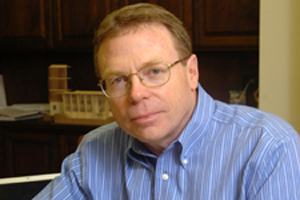 Thirty years ago, David Tirrell influenced young, talented scientists to come to Carnegie Mellon. This month, those faculty members are returning the favor.

Tirrell, a world-renowned chemist and materials scientist, and former Carnegie Mellon faculty member, has been named the recipient of the 2010 Dickson Prize in Science.

Given annually since 1970, the Dickson Prize in Science is awarded by Carnegie Mellon to an individual who has made outstanding contributions to science in the United States. Tirrell, who is the Ross McCollum-William H. Corcoran Professor and a former chairman of the Division of Chemistry and Chemical Engineering at the California Institute of Technology, will give the Dickson Prize Lecture, titled "Reinterpreting the Genetic Code," at 4:30 p.m., Monday, March 21 in the Mellon Institute Auditorium.
"David is a pioneer among scientists," said Krzysztof Matyjaszewski, the J.C. Warner Professor of Natural Sciences, who nominated Tirrell for the award. "He has elegantly demonstrated how macromolecular science donates to, yet also benefits from, molecular biology and bioorganic chemistry."
A member of CMU's Department of Chemistry from 1978 to 1984, Tirrell was highly regarded by both his students and colleagues at the Mellon College of Science. Scientists, including Matyjaszewski, have said that Tirrell influenced their decision to come to CMU. His students and colleagues recognized him with the college's Julius Ashkin Teaching Award. After leaving CMU, he maintained ties with the Chemistry Department, serving on its advisory board.
Tirrell is best known for creatively using principles of biology and chemistry to solve one of the most critical problems in polymer synthesis — creating polymer chains that are identical in weight, composition and structure. He developed a technique whereby he is able to reprogram biological cells so that they make artificial, protein-like macromolecules with new and useful properties. Using this technique, Tirrell programs the cells to tailor-make molecules for use in biomedical technologies.
"David essentially re-wrote the genetic code and turned the cells into factories capable of using non-biological monomers," Matyjaszewski said. "A number of biomedical devices based on his work will be commercialized in the near future."
Tirrell's early research also is notable. While he was a faculty member at CMU and the University of Massachusetts, Tirrell made important macromolecular discoveries that have made the development of "smart" materials — those that respond to external cues like light, pH or temperature — possible.
Tirrell has received numerous awards and honors, including the American Chemical Society Award in Polymer Chemistry, the G.N. Lewis Medal from the University of California, Berkeley, and the Arun Guthikonda Memorial Award from Columbia University. Tirrell is a fellow of the American Chemical Society, the American Association for the Advancement of Science and the American Academy of Arts and Sciences; and is a member of the National Academy of Sciences and the National Academy of Engineering.
The lecture, which is free and open to the public, will be followed by a reception in the Mellon Institute lobby.