June 01, 2011
Ralston to Graduates: "May Your Boulders Be Blessings"
By Heidi Opdyke opdyke(through)andrew.cmu.edu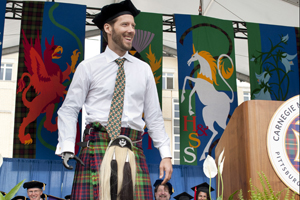 Aron Ralston dared this year's graduating students to be bold in life.
"Whatever you can do — or dream you can do — begin it," Ralston (E'97) said during his keynote address at
Carnegie Mellon's 114th Commencement. "Boldness has genius, magic and power in it."
Beneath a gloomy sky, he shared his love for Carnegie Mellon, which he called "one of the world's greatest universities," and one of his life-defining moments with the crowd in Gesling Stadium.
Ralston majored in mechanical engineering and French, and minored in piano performance. He was a member of seven honor societies, including Phi Beta Kappa, and active in numerous intramural sports. As a resident assistant, he served as a role model for students and earned the respect of his peers for his work ethic, sense of adventure and great humor.
His comedic side showed at commencement when he stripped away his graduation gown early in his speech to uncover the full Scottish regalia he wore. The act drew a standing ovation.
Ralston left his job as an Intel engineer to pursue his passion for outdoor adventures in Colorado. He said his parents, who flew in from Colorado to hear him speak, were reluctantly supportive. His first piece of advice that he offered to the graduates was what his parents told him: make sure you have health insurance.
It was on a solo hike in 2003, when he dislodged a half-ton boulder in a canyon in Utah. Alone and trapped for six days, he amputated his own arm. His Memoir, "Between a Rock and Hard Place," became the subject of the movie "127 Hours," which received six Oscar nominations.
He went on to be the first person to solo climb all of Colorado's "fourteeners," or peaks more than 14,000 feet high, during the winter. He also was the first amputee to ski the summit of Denali and row a raft through the Grand Canyon.
He told the students to be grateful for adversities in their lives.
"That adversity will show you that there is something absolutely extraordinary in each and every one of you," he said. "May your boulders be your blessings as well."
Ralston described the steps that led up to his life-saving decision. He said he used the analytical problem-solving skills he learned while at Carnegie Mellon to survive.
To stave off hypothermia, he wrapped himself in his climbing rope. He used a video camera to record messages to family and friends. Rationing his food and water until they ran out, he then drank his own urine. He recounted that moment as his second point of advice.
"When you think things have gotten bad, just remember: If you didn't have to drink your own urine today, it's not that bad."
When he concluded that his choice of life or death was in his own hands, he resorted to using his pocket knife, only
to find it ineffective against bone.
Which led to his third piece of wisdom: if you're going to carry a knife, make sure it's sharp.
"In a crisis, we have all sorts of resources, a collection of knives," he said. "Chief among them are our wits and our relationships. Keep your wits sharp, and your discipline honed (and) your loved ones close."
In the end, he escaped after rappelling 65 feet out of the canyon and hiking seven miles to rescue.
"In that final moment I stepped out of my grave and into my life," he said. "Yes, it hurt, yes I left something behind, but I did not lose anything that day. I only gained from that experience a sense of what's important to me, of what's possible for me, of what's extraordinary in me."
Aron Ralston (E'97) shared his love for Carnegie Mellon, which he called "one of the world's greatest universities," and one of his life-defining moments with the crowd in Gesling Stadium during this year's commencement.