October 17, 2016
On The Shelf
Goodman Offers Innovative Approach to Higher Education
By Mark Burd and Shilo Raube
Professor Paul Goodman is offering a new take on education.
In his book, "Organizational Learning Contracts: New and Traditional Colleges," the Richard M. Cyert Professor of Organizational Psychology at the Tepper School of Business, offers a new and innovative solution.
"I've been involved in the university's global issues for around 20 years," Goodman said. "During that time I had the opportunity to be involved in designing new universities. The fundamental question is: if you had to design a new university and had no constraints how would you do it? That's a very stimulating intellectual question. The experiences about answering that question and then helping in the implementation of change stimulated the writing of this book."
Change is inevitable, Goodman said, be it in economies, educational institutions, or both. In regions of the world experiencing rapid economic expansion, such as India, Southeast Asia and South America, the demand for high quality technical professionals and managers is quickly outstripping the supply. This gap represents a major roadblock to continued or systematic economic development within these regions.
In other parts of the world such as the United States and Europe, rapid changes in technology, the financial environment, increased competition, and greater pressure for accountability challenge the status quo and accelerate the need for change in higher education.
Goodman, director of the Institute for Strategic Development, offers an innovative solution to this problem in redesigning the model for higher
education.
Organizational learning contracts are shared understandings by faculty, students and staff about what to learn, how to learn, when and where. Contracts can be weak or strong. In institutions with strong learning contracts, faculty, students and staff have explicit understandings about what is to be learned and how. There are strong socialization, feedback and redesign mechanisms to enact this learning contract.
The book provides empirical results about strong and weak contracts. In institutions with strong contracts, students said they have a much better idea of what they are to learn, have clearer models of how to learn, are more passionate about their learning environment, and develop strong long-term commitments to their institution.
The book also bridges theory and practice. In the practice section, readers will learn from the experience of people who have created new institutions with strong contracts, as well as practical advice about design and changing educational institutions.
"The research findings and practical advice have clear implications for successfully expanding higher educational opportunities and could revolutionize how we think about existing institutions of higher education," Goodman said.

Crime Book Features Stories by Hayes, Masters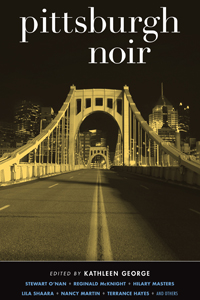 Pittsburgh may be "the most livable city in America," but the new crime book "Pittsburgh Noir" shows the city in a different light through 14 stories from the city's most famous writers, including Carnegie Mellon English professors Terrance Hayes and Hilary Masters.
The collection is the latest in the Akashic Noir Series. Each book in the series is comprised of new fictional stories, each set in a distinct neighborhood within the city of the book. "Pittsburgh Noir" was edited by Kathleen George, the Edgar Award-nominated author of the Richard Christie novels set in Pittsburgh and professor of theater arts at the University of Pittsburgh.
Hayes, who recently won a National Book Award, contributed "Still Air," which takes place in the city's East Liberty neighborhood.
Masters, an esteemed fiction writer who will publish his 10th novel this year, wrote "At the Buena Vista," set in the Mexican War Streets.
Additional authors include K.C. Constantine, Carlos Delgado, Rebecca Drake, Aubrey Hirsch, Paul Lee, Tom Lipinski, Nancy Martin, Reginald McKnight,
Katherine Miller Haines, Stewart O'Nan and Lila Shaara.