June 01, 2011
Circulo Juvenil Teaches Kids About Greening the Earth — In Spanish
By Shilo Raube sraube(through)andrew.cmu.edu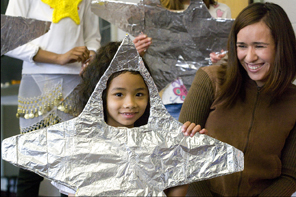 In a special program by the Department of Modern Languages, children learned about ecology and plants — and grew a little themselves.
"The Earth is sick. People made it sick with pollution," explained 9-year-old Sophia Llovet-Nava as she was getting ready to play a star in El Circulo Juvenil de Cultura's play "Greening the Earth."
Llovet-Nava was one of 18 children between the ages of 6 and 12 who participated in the spring semester's Circulo Juvenil workshop that uses arts and technology to keep Latino children speaking Spanish.
"The Latino population is the only ethnic population in Pittsburgh that is growing," said Kenya Dworkin, associate professor of Hispanic studies, who runs the program with Mariana Achugar and Felipe Gomez. "Our goal is to help children from multi-lingual households understand that Spanish is a valid part of their identity."
Gomez, associate teaching professor of Spanish, said that Circulo Juvenil, which began in 2007, also helps with socialization.
"It provides a fun, supportive environment for kids to use Spanish in creative ways," he said. "It also gives the kids and parents a way to meet other people in similar situations."
Previous workshops focused on blogs, photography, dancing and poetry, and all of the sessions and activities are done in Spanish.
This year's program concentrated on an ecology project proposed and directed by Martha Chapa, who recently moved to Pittsburgh. The children learned about classifying trash and recycling, different animal habitats, the effects of polluted river water and taking care of plants.
"The activities were designed to help the children know how important it is to care for the Earth to help make it a better place to live," Chapa said. "And, they were able to practice Spanish. Some of the youngest children were just learning to read in English, and now they can read a little in Spanish — and it wasn't a chore for them."
During the semester's last session on May 1, the children performed a play about what they learned for their families and friends. In the play, Mother Earth, played by Chapa, was sick and the kids tried to help her by talking to the sun, moon, stars and rain. Eventually, they found out that the only way to help the Earth was through their own actions.
Harrison Apple, a sophomore humanities and arts student, was one of the CMU student volunteers who helped make the workshop a success.
"The kids gave a lot of input into the play, and it was interesting to see how they wanted the costumes to look and which parts they wanted to play," he said. "Not only did they learn about ecological systems, but the program is keeping bilingualism alive in education."
For more information about El Circulo Juvenil de Cultura, including how you can get involved, visit http://circulocmu.blogspot.com/.
Maisha Makanaky, one of the stars in "Greening the Earth," is ready to perform. Volunteer assistant Monica Jacobo is standing next to her.