July 07, 2011
CMU's "Hear Me" Project Billboard Campaign Helps Young People Speak Up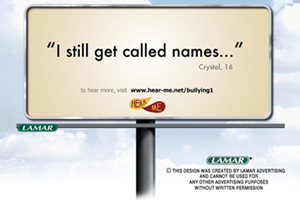 A new billboard campaign in the Pittsburgh area, part of Carnegie Mellon's "Hear Me" project, is giving young people a new way to communicate about bullies, school and other topics important to them.
Many of the 50 new billboards in the six-county Pittsburgh metropolitan area simply feature the beginning of a quote, such as "I still get called names… — Chrystal, 16" or "I was scared when I heard the gunshot… — Sherdina, 12." The billboards also include Internet links where people can go to listen to these Pittsburgh-area youths tell their stories and speak their minds.
Other billboards direct people to the Hear Me project's website,
http://www.hear-me.net
, or to text message "hearme" via mobile phone to 25252 to hear kids from the region. Thousands of stories from area children, gathered by project staff members and partners over the past year, are available on the website. Many are audio recordings, but some include written text and/or artwork.       
"We assume that children today have plenty of opportunities to make their dreams, fears and hopes known, whether it's by mobile phone, computer, or just talking," said
Heide Waldbaum
, director of the Hear Me project in the CREATE Lab of the CMU Robotics Institute. "But learning how to express themselves about things that they really care about — and getting adults and people in authority to really listen to them — is difficult for many young people. … Now that we've heard from thousands of local kids, we're hoping that this billboard campaign will get more people to visit our website and listen to what they have to say."       
Read more:
http://www.cmu.edu/news/archive/2011/July/july5_hearmeproject.shtml