July 14, 2011
Caroline Acker Named Head of History Department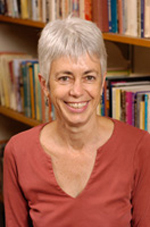 Associate Professor
Caroline Acker
has been appointed head of Carnegie Mellon's History Department. She succeeds Professor
Joe Trotter
, who is stepping down as head after leading the department since 2001.
"The History Department is full of wonderful teachers who are deeply committed to intellectually challenging students, instilling the importance of good writing and creating a synergy between university studying and the real world," said Acker, who will serve a three-year term.  
Acker has been on the CMU faculty since 1994 and is a historian of medicine and public health with a research focus on drug policy, drug use, needle exchange, harm reduction and the intersection of drug use and sexually transmitted diseases.  She is the co-founder and board president of Prevention Point Pittsburgh (PPP), a nonprofit organization dedicated to providing health services to injection drug users. PPP sponsors a needle exchange program aimed at reducing HIV/AIDS, Hepatitis C and other blood-borne infections in injection drug users.  
For her work with PPP, Acker received the 2008 Benjamin Rush Individual Public Health Award from the Allegheny County Medical Society. Established in 1947, this award honors a layperson, who has made an outstanding contribution to the betterment, health and welfare of citizens in Allegheny County.
Read more:
http://bit.ly/qQpo98
.