December 15, 2011
President Cohon Attends White House Meeting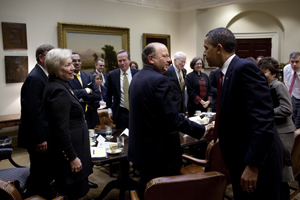 Carnegie Mellon President Jared L. Cohon was called to the White House Dec. 5 to attend a meeting with U.S. President Barack Obama and several other university presidents and chancellors to discuss making college more affordable for students.
President Cohon was invited because of CMU's expertise in developing online learning tools, including online classes that provide instructors with real-time information about each student's progress. These courses are now being used in pilot programs in statewide university systems in Maryland, New York and Texas.
In 2009, the university received $4 million in grants to build on the success of the Open Learning Initiative (OLI) and launch the Community College Open Learning Initiative.
The grants are dedicated to creating a partnership with faculty at an array of community colleges around the United States to create open "gatekeeper" courses to help more community college students achieve success. The White House has recognized OLI as a possible model for gatekeeper courses that enable students to get into colleges.
A statement released by the White House read:
"The president hosted White House senior officials, Secretary of Education Arne Duncan and a dozen college presidents and higher education thought leaders from across the country to discuss rising college costs and strategies to reduce these costs while improving quality.
"During the meeting, the president conveyed the urgent need to pursue bold and innovative solutions to help more Americans attain a higher education at an affordable price. In response, attendees shared how they have worked to promote innovation, reduce costs and increase productivity during a time of reduced funding for higher education at the state level."
"The key message was a challenge to us to question all our strongly held assumptions, including getting our faculty to think differently about teaching," Cohon told The New York Times. "I personally get very uncomfortable when people start talking about replacing faculty with technology. But I do think technology can help us educate more students faster and better."
In addition to President Cohon and Duncan other attendees included:
Nancy Zimpher, chancellor of the State University System of New York;
Francisco Cigarroa, chancellor of the University of Texas System;
William "Brit" Kirwan, chancellor of the University System of Maryland;
Holden Thorp, chancellor of the University of North Carolina at Chapel Hill;
Freeman Hrabowski, president of the University of Maryland at Baltimore County;
King Alexander, president of California State University at Long Beach;
Thomas Snyder, president of Ivy Tech Community College in Indiana;
Larry Shinn, president of Berea College in Kentucky;
Robert Mendenhall, president of Western Governors University in Utah;
Jane Wellman, executive director of the Delta Project on Postsecondary Education Costs, Productivity and Accountability; and
Jamie Merisotis, president and CEO of the Lumina Foundation for Education.
Pictured above, U.S. President Barack Obama greets CMU President Jared L. Cohon at the White House during a Dec. 5 meeting to discuss ways to make college more affordable for students. Picture Courtesy of the White House.