December 15, 2011
Sustainability as a Way of Life
New Faculty Space Practices School of Design's Lessons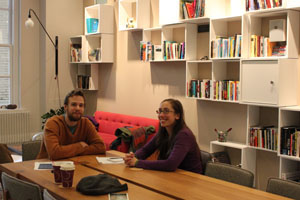 The School of Design wants to set a sustainable example.
And it's doing so with a new faculty common room that features sustainably produced ceramic tile floor, natural clay paint, a reclaimed barn oak table and nontoxic plywood bookshelves.
"We wanted to create a space where the faculty and staff could come together in an informal/comfortable setting to discuss things," said Terry Irwin, head of the School of Design. "Our new mission puts design for society and the environment at the heart of everything we do; in other words, sustainability."
The space is designed and built by Day Shift, a Pittsburgh furniture design and production company founded by alumnus Justin Lacey (A'09) and his partner, Miriam Devlin. Its mission, to use sustainable, safe, reclaimed materials whenever possible, resonated with Irwin.
"Sustainable cultures develop within spaces that enhance social interaction and that is what we were aiming for," Irwin said. "We intentionally chose one of our alumni to design and build it as the embodiment of our teaching. We feel it was a truly holistic approach to satisfying multiple needs the school had."
Lacey and Devlin started the project a year ago in what was once a spare space at the back of a large studio. Their goal was to create a flexible space to serve as a conference room, lounge and library for faculty.
"We wanted to create something good," Lacey said.
To get a sense of what would work best for the faculty, they used miniature mock-ups and a full-scale cardboard prototype. They also spent months researching sustainable, reclaimed, environmentally friendly materials to build some of the furniture and other sustainable items from designers and manufacturers.
A couch was custom built in a warehouse in California; a cherry tree stand was crafted by a modern furniture company in North Carolina; the coffee table, made out of an old-school pallet, came from the basement of their shop which is a decommissioned firehouse; and the credenza from a cabinet maker
in Minnesota.
The rooms design reflects nature. Ceramic tile floor represents the earth; barn oak table, the tree trunk; and white boxes of bookshelves were scattered against the wall much like leaves through which one can see parts of the sky. Every leaf is now filled with a new collection of books about sustainability, selected by Irwin.
A future project includes a display board that discusses sustainable issues. Irwin says designers have to be more responsible in the decisions they make regarding materials. It is not yet a common practice, but she hopes it will happen more in the future, and gradually become a way of life.
"Something we designers can do is to influence people's worldview," said Dan Boyarski, a professor and director of alumni relations at the School of Design.
Boyarski said one of Irwin's goals in building the room is to gradually change the worldview of the faculty, the students, and visitors so that they understand the concept of sustainability and how important it is to everyday living.
"The room is a practice of what the School of Design preaches; it is also an experience Justin and Miriam provided for us," Boyarski said. "And a memorable experience it is."
Since its opening a few months ago, the room has hosted a homecoming event for alumni and is being used for meetings, lectures, lunch and converation with faculty. The space is a perfect site for a cup of coffee and a couple of pages of reading.
"I like sitting there, on the couch. It gives me a view of the whole room," Boyarski said. "I can also see outside the courtyard door to the landscape and sky."
Afternoon sunlight comes in through that door and shines on the leaves decorating the wall.
Justin Lacey (A'09) and his partner, Miriam Devlin, designed and built this new room for the School of Design faculty.