December 15, 2011
Lecture Spotlight: Martin Luther King Jr. Day Keynote Challenges Audiences To Find "The Courage To Lead"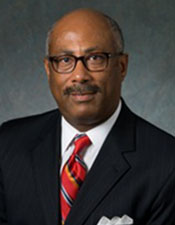 Bernard Franklin, a friend of Martin Luther King Jr.'s family, will reflect on the qualities that set the civil rights leader apart in his keynote address, titled "The Courage To Lead," during CMU's 2012 MLK Day celebration.
Franklin's address, accompanied by CMU student speakers, concludes an afternoon of programs honoring King's legacy. The event will begin at 5 p.m., Monday, Jan. 16 — the first day of the spring semester — in Rangos Hall, University Center.
As president of Delta Upsilon International Fraternity, Franklin has a connection to the 21 members of CMU's Delta Upsilon colony and more than 800 living alumni of the fraternity's Carnegie Chapter, founded in 1917.
"Some of the women of the Panhellenic Council and men of the Interfraternity Council (IFC) saw Dr. Franklin speak at the Association of Fraternal Leadership and Values Conference," said Monica McGee, coordinator for fraternity and sorority life. "When we got back to campus, the IFC decided to approach the organizers of MLK Day to see if they could sponsor Dr. Franklin's address."
Jonathan Chen, president of CMU's Delta Upsilon colony, is excited to meet his fraternity's leader, who is also a consultant, educator and community leader.
"We're looking to host a private reception with Dr. Franklin after his talk, which will be open to the men of DU as well as those interested in joining the colony in the spring," Chen said.
Franklin plans to share stories about King's life he gathered from his personal relationship with the civil rights leader's family. This friendship began when Franklin's brother was Martin Luther King III's roommate at Moorehouse College in Atlanta.
In addition, he will reflect on his personal commitment to being a role model.
As an undergraduate, Franklin became the first black student ever elected president of Kansas State University's Student Government Association. He made history by becoming the youngest person ever appointed to the Kansas State Board of Regents at age 24 and the youngest chair of the board at age 28.
In the years that followed, Franklin has held senior positions in higher education, nonprofit organizations and the telecommunications and banking industries.
Franklin served in a variety of student affairs positions at the University of South Alabama; Rollins College in Winter Park, Fla.; and his alma mater. He also was president of Metropolitan Community College-Penn Valley in Kansas City, Mo.
Franklin was vice president and urban director of the National Center for Fathering, as well as executive director of the Kauffman Scholars, a $70 million, 20-year initiative funded by the Ewing Marion Kauffman Foundation to guide and support urban Kansas City seventh graders through high school and college.
Franklin was a fellow for the Study of the United States Presidency and served on an advisory commission to President Jimmy Carter's administration with Martin Luther King III and other prominent African-Americans.
He also served as a chaplain and professional counseling team member for the National Football League's Kansas City Chiefs.
In addition to his speaking engagements and fraternity leadership, Franklin is a consultant to his church, Redeemer Fellowship; assistant to the vice president at Kansas State University; chairman of the board for the Satchel Paige Foundation; and a member of Kansas City's Google Fiber Innovation Team.
Bernard Franklin was a friend of Martin Luther King Jr.'s family.
What:
Martin Luther King Jr. Day Keynote Address
Who:
Bernard Franklin
When:
5 p.m., Monday, Jan. 16
Where:
Rangos Hall, University Center