December 15, 2011
Inspire Innovation: Asia 2011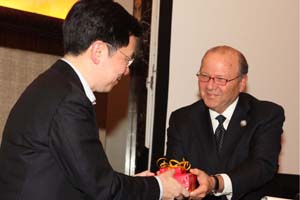 CMU President Jared L. Cohon inspired not only alumni and parents on a recent Asia-Pacific tour, but also the Guangdong Province in China.
A stop in Guangzhou, China, included signing an agreement establishing a joint engineering institute with Sun Yat-sen University (SYSU) and a visit to the International Consultative Conference on the Future Economic Development (ICCFED) of Guangdong, held every two years. He served as an economic adviser for ICCFED.
At SYSU, he told acting governor Zhu Xiaodan, senior officials and hundreds of students that universities could play a significant role in transforming the region. He pointed to the way CMU helped Pittsburgh.
"Guangdong is a manufacturing and economic center of China. As a province in the process of industry transformation, to have high-valued products is very important," Cohon said in an interview with newsgd.com, the premier online English news source in the province. "Education can produce innovation and universities are the sources of innovation. Working with SYSU, we look forward to bringing CMU's innovative style, technological expertise and creative problem solving to the region."
At Tsinghua University, Cohon delivered a keynote address about the hidden costs of energy at the university's prestigious Tsinghua Forum. He also met with Ping Hao, China's vice minister of Education.
Those were just a few of many stops on a November tour for Cohon and Tepper School of Business Dean Robert M. Dammon that included the silver anniversary celebration of a chapter and record numbers of nearly 500 participants at events in Seoul, Tokyo, Hong Kong, Beijing, Mumbai, Bangalore and New Delhi.
In Tokyo, the Alumni Association's Japan Chapter celebrated its 25th anniversary, with alumni, parents and friends. The evening included an engaging panel discussion about the Japanese and global economies, hosted by CMU Trustee Yoshiaki Fujimori (TPR '81), president and CEO of JS Group Corp.
Alumni, parents and friends joined the Beijing alumni chapter for a special evening of news and updates featuring Cohon and distinguished alumnus and former faculty member Kai-Fu Lee (SCS '88), chairman and CEO of Innovation Works and former head of Google China.
In Seoul, more than 200 members of the CMU community gathered for an evening of news, updates and networking.
In his first visit to the region as dean, Dammon discussed business school updates in Seoul, Tokyo, Mumbai, Bangalore and New Delhi, meeting with hundreds of alumni, parents and friends.
Kai-Fu Lee (SCS '88) joined President Jared L. Cohon at an event for the Beijing alumni chapter.