December 15, 2011
Extra, Extra! Read All About Him
SEI Staffer and ETC Graduate Goes Hollywood in Pittsburgh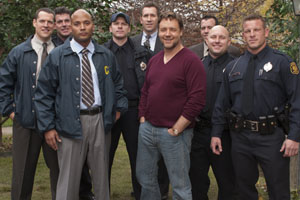 Jeff Balmert is taking an unusual approach to break into the film industry.
The document production specialist at the Software Engineering Institute is working in front of the camera to get behind the scenes.
A client of the Nancy Mosser Casting agency, Balmert has been a paid extra in seven major motion pictures since 2008. His most recent roles were as a fan of the Gotham Rogues in "The Dark Knight Rises" and as a witness to a crime scene near PNC Park in "One Shot" starring Tom Cruise.
While he sees acting as a "really fun thing to do," the talented multimedia producer's goal is to help make the movie magic happen.
"My dream is to work on the production side of feature films — in production or post-production, editing, directing, producing, something in that realm," said Balmert, who earned a master's degree from the Entertainment Technology Center (ETC) in May 2011. "I thought if I can at least get on the set of movies it might be a good way to meet people behind the scenes."
And he has.
Playing a police officer — one of only six extras — in "The Next Three Days" starring Russell Crowe, he had the opportunity to work with director Paul Haggis, who won Academy Awards for his screenwriting of "Million Dollar Baby" and "Crash." Balmert worked with Haggis during a scene in which he rushes into Crowe's home to make an arrest.
"He actually took me aside and showed me on the monitor what looks good and what doesn't. I was just an extra, but to have an Oscar-winning director actually direct you in a scene was really neat.
"Russell Crowe was great. He couldn't have been a nicer guy. He was very nice to all of us," Balmert added.
In "The Dark Knight Rises" he worked with Director Christopher Nolan and Cinematographer Wally Pfister.
"It was awesome sitting in the front row at Heinz Field, interacting with them and seeming them operate the IMAX camera to catch fan reaction," he said.
In addition to "The Next Three Days," "The Dark Knight Rises" and "One Shot," Balmert has played a state trooper and bartender in "She's Out of My League," a coal miner in "My Bloody Valentine," and a hospital security guard in "Abduction." Yet to be released is "The Perks of Being a Wallflower," in which he plays two roles, a hospital administrator and hospital visitor.
Balmert honed his multimedia skills at Duquesne University, where he earned his undergraduate degree, and at the ETC. He has experience in video, sound design, graphic design, Web design, photography, animation, and he's even created his own short films.
At the ETC, he was part of project teams that produced videos for several clients, including Cosmic Contact and Lockheed Martin. For his final project, he produced an interactive marketing video for the ETC (
http://etc.cmu.edu/site/program/
) under the guidance of adviser Ralph Vituccio, who he credits for teaching him about camera angles, how to frame a scene and how to tell a story.
"Jeff is very talented in a number of ways," said Vituccio, a faculty member and director of special projects at the ETC. "His organization and sense of directing and producing is very good."
Balmert, a member of the Pennsylvania Film Industry Association, said he's heard that Jack Black, Steve Carell, Nicolas Cage and Kevin Kline are interested in making a movie in Pittsburgh early next year. He's also heard that facilities for feature film post-production work may soon be built in the city.
"They're just rumors, but a lot of these rumors have proven to be true," he said. "It's really an exciting time in Pittsburgh for someone who wants to get into the movies. You may not have to go to Hollywood anymore."
Balmert (fourth from left) was one of a handful of extras in "The Next Three Days," which starred Russell Crowe (center).