December 15, 2011
Education City Hosts Inaugural Campus Conversation
By Qatar and Pittsburgh Piper Staff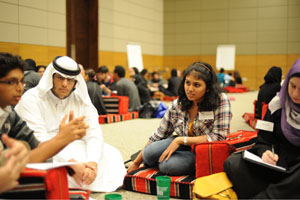 Professor Robert Cavalier has a simple idea when it comes to learning: "We think better when we think together."
Cavalier, co-director of CMU's Program for Deliberative Democracy, recently helped organize Education City's first Campus Conversation in Qatar. The event focused on how global climate change might affect future generations and Qatar's food security.
Students explored the link between climate change and food sustainability, asking how issues like loss of agricultural lands and depletion of fish might be addressed.
According to Cavalier, Campus Conversations builds upon a deliberative practice that is already part of Qatar's culture: the "majlis." Traditionally a gathering of elders for the purpose of discussing issues of importance to the local community, these "deliberative forums" could also serve as a form of political consultation.
"Our model of a campus conversation adds other features like expert panels and pre- and post-surveys," Cavalier said. "But what most excited me was the fact that we did not have to come from the outside to 'teach' any of this. The students immediately took to the task, and the results of their discussions will also have a degree of consulting power."
Cavalier teamed up with the university's Division of Students Affairs and other professors to offer the program, which attracted more than 100 students from five of the six Education City universities in Doha, said Jill Duffy, student development coordinator at Carnegie Mellon Qatar. Qatar Foundation Sustainability Education was a co-sponsor of the event, and David Gray, postdoctoral teaching fellow of philosophy, and April Conkey, adjunct assistant teaching professor of biology, co-organized the event.
"One of the most meaningful aspects of the Campus Conversation program is how it promotes engagement within one's own community," Duffy said. "Ultimately we want to foster a sense of agency in our students, so that they can go out into their respective communities and make a positive difference."
Following a discussion period, students split into groups of 10, and each posed questions and ideas to an expert panel.
The panel, moderated by Steff Gaulter, senior meteorologist at Al Jazeera English, included Fedaa Ali, chief researcher at the Qatar Environment and Energy Research Institute; Patrick Linke, professor of chemical engineering at Texas A&M University at Qatar; Mari Luomi, a postdoctoral fellow at Georgetown University's Center for International and Regional Studies; Marouf Tirad Mahmoud of Vodafone Qatar; and Robert Wirsing, a visiting professor at Georgetown University's School of Foreign Service in Qatar.
Making sustainability trendy, buying up foreign land and conserving water — especially in a country that subsidizes utility bills — were among the issues raised by students.
"We thought about establishing an Education City farm to grow produce that we could give to the community," said Layal Al-Alami, a CMU student majoring in business administration.
Conkey, added, "My conservation biology students liked the fact that they were interacting with students from other Education City universities and discussing elements of change that could be implemented on our campus. It was not just role play but they were actually acting as stakeholders to help make decisions."
The Division of Student Affairs hopes to utilize the Campus Conversations model in the future to address questions and issues that are important to students, both within Carnegie Mellon Qatar and the broader Education City community.
"We are really interested to see how students want to make an impact, as this can guide future programs," said Christopher Silva, sustainability education coordinator for Qatar Foundation.
Pittsburgh Campus Coordinator of Student Affairs Joanna Dickert, who worked to pilot another Campus Conversation in Doha for CMU students in spring 2009, was impressed.
"I was struck by the degree the students seemed to be engaged in the format," she said. "The quality of the discussions and questions that came out of the small groups reflected an intellectual curiosity and desire to come to a deeper understanding of issues related to food security in Qatar."
"The students were excited about the program and have suggestions for future conversations, so I think we'll be seeing more Campus Conversations in the future," Duffy said.