December 15, 2011
PigPen Theatre Co. Looking To Release CD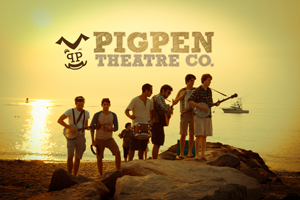 PigPen Theatre Co. is hoping to record its debut album and has launched a
Kickstarter campaign
to help it do so.
The group creates atmospheric theatrical fables with a unique blend of shadow puppetry, group movement, live music and clever lighting effects.
The company was formed at CMU's School of Drama in 2008 and consists of Ryan Melia, Dan Weschler, Curtis Gillen, Ben Ferguson, Arya Shahi, Alex Falberg and Matt Nuernberger. Since then, PigPen has toured nationally and became the first company in history to win the top honor for a play at the New York City International Fringe Festival two years in a row, in 2010 and 2011.
"CMU has been amazing supporting of us in the past. We're consistently looking for ways for us to support CMU students and the school, because it was a really great place for us to be," said Arya Shahi.
One of the first questions theatergoers ask after a PigPen show is whether they can buy a CD of the songs. With this campaign, the theatre company is seeking to change their answer from "no" to "yes."
They have until Wednesday, Jan. 18 to raise $8,000, and more than $6,000 has been pledged.
For more information about PigPen or to see excerpts of their performances, visit
http://pigpentheatre.com/
.