December 15, 2011
Artists of the Year Rubin, Peña Recognized
Carnegie Mellon has swept the 2011 Pittsburgh Center for the Arts (PCA) Artist of the Year awards with faculty members Jon Rubin and John Pena taking home Artist of the Year and Emerging Artist of the Year, respectively.
It's the third time in four years that a member of the CMU community has been named the PCA's top artist. And the second time since 2009 that both honorees are from CMU.
A special exhibition showcasing the extraordinary work of these artists will run through Jan. 22.
Other CMU community members who have been named PCA Artist of the Year include Susanne Slavick, the Andrew W. Mellon Professor of Art, in 2008, and Tim Kaulen, a university photographer, in 2009.
An Eye on Humanity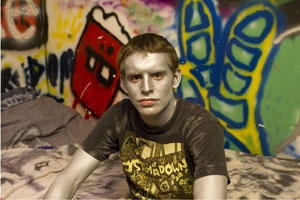 Jon Rubin, whose work explores social and political landscapes, has been observing and interpreting human behavior across many artistic mediums since 1995.
Of the four works on display at the PCA exhibit, his newest creation, titled "HERETHEREHERE," is one that touches home.
The project, a documentary-style video, chronicles the walk from the PCA to Rubin's home, stopping along the 1.5-mile route into 50 of his neighbors' homes for an inside look at the lives in the community.
His exhibit at the PCA takes a personal look at his surroundings and displays work that Pittsburgh has not yet seen. Some of Rubin's other art that can be viewed at the exhibit include the video pieces "Present" and "I'm Not Me."
"This [recognition] is certainly an honor," Rubin said. "It's an opportunity to show work that I have been doing outside of the city of Pittsburgh, and work that I wouldn't normally get to share with my friends, family and community here."
In addition to his creation of local social-experiment-turned restaurants such as The Waffle Shop and Conflict Kitchen, he was recently commissioned to create a public piece for the 2012 bicentennial
celebration in Columbus, Ohio.
Rubin has works published in several books and has displayed at The San Francisco Museum of Modern Art; The Center for Curatorial Studies at Bard College; The Museo Tamayo Arte Contemporaneo, Mexico; the The Rooseum, Sweden; The Mercosul Bienial, Brazil; Internationale Kurzfilmtage Oberhausen, Germany; and the Nemo Film Festival, Paris.
Nature Writer
John Peña, who recently focused his talent on video and drawing, finds his passion in conscious reflection on outwardly insignificant moments. His tendency to look at and document everyday occurrences have resulted in projects such as "Daily Geology," which includes drawings he's made everyday for the last two years that record a memorable daily experience.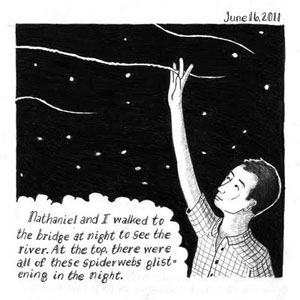 Although separately the drawings seem quite ordinary, using paper and drawn in black and white, it is the time and dedication of drawing each picture and capturing the moments every day that transforms individual drawings into the monumental value of the collective work.
Other works by Peña on display at the PCA include the video series "Natural Translations," which uses human bodies to replicate natural elements and forces, and "The Untitled Cloud Series," which utilize sun and shadow movements.
"Through my artwork, I am trying to communicate with nature and in many ways, emulate it as well. By engaging with the natural world in such a way,
I hope to create poetic and magical
moments that reveal the subtle relationships between humans and nature,"
Peña reflected.
A multidisciplinary scholar in his craft, Peña received his master's degree from Carnegie Mellon in 2008, then visited Colombia on a Fulbright Fellowship and attended The Skowhegan School of Painting and Sculpture, The Fine Arts Work Center and the Bemis Center for Contemporary Art. His works have been exhibited at The Mattress Factory Museum as well as the Kevin Kavanaugh Gallery in Dublin, the Kate Werble Gallery in NYC and The Bumbershoot Arts Festival in Seattle.
PCA
The Pittsburgh Center for the Arts Gallery at 6300 Fifth Ave. is open from 10 a.m. to 5 p.m., Tuesday through Saturday, and from noon to 5 p.m., Sunday. A $5 donation is suggested.
Since 2001, CMU has dominated the PCA Artist of the Year and Emerging Artist of the Year awards. Winners with university connections include:
Artist of the Year
2001 Paul Glabicki
2002 Adrienne Heinrich
2003 Diane Samuels
2004 James Duesing
2005 Clayton Merrell
2008 Susanne Slavick
2009 Tim Kaulen
2010 Brian Dean Richmond
2011 Jon Rubin
Emerging Artist of the Year
2002 Jeremy Boyle
2003 George Magalios
2006 Kim Beck
2009 Dylan Vitone
2011 John Peña
Pictured at top, Jon Rubin's Artist of the Year exhibit includes a video piece titled "I'm Not Me."

Pictured above, John Peña has spent the last two years making daily drawings that record a memorable moment. This example was drawn on June 16, 2011.