August 25, 2011
CMU Press Publishes Book Celebrating Flight 93 Temporary Memorial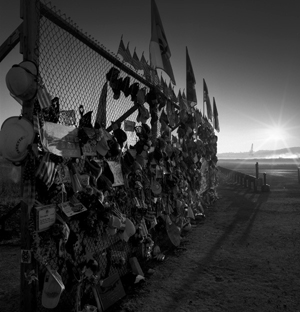 In time for the 10th anniversary of 9/11, Carnegie Mellon University Press has published "An Uncommon Field," a book of photos and prose celebrating the Flight 93 Temporary Memorial in Shanksville, Pa. Authored by Pittsburgh-based photographer
Richard Snodgrass
, the book is a testament and tribute to the heroes of Flight 93 and the support and spirit of those who visited the crash site.       
The book consists of 92 black and white photos and 25 sections of text describing the events of Flight 93, the development of the Temporary Memorial and Snodgrass' experiences at the site.
"When I first encountered Richard Snodgrass' manuscript, I found the photographs of what was essentially an impromptu memorial to be especially moving," said English Professor
Gerald Costanzo
, founder and director of the CMU Press.
Watch and listen to Snodgrass discuss the project and read more about the book at
http://www.cmu.edu/news/stories/archives/2011/august/aug22_flight93book.html