April 01, 2011
CMU Responds to Japan Crisis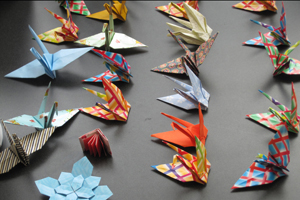 The trip to the Tokyo stock exchange wasn't quite what they expected.
A group of students from the Tepper School of Business was in Tokyo when the massive earthquake struck Japan's northeastern coast on March 11.
"At first, we didn't have strong reactions," said Rami Saad, 28, who had experienced minor quakes while living in California. "But then it started building up, and we realized, 'This is serious, let's get under the table.' It took about a minute or so, which is a long time for a quake."
Members of the Carnegie Mellon community quickly rallied to assist in response efforts in whatever ways they could.
Led by Daisuke Tanaka (TPR'12), Hiroshi Higuchi (TPR'12) and Aki Shiraishi, the students had set aside their Spring Break to visit several Japanese cities, experience Japanese culture and make several corporate visits.
"More than 300,000 people have been forced into refugee life. That is about the same number of people as the entire city of Pittsburgh," Tanaka said during a recent panel discussion about the trip with an update on the crisis. The panel is just one way that students, faculty and staff have been reaching out to assist victims.
"We extend our deepest condolences to the people of Japan, particularly those who lost loved ones or were harmed in the devastating earthquake and tsunami that struck the country today," CMU President Jared L. Cohon said in a statement to the university community the day the earthquake struck. "As always, the Carnegie Mellon community stands ready to help in any way during times of crises."
Keiji Matsunaga (TPR'11) and Masami Shibatani (TPR'11) took the Japan Trek during Spring Break the previous year. Compelled by video footage of the devastation, they worked quickly to organize fundraising efforts on behalf of the campus community.
Aki Iijima (HNZ'11), who is pursuing her master's degree in public policy and management, had already begun a fundraising effort for Heinz College. Daiji Kano (MCS'11), community liaison of the Japanese Student Association at CMU, had also started planning for similar actions in the undergraduate community.
Other groups that have reached out include the Multicultural Greek Council, Panhouse and International Student Union, Japanese Student Association, Mayur-SASA,  Alpha Phi Omega and more.
At Tepper, Shibatani encouraged the community to participate in the "1000 Origami Cranes" project.
"The paper crane is a symbol of best wishes for our families and friends," explained Shibatani. "So I came up with the idea that we can make paper cranes to ask CMU students to wish for Japan's recovery against the on-going earthquake, tsunami and nuclear plant problems."
In California, CMU's Disaster Management Initiative sprang to work and led CrisisCampSiliconValley the same day that the earthquake and tsunami struck.
Jeannie Stamberger, associate director of DMI, led the initiative, in which volunteers arrived to develop country profiles and compile data streams for the United Nations Office for the Coordination of Humanitarian Affairs. Volunteers can continue to aid virtually by data mining and processing information at http://wiki.crisiscommons.org/wiki/Honshu_Quake.
Also in Silicon Valley, Trey Smith, systems scientist and a member of the Intelligent Robotics Group at NASA Ames Research Center, was able to work with Urban Search and Rescue (USAR) teams to get accurate maps from Google physically into the hands of USAR deployed teams to better assist those on the ground in the rescue efforts.
Because of the many tweets requesting help, medical care and searching for loved ones, a group has begun to implement automated parsing of Japanese tweets for input into Google People finder. Assistant Research Professor Ian Lane, and Adjunct Professor Jike Chong were able to work with the group to help accumulate keywords to extract geographical location from the text and address technical difficulties, such as format and characters in Japanese addresses.
"With the help of volunteers, within a few hours we had developed an architecture for the live monitoring of Twitter as well as a basic system to automatically identify the most critical tweets from the huge volume that were being generated," Lane said.
Jibbigo, the speech-to-speech translation app developed by researchers at CMU, is also being used in Japan. The smartphone app will function in areas that lack phone and Internet connections.

Students at the Tepper School of Business folded 1,000 paper cranes as symbols of best wishes for Japan's recovery.