April 01, 2011
Directing the Future
School of Drama Renames Directing Program After Hollywood Producer John Wells
By Heidi Opdyke opdyke(through)andrew.cmu.edu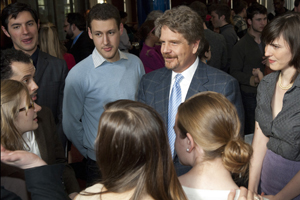 Hollywood executive producer John Wells has made giving back to his alma mater a priority in his life.
He credits Carnegie Mellon and the School of Drama as a central component of his success as an executive producer.
"It's the people who make the difference," he said in an interview during a visit in March. Wells was on campus to announce a transformational gift to the university.
Because of his generosity to CMU, the School of Drama has renamed the directing program in his honor. His gift, the amount of which is private, includes The John Wells Visiting Professorship in Directing, support for student fellowships in directing, called "Wells Fellows," and a discretionary fund for the head of the School of Drama to subsidize the costs of visits from guest artists, cross-disciplinary symposia and other activities to enrich the school's theater training. School of Drama Head Peter Cooke said the first visiting guest artist would be Peter Kleinert of the Ernst Busch School of Performing Arts in Berlin, Germany.
The university has changed since Wells graduated in 1979. At the time, the Purnell Center for the Arts was only a hill, and drama students shared quarters with musicians in the CFA building.
Pittsburgh's culturally rich environment also was important for him in shaping his studies.
"The thing that made it special then and now is it's a very intensive, creative and academic experience. It's completely focused on drama and storytelling and design and theater, and theater is what feeds into television, which is what I ended up doing," he said comparing Pittsburgh to locations such as Los Angeles, Chicago and New York. "What I wanted was some place where I could grow the craft. You need a conservatory experience to be the basis to start. It's the edge of the pool you push off of."
One thing that has stayed similar is the small selective nature of the school.
"There's more opportunity to be hands on," he said. "You're not sharing the play with 20 people but rather two or three."
As a student, Wells struggled with tuition. He said he was from Arapahoe County outside of Denver where there were "a lot of people living hardscrabble lives." One of his professors, Bill Nelson, found a benefactor "and he would write a check that would keep me in school when I thought I was going to have to go. And I never forgot that. I never would have been able to do any of the things in my career that I did without the education I received here."
Shows produced by Wells have received more than 200 Emmy Award nominations and have won more than 50 Emmy Awards. His shows also have received 50 Golden Globe nominations and have won four Golden Globes, and Wells has won five Peabody Awards and the Humanitas Prize. Current projects include "Southland" and "Shameless," and he's working to direct Meryl Streep and Julia Roberts in a film version of "August: Osage County."
Wells returns often to talk to students about the industry and his career. He spoke of the classical underpinnings that the School of Drama reinforces, which he said set the basis for how he approached his career, as well as how to work with other people. Having that foundation, he added, is more important than learning the newest technology and keeping up with equipment changes.
"Once you have that, you're prepared to do any project out there," he said.
One thing Wells hopes is that students talk to guest artists and visiting lectures and connect those experiences to their education.
They may not yet appreciate the level of professional of their professors," he said. "There's terrific faculty, and ultimately it's about the quality of the professors and the students."
CMU alumnus and award-winning Hollywood producer John Wells interacts with students during a recent event celebrating his transformational gift to the School of Drama's directing program.