April 01, 2011
Chef Sizzles at Regional Culinary Challenge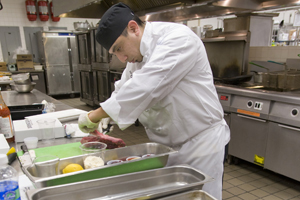 Good things often come in threes. One of those is CulinArt Chef Aldo Ramirez's award-winning recipe for tri-tip beef.
Ramirez was the first chef ever to represent Carnegie Mellon in the National Association of College & University Food Services' regional Culinary Challenge, which included Pennsylvania State University, The University of Pennsylvania, Villanova University and Rutgers University.
His entrée, which included three different preparations of the same cut of meat, took home a bronze medal.
"It is wonderful that Chef Aldo is receiving this recognition," said Kim Abel, director of Housing and Dining Services. "He has become such an asset to our dining program through his leadership and artistry in catering. We are proud that he is part of our campus community."
Ramirez was born in Peru and moved to the United States when he was 10 years old. He was working at his father's restaurant and pizzeria in Florida at 15, and he spent time in Fort Lauderdale, Orlando and Miami. Highlights of his career included serving as the personal chef to Antoine Walker and Dorel Wright of the Miami Heat. He also managed the opening of the Steak House at Mountaineer Race Track and Casino near Pittsburgh.
Ramirez joined Carnegie Mellon and CulinArt in 2010 as executive catering chef.
"I like the variety and the challenges. The challenge is in taking my idea to another building. Things like the transportation logistics, that's fun," he said.
Ramirez's award-winning recipe will be added to catering's extensive list of options. The dish includes three styles of preparation: Oscar, Barbacoa and Asian Five-Spice.
"The main idea for my dish was to make it small enough to present and to have three different tastes," Ramirez said.
During the competition, in which everyone was required to use beef tri-tip, everything had to be done within 75 minutes without a grill. To accomplish that, Ramirez used special tools and ingredients.
For his Beef Oscar, he replaced the traditional creamy hollandaise sauce with a powder made with maltodextrin. When the powder comes in contact with the human palate, the pH of the mouth's environment turns the powder into cream. To get a smoky flavor in the Barbacoa Beef, he used apple wood chips and a smoke gun in the very final seconds to capture apple wood smoke inside a glass and cover the beef before serving.
"I was very excited to represent CMU, Housing and Dining, and CulinArt in this competition." Ramirez said. "This was my first competition; however, I have done many cooking demonstrations and taught classes throughout my career. It was a fun and rewarding experience."

His dish featured flavors ranging from crabmeat and asparagus to watermelon and cheese.


Chef Aldo Ramirez recently won a bronze medal for his original beef recipe from the National Association of College & University Food Services.
Chef Aldo's Award-Winning Recipe
Beef Oscar
4 2-oz. beef tri-tip
2 large purple potatoes sliced in eight pieces
8 oz. king crab leg meat
4 asparagus, shaved with a vegetable peeler and blanched
250 grams clarified butter
75 grams maltodextrin
1 teaspoon lemon powder (recipe follows)

Barbacoa Beef
4 2-oz. beef tri-tip
1 Idaho potato cut in 2-inch batonnets
 cup micro greens
 cup medium dice fresh watermelon
2 oz. crumbled gorgonzola cheese
4 oz. golden raspberry BBQ sauce (recipe follows)
1 teaspoon wood chips
Smoking gun or a  hotel pan with a lid
4-12 oz. Rock Glass

5 Spice Beef (Asia)
4 2-oz. beef tri-tip
1 teaspoon 5 spice powder
 cup fresh pea tendrils
 cup julienne red onion
 cup julienne squash
 cup red peppers
2 teaspoons sweet chili sauce
1 teaspoon sesame oil

Lemon Powder
Using a microplane, zest two whole lemons. Place zest on a lined sheet pan and dehydrate in oven at 175 degrees for 6 hours. Cool and place in a dry container.

Golden Raspberry BBQ Sauce
1 cup red onion
1 teaspoon olive oil
1 pint fresh golden raspberries
 cup white balsamic vinegar
 cup sugar in the raw
Pinch crushed red pepper

Caramelize onions in oil. Add raspberry vinegar, pepper and sugar and reduce by a quarter. Run the mixture through a fine sieve and cool.

Method:
1.    Season eight pieces of beef with salt and pepper. Sear all sides. Rub the last four pieces with 5 spice power, and then sear all of their sides. Finish all the beef in an oven to medium rare, and let them rest.
2.    Steam purple potatoes for 3 minutes. Cool them in an ice bath and set aside.
3.    Blanch Idaho potato batonnets in frying pan until two-thirds done and set aside.
4.    Mix Gorgonzola, pea tendrils, watermelon and 2 ounces of raspberry BBQ sauce and set aside.
5.    Mix julienne vegetables with sweet chili sauce for a slaw and set aside.
6.    In a bowl, mix clarified butter into maltodextrin in a small stream using a whisk until it turns into a powdery texture.

Plate up in the following order:
1.    Cut all beef pieces in two even slices and set aside to rest.
2.    Place two purple potatoes on top side of each plate.
3.    Arrange the batonnets in the center of the plate and top with remaining Raspberry BBQ sauce.
4.    Remix slaw and place at the bottom side of the plate.
5.    Arrange two slices of the 5-spiced beef over the slaw on each plate.
6.    Drizzle sesame oil over 5-spiced pieces of beef.
7.    Place two slices of beef on each plate over the purple potatoes, top with crabmeat, asparagus, butter powder and lemon powder.
8.    Place remaining beef over the batonnets. Using the smoking gun or pan lid, capture the smoke from chips with the glass and place over beef.
9.    Top the glass with the watermelon mixture.
10.    When the guest is ready to eat, pull glass from beef, tipping the salad on top of the smoked beef