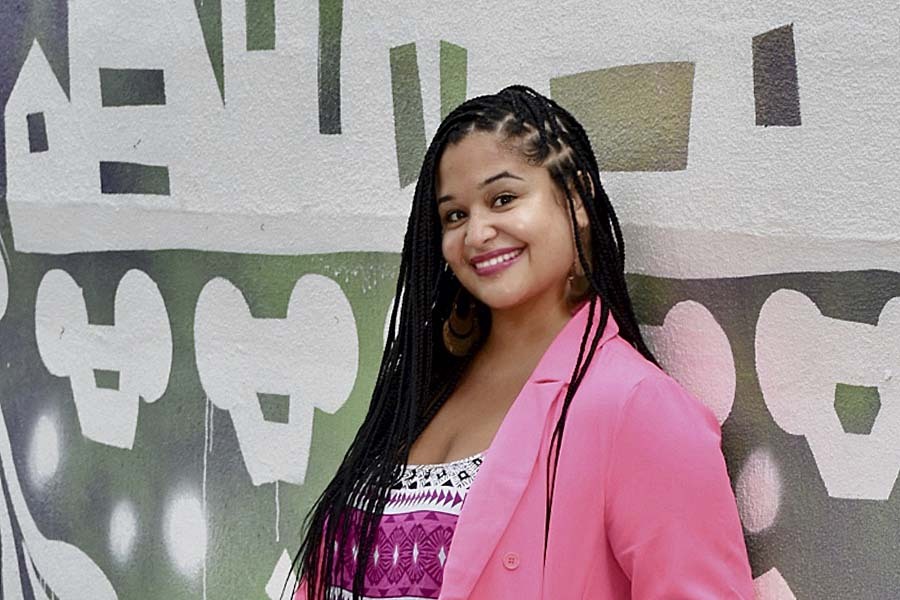 January 21, 2021
Martinez Named CFA Assistant Dean of DEI
By Pamela Wigley pwigley(through)andrew.cmu.edu
Media Inquiries
Pamela Wigley
Valeria J. Martinez has been named the assistant dean for diversity, equity and inclusion within Carnegie Mellon University's College of Fine Arts (CFA). CFA Dean Dan Martin announced the appointment of Martinez to the new position in a message to the CFA community earlier today.
"Appointing Valeria to this role is a critical step in reinforcing our commitment to diversity, equity and inclusion in the College of Fine Arts," Martin said. "Most of our schools and programs already have implemented processes and actions that positively affect our students, faculty and staff. Valeria will help us to continue to assure that CFA continues to become a more diverse, truly inclusive, and equitable environment for all."
A regular speaker on the subjects of diversity, social justice and Latin/Latino-focused issues, Martinez also has a history of working with various communities on systemic oppression, unlearning false narratives about marginalized communities and providing support to disenfranchised groups — including first generation college students, students of racial, ethnic and gender marginality, as well as faculty and staff of marginalized genders, sexuality, race, ethnicity and nationality. Martinez also has studied extensively on critical race theory, queer of color theory, Black and Latinx studies.
Martinez comes to Carnegie Mellon from Cornell University, where she taught online courses in ethnicity, diversity and gender studies. Prior to that, she was a national training specialist with The Posse Foundation, where she provided training for internal and external audiences, designed curriculum and mentored staff, among other key responsibilities. Martinez served as associate director of the Office of Multicultural Affairs at Columbia University. There, she managed activities and services for all outreach and social justice educational programming, developed diversity training and workshops, and supported the recruitment and retention efforts for the division of undergraduate student life.
At Syracuse University, Martinez served in a dual role as a university instructor in the College of Arts and Sciences' Latin/Latino American Studies Department and associate director of mentoring programs and diversity education. Earlier, she had been the coordinator of mentoring programs in the Office of Multicultural Affairs.
Martinez earned her dual bachelor's degree in communication studies/political science from Wilkes University in Wilkes-Barre, Pennsylvania. She completed a certificate of advanced studies in women's and gender studies at Syracuse, and earned her master's degree in cultural foundations of education. She is pursuing her doctorate in leadership and learning organizations at Vanderbilt University's Peabody College of Education in Nashville, Tennessee.
A New Yorker, she looks forward to making Pittsburgh her home.
"This is an exciting time to be joining Carnegie Mellon," she said. "There is immense opportunity to create a transformative, inclusive space within the College of Fine Arts, and doing so marries my passion for justice, diversity, equity and inclusion with my profession."