September 30, 2020
Student Studies Movement in Fashion's Future
By Heidi Opdyke opdyke(through)andrew.cmu.edu
Media Inquiries
Jason Maderer
Marketing and Communications
Carnegie Mellon University senior David Perry contemplates how fabric will move in the future.
Not just the way clothing can drape a body or how curtains billow in a breeze, but how technology and electronics can change the way we think about clothing and material.
"The current state of wearables is there are a lot of actuators mounted on the body. They're like little motors that can do some motion, but it's usually pretty limited," said Perry, whose self-defined major — applied craft of contemporary kinematic systems — weaves together the intersection of textiles and robotic systems. "I'm trying to figure out how we can use robotic tools to extend classical hand crafts."
His most recent research explores the form and motion possible in robotized garments. So, for example, what would happen if a swarm of robots manipulated fabric around a person?
"The goal of this project is to think of what would happen if we move actuators off the body, to overcome the limitations of on-body motors," he said. "It's been interesting as a speculative project."

David Perry explored ways in which drones could cause motion with fabric.
Lea Albaugh, a doctoral student in the Human-Computer Interaction Institute and a graduate from CMU's School of Architecture, oversaw Perry's work for a Summer Undergraduate Research Fellowship (SURF). She is part of Lining Yao's Morphing Matter Lab.
"It's relatively easy to embed lights and sound [into clothing]," Albaugh said. "But it's technically difficult to play with overall shape."
A lot of wearable technology, like smart watches, work to track medical information, Albaugh said.
"There is still a great amount of possibility in thinking about clothing: what does it mean to be interactive with something that's around your body in this physically and socially meaningful way?" Albaugh said. "There's so much that we load onto clothing. It's aesthetic. It's physiological. There's comfort. There's style. There's all this stuff that we do with clothing and very little of that big picture is necessarily considered within human-computer interaction as a field."
"Talking to people whose domains are adjacent or complementary — or even totally, wildly different from your own — is where the good ideas come from. And it's how good ideas get better." — Lea Albaugh
For part of the research Perry conducted a literature review. Then, he and Albaugh interviewed a number of CMU faculty members and researchers with expertise related to the project. Hugh Hanson, an associate teaching professor of costume production in the School of Drama, talked about the history of costumes and the dynamics of fabric. Stephanie Valencia Valencia, a doctoral student in HCII, shared information about how puppetry and small robots can be used to help fill in communication gaps for people who use assistive technology as a primary means of conversation.
"Talking to people whose domains are adjacent or complementary — or even totally, wildly different from your own — is where the good ideas come from," Albaugh said. "And it's how good ideas get better."
For Perry, the speculative nature of the research was new.
"I'm used to being able to manufacture an artifact in the final stages of my projects," he said. "Sometimes the conversations I've having with people around CMU, which cross disciplinary lines, are of the most exciting parts of this research."
Hands-on Learning
Perry experiments
with material, media
and form to create
objects that use
the properties of
craft and material
in unique ways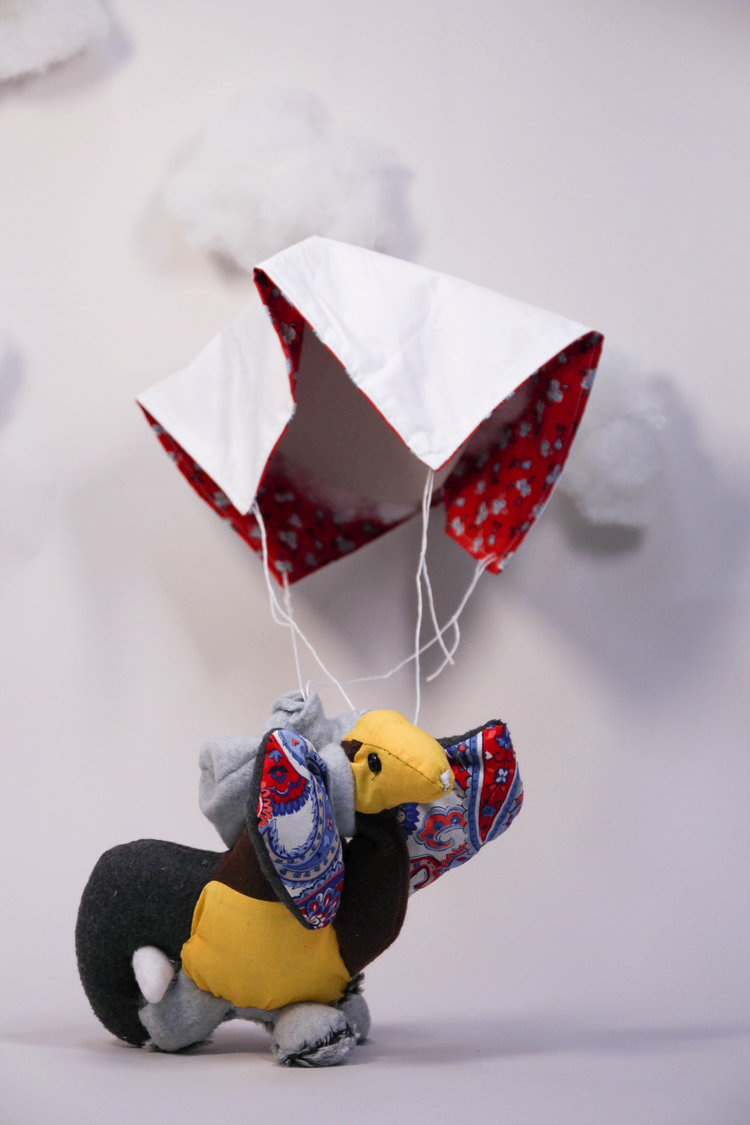 Stuffed Camelephant: Through a process of freeform crafting Perry and Julita Przybylska developed an animal with implicit character for the class Inflatables and Soft Sculpture.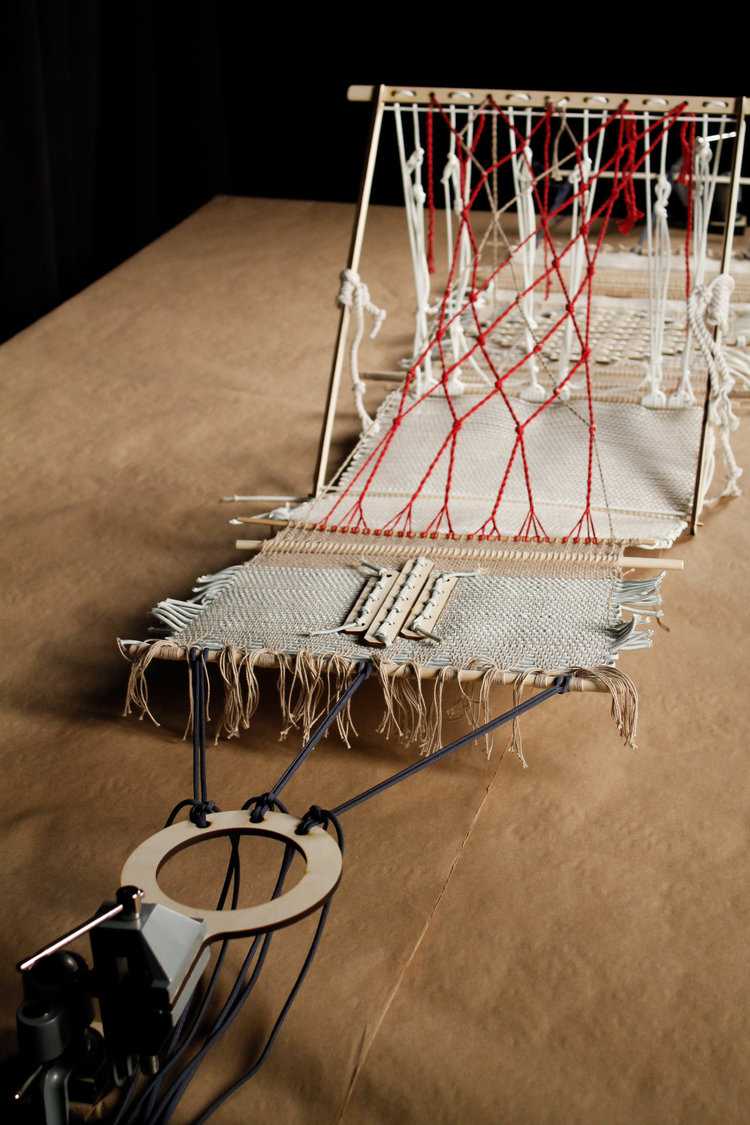 Structural Weaving: Perry's goal was to weave soft and hard materials together to explore the relationship between warp and weft.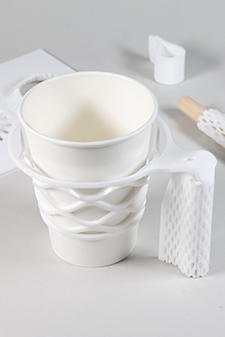 Acrylic Cup Sleeve: Perry created a cup sleeve that turns a plain to-go cup into a mug. The final form was created by cutting, heating and manipulating the acrylic with a set of custom jigs.
As part of his work, he used 3D modeling and simulation software to render motion sketches and investigate different approaches to motion. For example, some looked at joint-based kinematics while others considered grid distortions.
"Among other things, we ended up using the sketches in a feedback workshop with the rest of the Morphing Matter Lab," Albaugh said. "Certainly less hands-on than David's usual work, but of course that was down to the pandemic."
Albaugh and Perry have worked on projects before through courses that were part of CMU's IDeATe Network.
"I'm thankful that I was able to find a community like IDeATe's and people across the university who are supportive of these interdisciplinary spaces that I've ended up inhabiting," Perry said. "It's a space that really nurtures interdisciplinary communities and work. That's been really good for me."