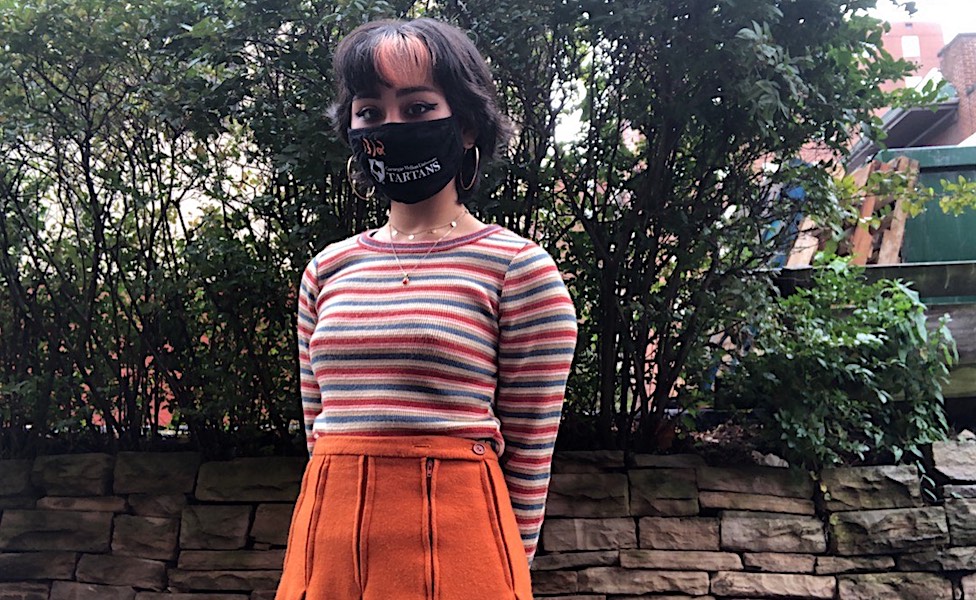 October 26, 2020
Doubling Down on Tartan Scholars
In its second year, student academic success initiative expands programming
By Katy Rank Lev klev(through)andrew.cmu.edu
Media Inquiries
First-year student Melina Castillo came to Pittsburgh from Los Angeles to attend Carnegie Mellon University. A cross-country move during a pandemic is already a challenge, and Castillo had added obstacles that come with a limited-resource background. Luckily, Castillo is part of the Tartan Scholars, a CMU program specially designed to support students who are academically high-achieving but may have experienced opportunity gaps.
"It's definitely something I find comfort in," said Castillo, who is enrolled in the College of Engineering, of Tartan Scholars. "If I didn't have this, I would feel alone, especially with the remote format where it's hard to meet people."
The program, made possible by a five-year gift from the Posner Foundation of Pittsburgh, focuses on connection, communication and coaching. Now in its second year, Tartan Scholars has doubled the number of first-year students it supports to 100 and has expanded programming to include the initial cohort during their second year at CMU.
"Tartan Scholars has been a transformative program not just for many of the Scholars, themselves, but also for our campus community. It has given us a lens to see institutional programs, policies and practices in a new light and the lessons learned have shaped the ongoing work to help all students thrive," said Amy Burkert, vice provost for education.
Meeting All Needs
Branden Ballard, program manager for Tartan Scholars, explains that transitioning from high school to an elite, rigorous university involves understanding how to navigate a lot of intricate systems these students may never have faced before. For the Scholars, whom he calls "little geniuses," academic coursework might be the least of their challenges.
Castillo, for instance, somehow lost her retainers during her journey from the West Coast. "They're ridiculously expensive to replace," said Castillo, whose insurance plan doesn't include affordable orthodontia coverage. Tartan Scholars staff provides extensive coaching surrounding medical care, particularly when students' health insurance plans don't cover them outside of their home state.
A roadblock like lost retainers presents an unforeseen expense that can spiral for students who have no cushion or advisors to walk them through potential solutions. Ballard said, "Our students tend to have random needs that pop up and we want to equip them to meet those."
The Tartan Scholars program offers Castillo a mentor — Ballard — and an Ambassador, an older student who went through the Tartan Scholars program and comes from a similar socioeconomic background. They help guide the first-year scholars toward student organizations like the Spanish and Latin Student Association (Salsa), which Castillo joined in order to help build connections with CMU's Latinx community.
"I'm actually the first-year representative for Salsa. It's been another good community," Castillo said. "Our goal is to better unify the LatinX community on campus, even though there's not very many of us. It's been fun."
Currently, Tartan Scholars partners with 26 mentors from university faculty or staff, as well as 22 Ambassadors, who are paid for their time and their input into how the university can best support Tartan Scholars to succeed. "We wanted to be very strategic in how we approached things, especially this year when in-person opportunities are so limited by the pandemic," Ballard said.
Ballard said half of the second-year Scholars and a third of the first-year Scholars are studying remotely this year and may never have set foot on CMU's campus. "Trying to build a supportive community for these students is tough," he said.
Meeting technology needs for these students has been an important support role since March. Tartan Scholars has been able to provide funds for internet access or upgrade scholars' laptops when needed so the students, whether they're engaging with campus in person or Zooming in from rural Kansas, have access to the full CMU experience.
Tartan Scholars remind each other that there are solutions out there as long as the students let their mentors know what's going on. Ballard, for instance, is connecting Castillo to two potential funding sources to help replace her retainers so she can focus her energy on her classwork. "It's so great to know I can talk to him about whatever I need, whatever I'm confused about," Castillo said.
Preparing for the Future 
As part of the expanded programming for second-year students, Tartan Scholars has developed a theme of discovery and exploration, preparing the students for internships and research opportunities. Diane Hightower, director of student academic support programs, said, "Our curriculum includes faculty networking to help our second-year students solidify their academic plans, and to prepare them for life after CMU."
Working in partnership with the Undergraduate Research Office and CMU Libraries, Tartan Scholars is guiding their students through advanced research techniques and skills. "We want to help our students become competitive for national scholarships," said Ballard, who is helping one student complete a Barry M. Goldwater scholarship application.
Ultimately, Tartan Scholars aims to support their students through all four years they attend Carnegie Mellon and to address the disparity in graduation rates between limited-resource students and students from more affluent backgrounds. The results from year one seem promising: All 56 of last year's Tartan Scholars chose to continue with the program and have jumped right in to the role of welcoming the new cohort to the CMU community.
"Our scholars are so bright and they've earned their right to be here, Ballard said. "We feel good about our ability to support their social, emotional and cultural needs so they can leave this university fully acclimated, with a deep understanding of who they are and what they want to do in the world."