May 26, 2020
Experimental Course Captures Students' Experiences
By Heidi Opdyke opdyke(through)andrew.cmu.edu
Media Inquiries
Andy Ptaschinski
Thomas Hughes
Frank-Ratchye STUDIO for Creative Inquiry
Cathryn Ploehn, a master's student in Carnegie Mellon University's School of Design, put her friends' hearts in her work.
For an assignment earlier this semester in the Experimental Capture (ExCap) course taught by Golan Levin and Nica Ross, she used a portable ultrasound to create portraits of 12 friends. By recording her friends' hearts from a consistent angle, synchronizing the recordings, and sorting their hearts by size, Ploehn was able to explore the beauty and diversity in human heart movements.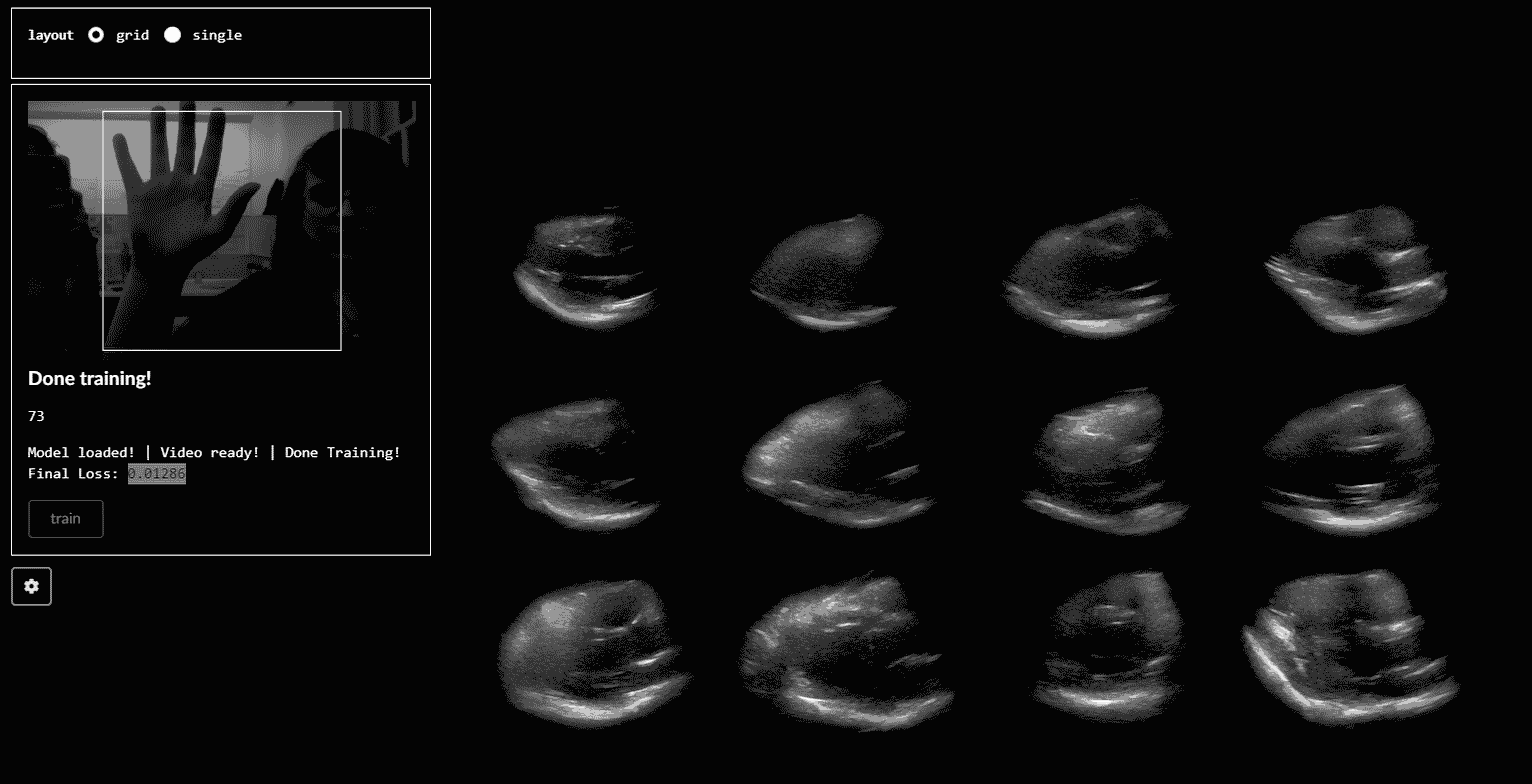 Prior to spring break, Cathryn Ploehn used a handheld sonogram to create portraits of friends' hearts.
"The course opened up the possibilities for the kinds of work I can imagine as a designer," said Ploehn, whose background is in data visualization. "Both data visualization and experimental capture center around crafting ways to observe, understand and appreciate the world."
She said she was excited to work with Levin to create imaginative, weird and compelling ways to observe, collect and display information.
"I first heard of the course after peers and mentors at Carnegie Mellon University spoke highly of Golan's pedagogy and ability to foster the environment for compelling work," she said.
Levin is director of the Frank-Ratchye STUDIO for Creative Inquiry and a professor in the School of Art. In the ExCap course, students explore the affordances of unusual and experimental image capture technologies in revealing unseen realities. Through the STUDIO's facility in the College of Fine Arts, students access equipment including multispectral imagers, high-speed cameras, motion capture systems, volumetric sensors, robotic camera mounts and more.
This year had some twists. Ross, an assistant teaching professor in video media design in the School of Drama, co-taught the course, and was instrumental in revising its approach after spring break when students could no longer access the STUDIO.
"First we needed to acknowledge feelings of loss, confusion, anxiety and trauma," Ross said. "And we needed to address disparity as best we could. We did so with a lot of communication in the form of class conversations, anonymous surveys and ongoing one-on-one meetings."
They said that one of the changes was by presenting small optional assignments, which were actually more about an invitation than an assignment.
"We wanted to help them engage with the where and the when of their lives. By that I mean that we all are living and making in the time of Covid," Ross said. "We also had to address the fact that one of the core resources for the class — Golan's magic collection of experimental capture devices — was no longer available to the students. Some had equipment because they borrowed it over the break, but the majority of students did not."
The professors compiled a list of apps available on phones and computers. These apps could transform their phones into a variety of tools and the collection of experiments was named, AppMisuse.
"They were stuck in their rooms with phones, laptops and little else. When the pandemic hit, we redesigned the course to decenter exotic equipment, and to find ways to be more resourceful with everyday media and materials," Levin said. "Nica gave the students a vocabulary for dealing with the extraordinary circumstances they found themselves in, and prompts that shifted their focus from documenting the external world, to capturing their own subjective experience. Smartphones have many remarkable and little-known capabilities, so there were still plenty of astonishing techniques the students could use to tell their stories."
Ross agreed that the class's focus shifted inward.
"Many students made very intimate and vulnerable work. We saw each other's domestic spaces, learned details about each other's lives and many made and shared work about their personal lives," they said. "It was a really generous time and something that I'll never forget."
The course draws students from a range of disciplines and experience levels. Housed in the School of Art, ExCap is part of the Integrative Design, Arts and Technology (IDeATe) Program, which connects diverse strengths across the university to advance education, research, and creative practice in domains that merge technology and arts expertise.
"This semester, our course has students majoring in art, architecture, design, drama, physics, and computer science, and this ensures that they're encountering a wide mix of creative approaches," Levin said.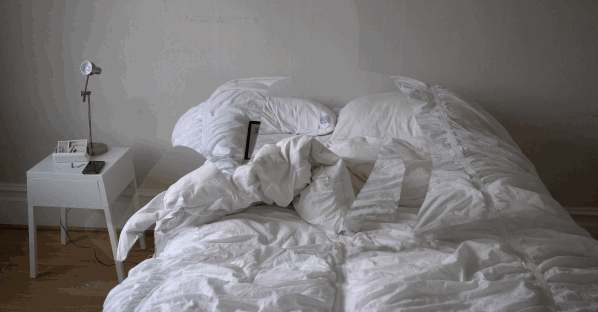 For "A Momentary Stay," Joyce Wang created a series of GIF self-portraits to depict herself treading lightly in a friend's apartment.
Transparent Tranquility
During the quarantine, Joyce Wang, a fifth-year student in the BXA's Bachelor of Computer Science and Arts program, needed to escape a not-so-great living situation. A friend offered up her empty apartment as a solution. Wang said she found herself surrounded by evidence of a life not her own. For her final project in ExCap, "A Momentary Stay," she created a series of GIF self-portraits to depict her transient and solitary body treading lightly in her temporary quarters.
She used chroma key technologies and a green zentai suit to create the images. Wang, whose CFA concentration is drama, has focused her CMU studies on using technology to tell stories in novel ways.
"The ExCap course provided a great opportunity for me to do projects that explore this area," Wang said. "I love the community of students and faculty at the STUDIO for Creative Inquiry. Taking a class with them was absolutely enjoyable and inspiring."
Wang said that being remote removed a treasured classroom experience where she was able to spend time in the STUDIO's space both during and after classes.
"But I appreciated how Nica and Golan tried their best to adjust the curriculum and empathize with each of our unique circumstances," Wang said. "They changed the assignments and brought in speakers who inspired us in how to lean into constraints when making art. We don't need exotic machines to capture the world in an experimental way."
Policarpo Del Canto Baquera choreographed and created a video performance, "360-ings."
Continuous Patterns
Policarpo Del Canto Baquera wanted to portray the strangeness of returning home indefinitely. So he choreographed and created a video performance, "360-ings" where versions of himself did many of the common things people do at home. He processed the video using a machine learning technique to overlap the sequences in time and space to create a 360-degree interactive view.
A master's student studying Computational Design in the School of Architecture, Baquera researches ways of augmenting physical environments through tangible interfaces and site-specific spatial installations. Baquera said the course has made him more confident at building frameworks for image processing.
"The projects I have developed in ExCap have revealed exciting textural and performative qualities of the surfaces we see and touch," he said. "I am planning to build a robotic projection-mapping system for augmented navigation of our physical environment, and learning about protocols for sending data across devices and software has definitely been fundamental."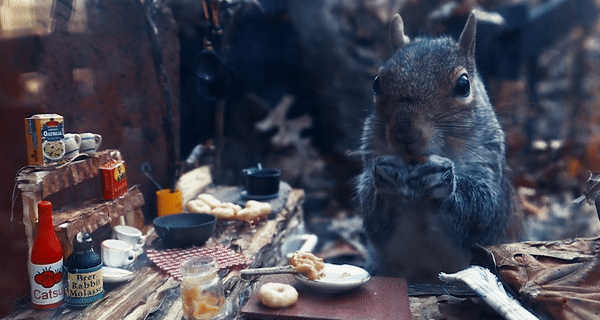 In a set of a squirrel videos, Lumi Barron said the animals's actions mimick how being home all the time feels.
A Wild Party
Lumi Barron, a senior in the School of Art, has spent hours outdoors during the pandemic quarantine. She was not alone.
Inspired by a children's book illustration of wild animals picnicking in the forest, she captured videos of squirrels eating at tiny dining sets. The project is called "Sciuridaes" after the scientific name for squirrels, and has been featured on CNN, Finnish television, and many online blogs.
"The squirrels perform uniquely 'human' activities such as reading and baking. Their choices of activities mirror how I, a human, spend my time," Barron said. "What I'm particularly excited about, in the most recent set of squirrel videos, is that I think they portray an intimacy of the single squirrel room space, which unintentionally mimicked how being at home all the time feels."
Barron's work often focuses on stop motion and experimental animation work and installations. To create the videos, she shot images with a high-frame-rate camera, and then enhanced their quality using AI software.
"I had previously taken one of Golan's classes, and enjoyed and learned a lot from it. I knew that the course would offer me the chance to see really interesting work, introduce me to new and exciting technologies and tools, and expand my understanding of my own artistic practice," she said.
"The most valuable thing I learned from the experience came from how the class was structured to ask, and encourage, us to think, about 'seeing' and 'capturing' in entirely new frameworks and in contexts that I would never have thought of before."
Barron, who was recently awarded the School of Art's Dara Birnbaum Award, said many of the technologies and programs that she learned have significantly impacted how she creates her work.
"They have opened doors to new opportunities for experimentation that I am really excited to pursue, and I have already filled up my entire summer schedule with things that I want to try," she said.
Barron's project was so compelling that Maddy Varner, who graduated from CMU's School of Art in 2018, conceived and donated a new annual award to be housed in the STUDIO. The "Maddy Varner Mastication Grant for Time (and/or) Teeth Based Works" will support "work that chews the cud," such as students who make art about chewing, or who make work that takes a long time to realize. Barron is the first recipient of the award.