June 19, 2020
Zazzle Using MHCI Capstone Ideas To Create New Products
An online marketplace benefits from collaboration with student teams
By Byron Spice bspice(through)cs.cmu.edu
Media Inquiries
Byron Spice
School of Computer Science
Virginia Alvino Young
School of Computer Science
Wuyang Wang knew she got lucky last year.
As part of the Human-Computer Interaction Institute's (HCII) master's degree program (MHCI), the Carnegie Mellon University student was assigned to a capstone project team for Zazzle, a platform that brings people together to design, make, sell, purchase or even share products online.
That assignment proved a bit of good fortune. The capstone project is a highlight of the MHCI program, giving groups of students an opportunity to work with clients on real-world solutions to their needs and wants. As Wang would learn, Zazzle is a perennial sponsor and an unusually approachable and collaborative client.
Notably, Zazzle values the student input so highly that it incorporates many of the concepts the MHCI students develop into its product and service offerings.
"A lot of our products coming this year are focused on content and collaboration," said Lonny Chu, senior director of user experience within Zazzle's product group. "The genesis of all that was previous capstone work."
This year marks the fifth that Zazzle has sponsored an MHCI capstone project, he noted, and each student to date has made important contributions to the company's brand identity and products.
"I love every one of them," Chu said. "They're all terrific individuals."
Skip Shelly, associate teaching professor in the HCII and director of the MHCI program, said the capstone project gives students an opportunity to apply the HCI design methods they learned in the previous semester to an intensive, seven-month engagement with a sponsor.
"The students use a variety of qualitative and quantitative research methods to develop useful insights, and to reframe and find problems worth solving," he said. "Students engage in iterative research, design and validation cycles that mirror the rhythms of industry."
Sponsors such as Zazzle benefit by seeing prototypes of their ideas, often incorporating advanced technologies such as machine learning or conversational agents, said Jessica Vogt, HCII engagement manager.
"For our students, the capstone yields real project experiences and deep content for their portfolios that distinguishes them in the industry," Vogt said. "That's an important reason students choose the MHCI program."
When Zazzle began as a capstone sponsor, the site was seen primarily as an online store, serving as a mediator between customers who wanted customized goods and the designers and makers who could create them, Chu said. But Zazzle's founders had a larger ambition for the site, he added, and the MHCI students helped them realize it.
The first capstone team helped Zazzle identify the true value of product customization, Chu said.
"When people buy something on Zazzle, they're not buying a thing - they're sending a message," he said, summarizing the first year findings. "Zazzle helps people build relationships."
In subsequent years, capstone teams helped identify ways to alleviate the anxiety sometimes associated with gift giving and to celebrate the joy people want to feel when giving a gift. They also worked to put greater focus on the content users create and to help associate the Zazzle brand with a mobile experience, such as a chat app that uses memes rather than text as a primary mechanism.
Throughout these developments, the capstone teams interacted with Zazzle's own product development group.
"It was like two teams working together," Wang said, noting Zazzle gave her team access to groups outside the university for user surveys and testing.
"I would describe it as cross-pollination," said Stu McGibbon, who along with Carol Cheng, Jing Hu, Paopao Ge, Katelyn Duncan and Wang made up last year's team.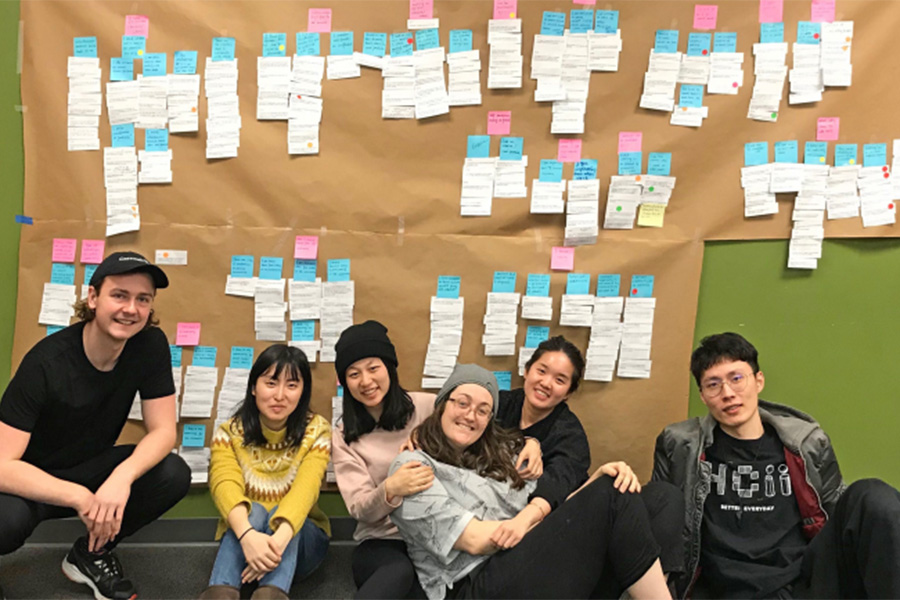 The 2019 MCHI Zazzle capstone team included Stuart McGibbon, Jing Hu, Wuyang Wang, Katelyn Duncan, Carol Cheng and Zhaoqi Ge.
That team focused on making the design experience more collaborative, while also helping customers be more creative. One solution, inspired by companies such as Blue Apron, IKEA and LEGO, was to develop maker kits that provided materials that could be combined in a variety of ways and always look good, McGibbon said.
The maker kits made collaboration easier, while also giving people confidence that the end product would be fail-safe, Wang said.
Zazzle recently introduced a new product, Zazzle Create, that reflects much of the input from previous capstone teams. Rather than first selecting a product, such as a hat or coffee mug, and then customizing it, Zazzle Create is "content first," he said, so users first decide what kind of message and design they want to create.
"Once you have the design, then you can make anything you want," Chu explained.
Other new products also incorporate some capstone ideas. Zazzle Collaboration allows users to chat while creating designs together in real-time, and Zazzle LIVE connects customers to a professional designer, bringing real-time collaborative design services to the Zazzle platform.
"We tend to trail about two years in turning these concepts into products," Chu said. Also, because of the collaboration between Zazzle developers and the capstone students - and between different years of capstone projects — identifying the precise origin of particular ideas or concepts can be difficult.
"The way we look at capstone is as a single body of work, not individual years," Chu said.
Zazzle has hired some MHCI alumni, including Parker Bossier, a 2013 graduate who is the company's lead user interface (UI) engineer; and Won-Woo Chung, a 2019 graduate and also a UI engineer. But the value of the capstone experience transcends company ties.
Wang, who is not a native English speaker, said she had been nervous about finding a job after graduation. But the capstone experience made her portfolio more compelling, and MHCI alumni also provided an important support network. She is now employed as a product designer in the San Francisco Bay area.
"Capstone is just a great opportunity as a student to put into practice the skill sets you acquire," said McGibbon, who now is working as a product designer for a health records startup. "It forces you to stretch and learn about your strengths and weaknesses."