June 23, 2020
CMU Prepares for Return to Campus
By Kelly Saavedra ksaavedra(through)cmu.edu
When students, faculty and staff eventually return to Carnegie Mellon University's Pittsburgh campus, they will find a plethora of protocols in place aimed at ensuring their health and safety.
Daryl Weinert, chief of staff and vice president for strategic initiatives, was appointed to serve as CMU's COVID-19 Coordinator. In this role, Weinert has been working with university leadership, subject matter experts and CMU's Emergency Preparedness and Response Team to organize a phased return this summer and prepare for the fall semester. He said he is pleased with the preventative efforts that have been made thus far, with many putting in countless hours and contributing to the campus-wide effort.
Here are some things you can expect.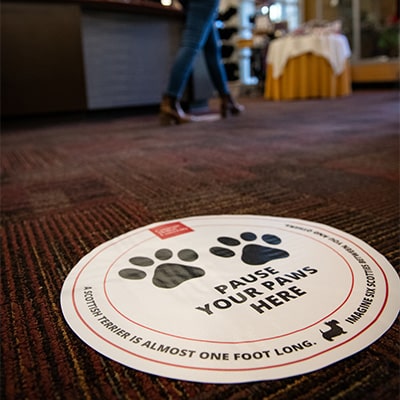 Signage. Signs are being posted campus-wide to reinforce physical distancing requirements, to remind people to wash their hands frequently and to provide other direction, such as where a stairwell is designated as only one-way. "Pause Your Paws" decals are being secured on floors where lines of people typically form as a reminder to maintain 6 feet between yourself and others. Those common areas in use will have reminders to maintain a low population density.
Enhanced Sanitation and Disinfection. Facilities Management and Campus Services (FMCS) will be conducting enhanced sanitation and disinfection every 24 hours in high-traffic and occupied common areas. The use of electrostatic disinfectant sprayers has been implemented as an efficient means of disinfecting large areas and complex surfaces throughout the day. FMCS is following guidelines from the Centers for Disease Control and Prevention (CDC) for cleaning and is available for consultation regarding additional cleaning of offices, laboratories and other spaces needed for unit operational plans.
Improved HVAC Systems.  FMCS has evaluated many options for improving HVAC systems, and they have implemented accelerated maintenance schedules, modified automation logic, increased operating hours to maximize air ventilation, verified high filtration, and also are deploying portable air cleaners in certain spaces. This summer, CMU is piloting several advanced technologies, including new Ultraviolet Airflow Disinfection and Needlepoint Bipolar Ionization systems in seven buildings. These technologies show great promise in eliminating the growth of bacteria, mold and spores, and in controlling the spread of airborne viruses.
Staggered Work Schedules and Modified Work Spaces. Staggered work schedules and modified work spaces are additional mitigation tools that units can deploy to support the low population density and physical distancing requirements. Everyone on campus will be required to maintain a distance of 6 feet between themselves and others whenever possible.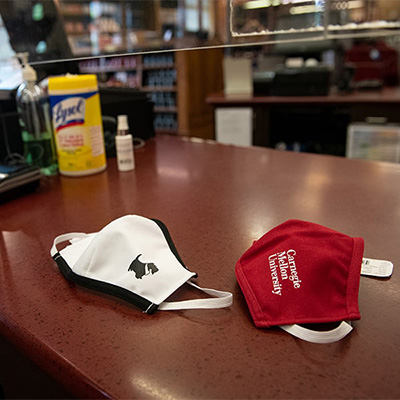 Facial Coverings. All faculty, staff, researchers, students and contractors must wear a facial covering at all times while on CMU premises both inside and outside of buildings, including while alone in a private office or other CMU space or facility. Facial coverings should cover the nose and mouth at all times.
Lots of Hand-washing. Community members are encouraged to use the hand sanitizing stations placed near the entrance of buildings each time they enter. You will be required to wash your hands after coming into contact with high-touch surfaces such as printers and copiers. On stairs and in stairwells, be mindful of your contact with handrails and practice handwashing hygiene immediately afterward. Anyone who performs in-person customer service or retail operations must take hand-washing breaks at least every hour. If soap and water are not available, personnel should use hand sanitizer with at least 60% alcohol.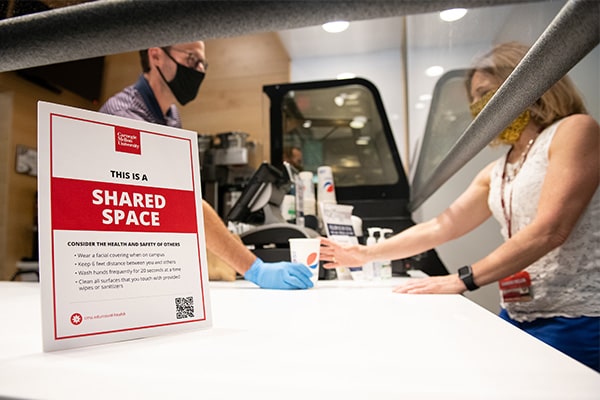 Plexiglass. The installation of physical barriers can also mitigate the transmission of viruses. Plexiglass barriers have been installed around campus, including transactional areas such as the University Store, Post Office, Health Services and The Underground. Additional plexiglass barriers continue to be installed throughout campus in other customer service areas.
Fewer In-person Meetings. In-person gatherings or meetings are discouraged. All meetings should be held virtually via Zoom or other conferencing technologies whenever possible. However, in-person gatherings or meetings are permitted in spaces that will allow for proper social distancing.
Pandemic Safety Officers. Similar to a floor marshal, pandemic safety officers are being appointed for departments and units campus-wide to ensure the campus community has the information and resources they need to comply with the minimum requirements.
Temperature Checks, If Needed. Physical distancing, wearing facial coverings and hand-washing all work together to help prevent the spread of viruses. Per Commonwealth of Pennsylvania guidance, daily temperature screenings may also be necessary for those entering a building if there is a confirmed case of COVID-19 in a given location. Employees must comply with any required screening or testing.
In the coming weeks and months, university leadership will continue to review and follow guidance from federal, state and local officials, including Pennsylvania Governor Tom Wolf's recently released guidelines for higher education.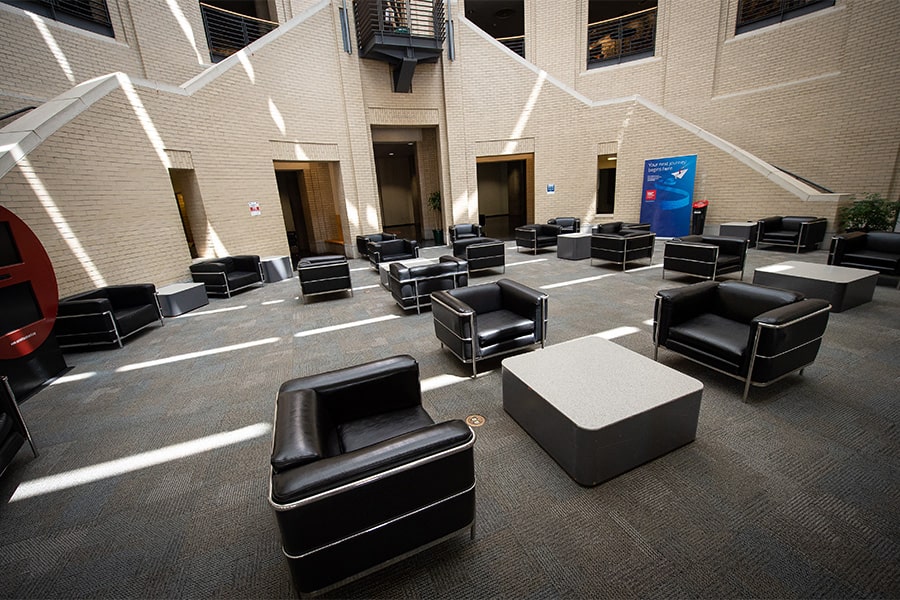 Seating in common areas has been rearranged to promote physical distancing.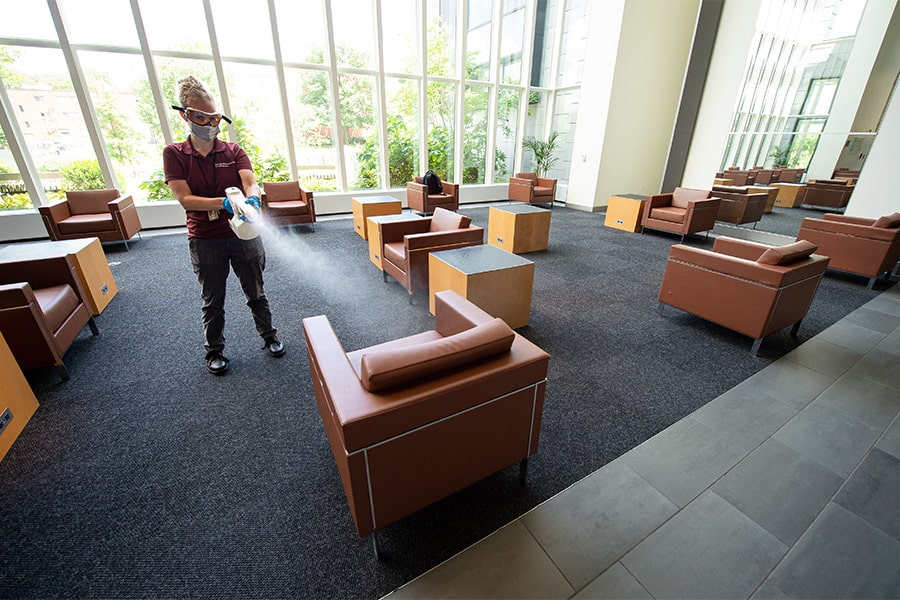 Enhanced cleaning efforts include disinfecting spaces with a high-powered, hand-held electrostatic sprayer that earned recognition as a 2019 Top Innovation of the Year.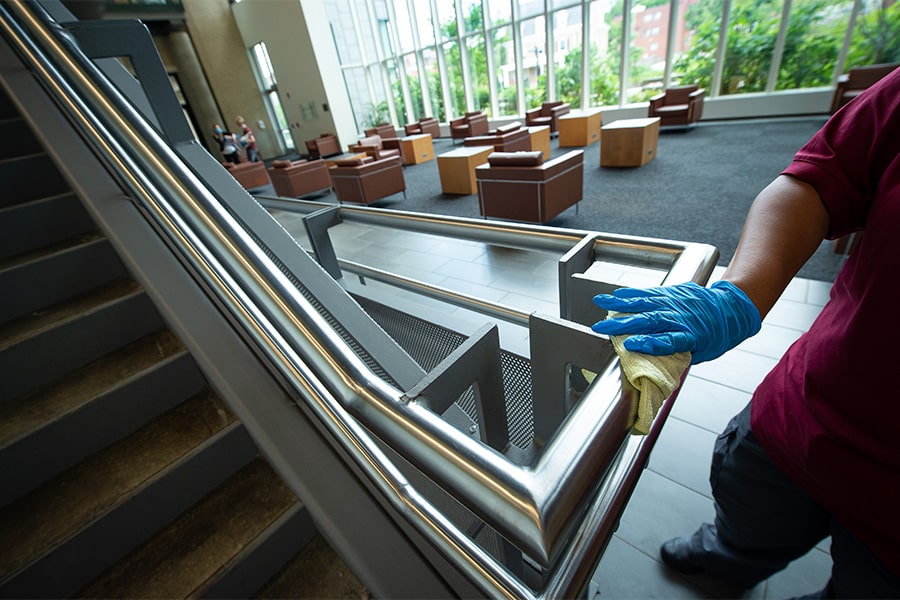 While custodians are cleaning spaces on campus daily, health and safety guidelines include being mindful of when you touch handrails and to wash your hands frequently.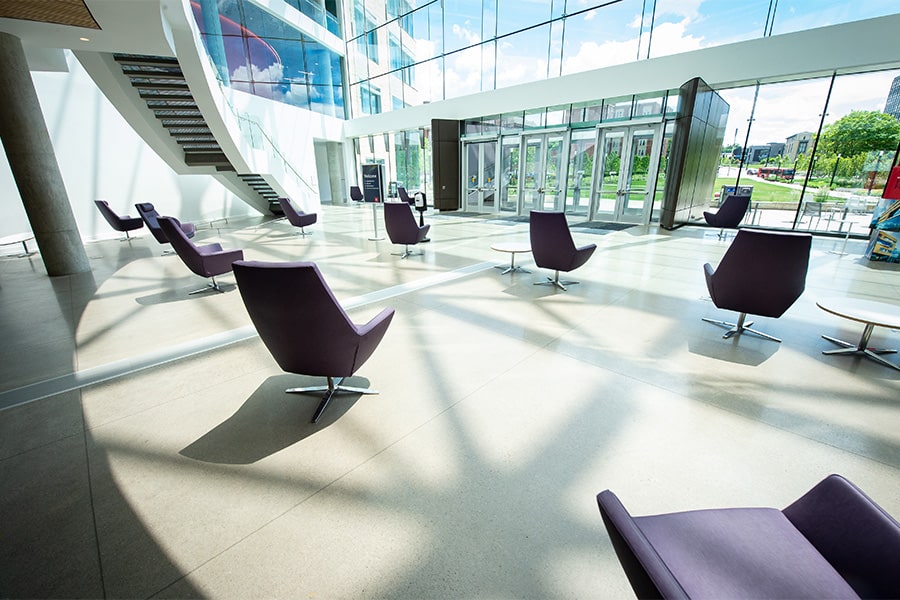 Seating in common areas on campus has been rearranged to promote physical distancing.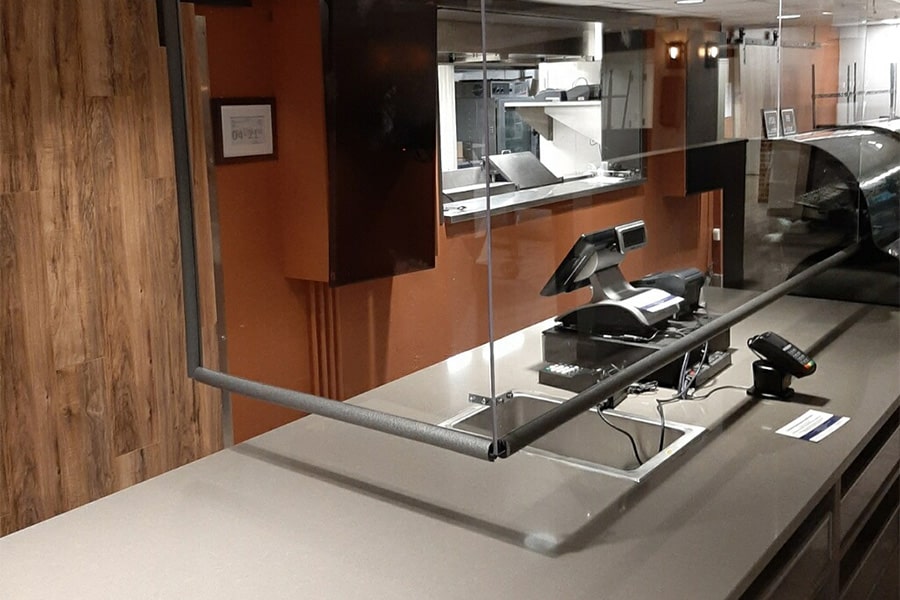 Plexiglass is being installed in customer service areas, such as The Underground dining facility pictured here, to mitigate the spread of viruses during a transaction.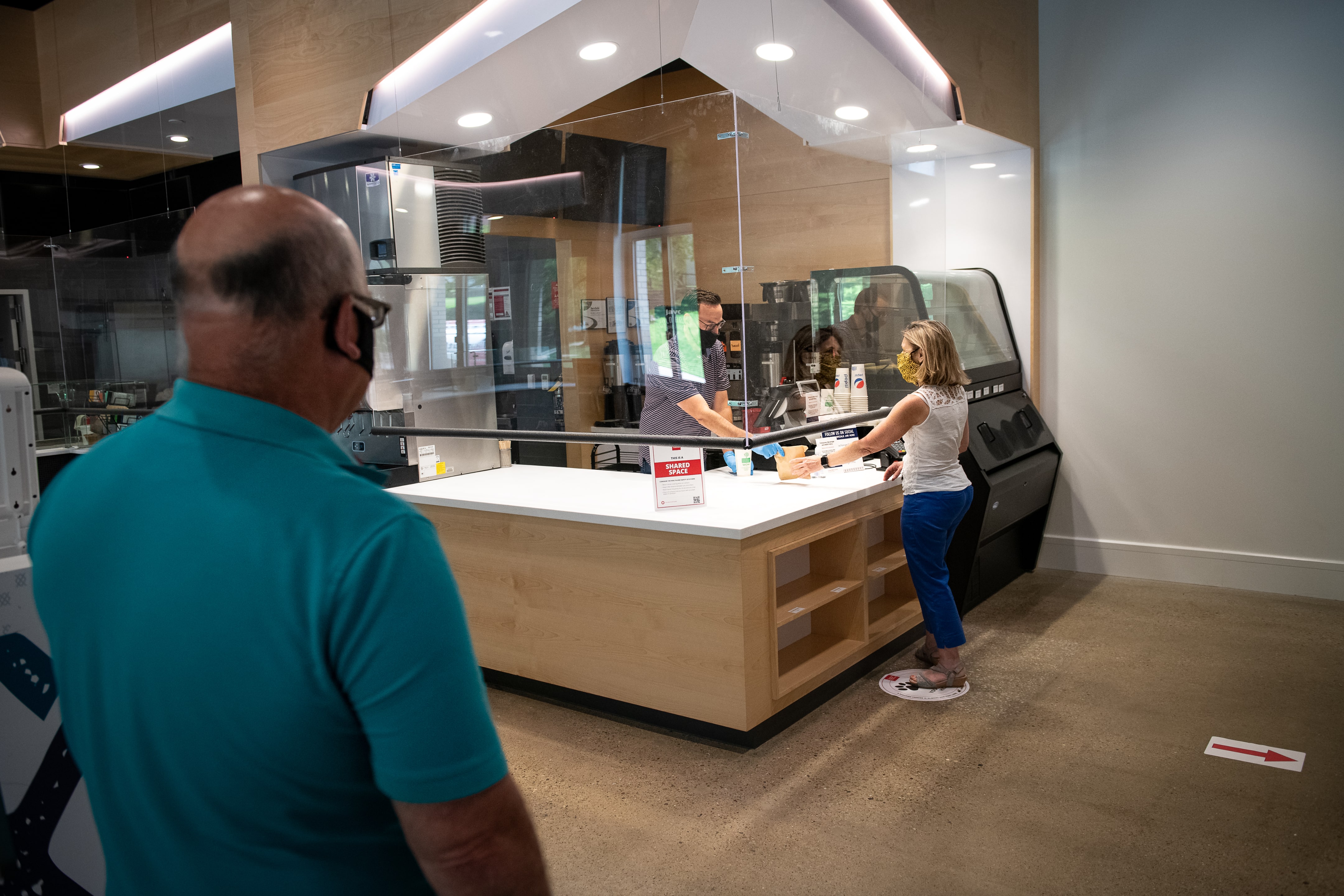 Signage is being placed campus-wide to help reinforce health and safety guidelines.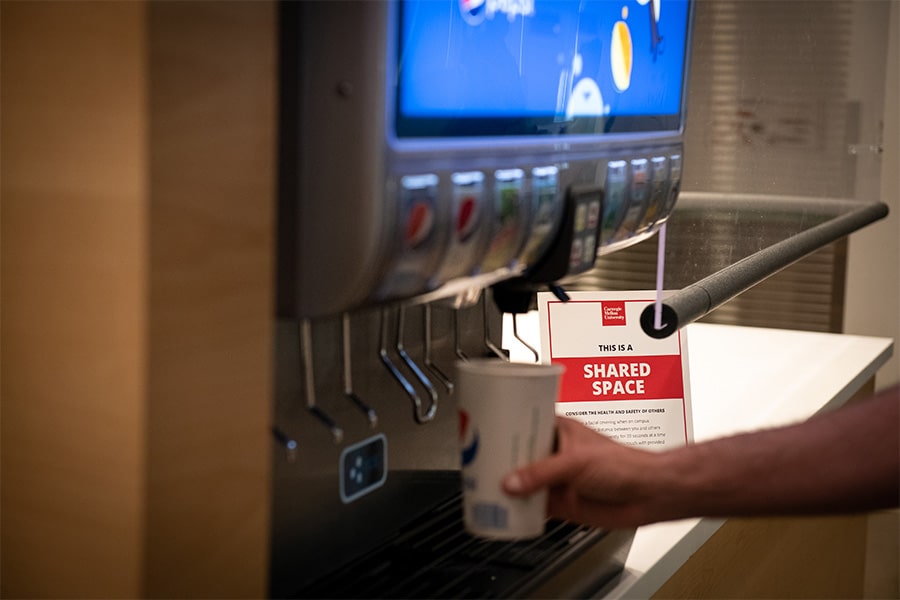 Plexiglass is being installed in customer service areas to help mitigate the spread of viruses.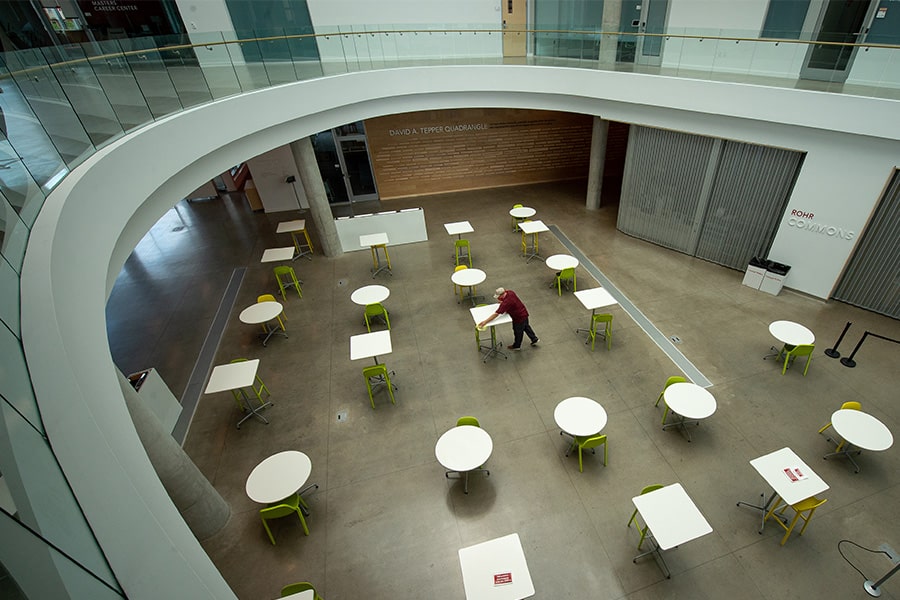 Enhanced cleaning efforts are underway campus-wide as the university prepares for people to return to campus.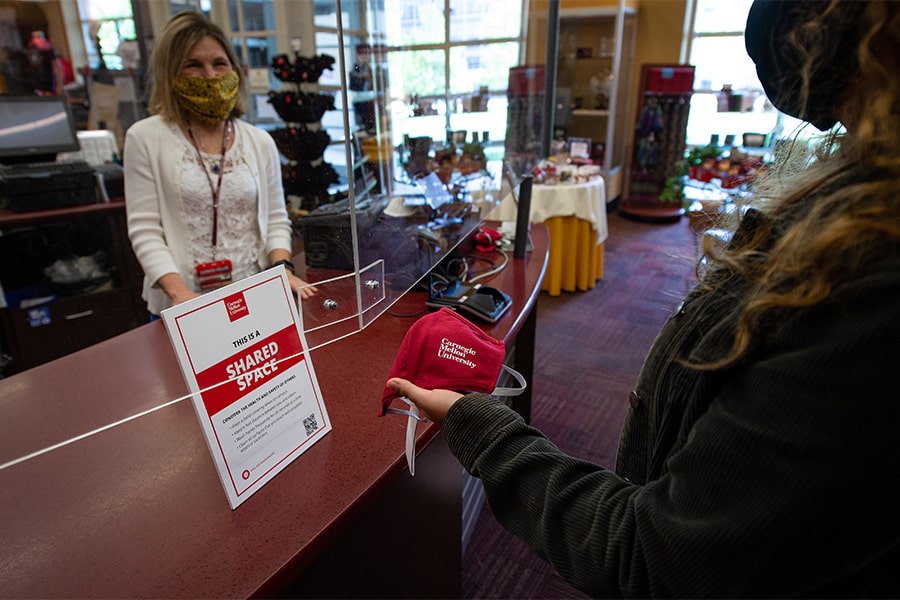 Plexiglass is being installed in customer service areas on campus to help mitigate the spread of viruses during a transaction.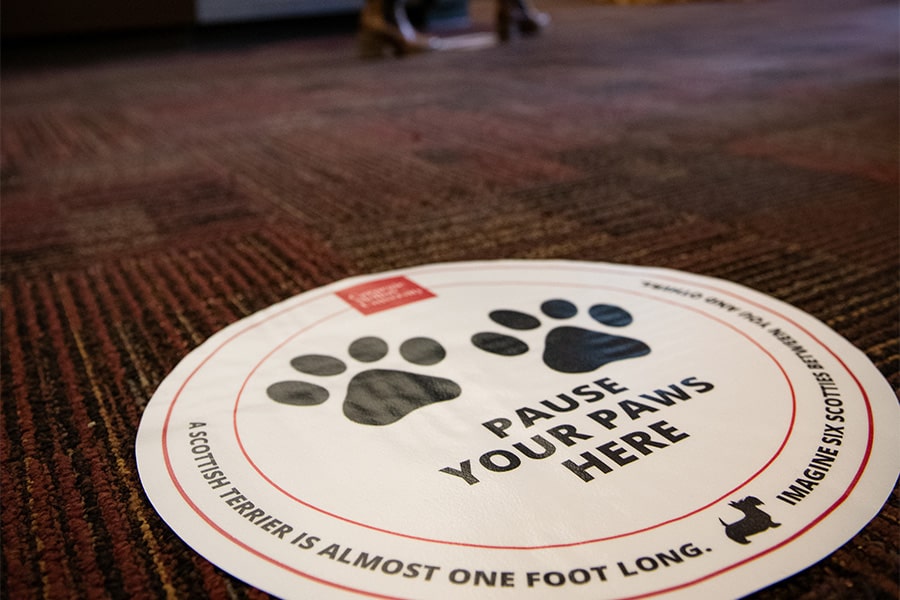 Floor decals in areas where lines typically form on campus indicate where people should stand to promote physical distancing.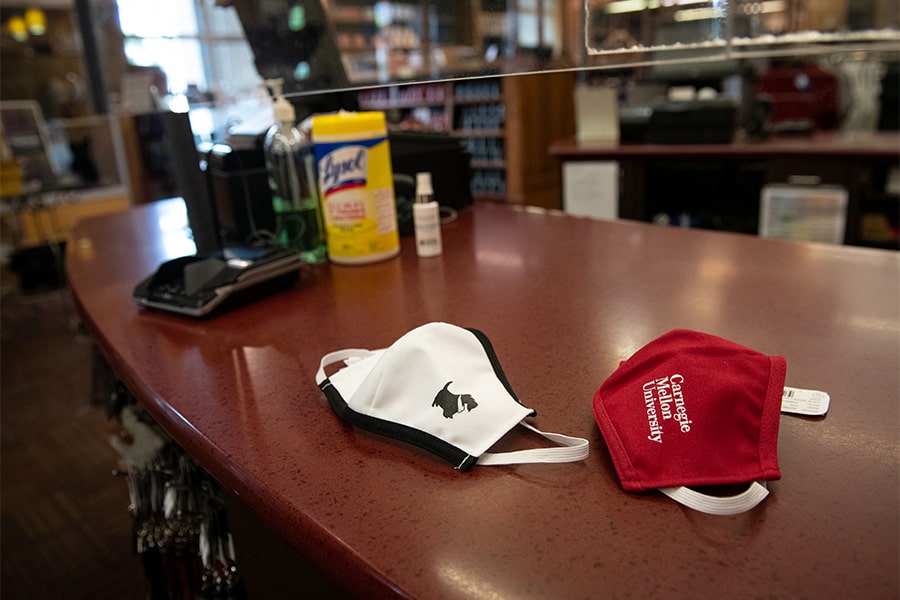 CMU-branded facial coverings are available for sale at the University Store and can be purchased online through the store's website.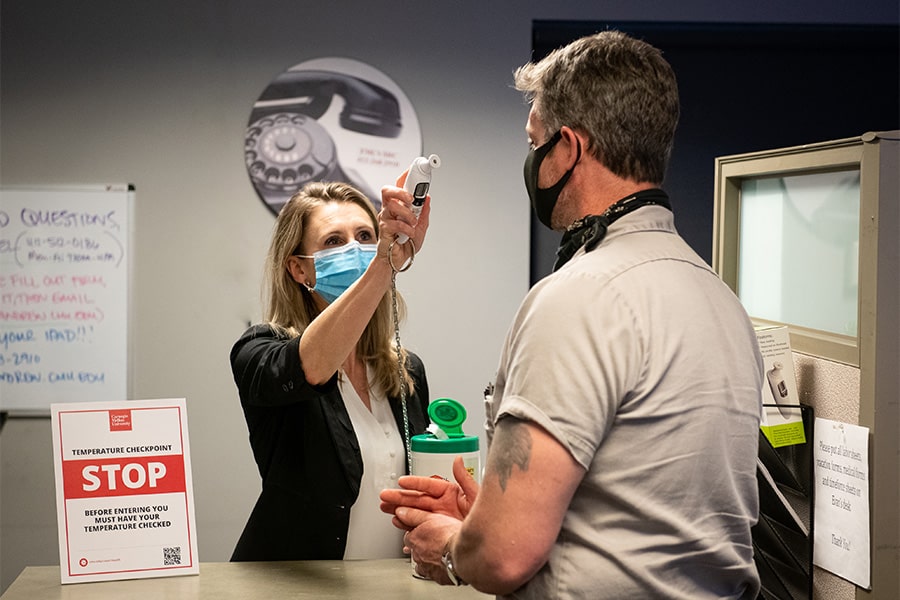 Temperature screenings may be necessary if there is a confirmed case of COVID-19 in a given location.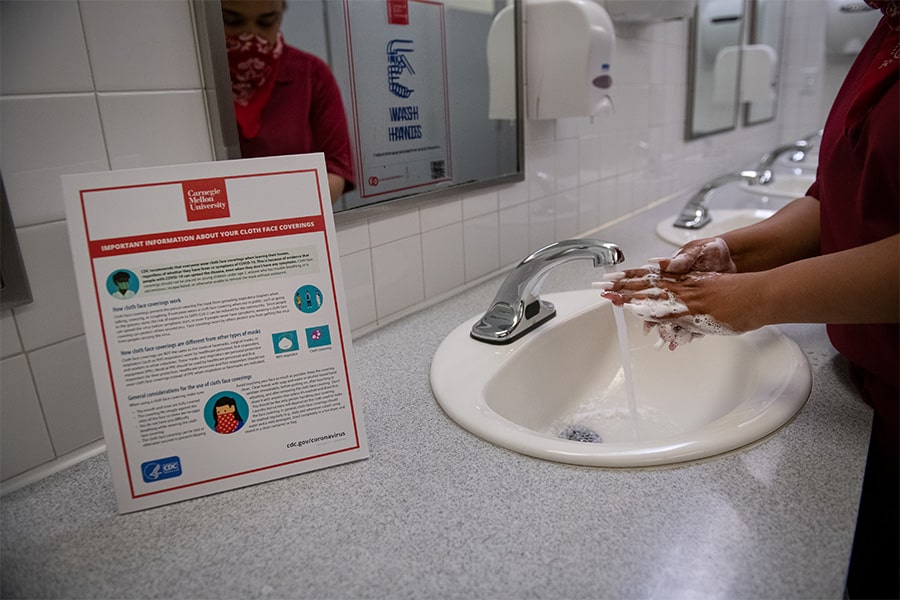 Signage reminds people how to properly wear a facial covering and to wash their hands frequently.