June 22, 2020
Li Named Finalist for Jack Nicklaus Award
CMU Golf Programs Among Tops in NCAA Division III
By Heidi Opdyke opdyke(through)andrew.cmu.edu
& Mark Fisher mwfisher(through)andrew.cmu.edu
Media Inquiries
Jason Li is relentless. In just three years, he has shattered most of the records for men's golf at Carnegie Mellon University.
For his latest accolade, Li was named a finalist for the NCAA Division III Jack Nicklaus National Player of the Year Award presented by Golf.com. The Nicklaus Award, given by the Golf Coaches Association of America, recognizes the top players at the NCAA Division I, II, III, NAIA and NJCAA levels. The previous two seasons he was a semifinalist for the honor.
The recipient of the award will be announced during the Memorial Tournament presented by Nationwide, July 13-19. Other Division III finalists for the award include: Emmet Herb of St. Thomas (Minnesota), Drew Mathers of Huntingdon, Cade Osgood of Southwestern (Texas) and Rob Wuethrich of Illinois Wesleyan.
Li finished the abbreviated spring season with a team-best average round of 70.9 through 14 rounds. In 10 of his 14 rounds, Li shot par or lower. On two occasions, he carded a school record round of 66 and tied classmate Jason Folker, a senior in chemical engineering, for the lowest individual 54-hole total (204) at the Savannah Invitational, where they tied for second.
Li, a junior studying business administration with a minor in human-computer interaction, started playing golf with his parents when he was 5 years old.
"Instead of hiring a babysitter when they played, they bought a junior set [of clubs] for me and my brother to tag along. Over time, I just continued to practice and play," Li said. "It went from something I enjoyed doing with my family to something I loved doing. I am a pretty competitive person, and the constant pursuit to get better is something I love about golf."
During the season, Li spends more than 20 hours a week practicing and playing golf, either in a simulator at Skibo Gym on campus or at the Tartans' home course of Longue Vue Club in Verona. This summer, while he waits for his remote internship for Santander Bank in Boston to begin in July, Li is hitting the links.
Last summer, Li mixed work and fun as a business affairs intern for the PGA Tour, based in Ponte Vedra, Florida.
"That was an amazing experience to be able to interact with so many different people and see the business side of sports and to see how it's similar and different to what I've learned in the classroom," Li said.
As part of his internship he volunteered at one of the PGA's events that give back to the community. "Operation Shower" gives new moms of military families a baby shower who might not be able to have one.
"It gave me a newfound appreciation for the military," he said.
As a student-athlete, Li said time management is essential as is creating the right schedule for success.
"I've always tried to set myself up with a schedule that is morning heavy and to create large breaks as much as possible for practice," Li said. "It's really about staying focused on academics first. Keeping our academics at the front is pretty well ingrained into all of us during the school year by the Athletics office."
Coach Dan Rodgers said Li is a tremendous talent.
"On the golf course and in practice sessions, Jason is just so dedicated. He's just unmatched," Rodgers said. "Between balancing academics and athletics, he just works really hard at it."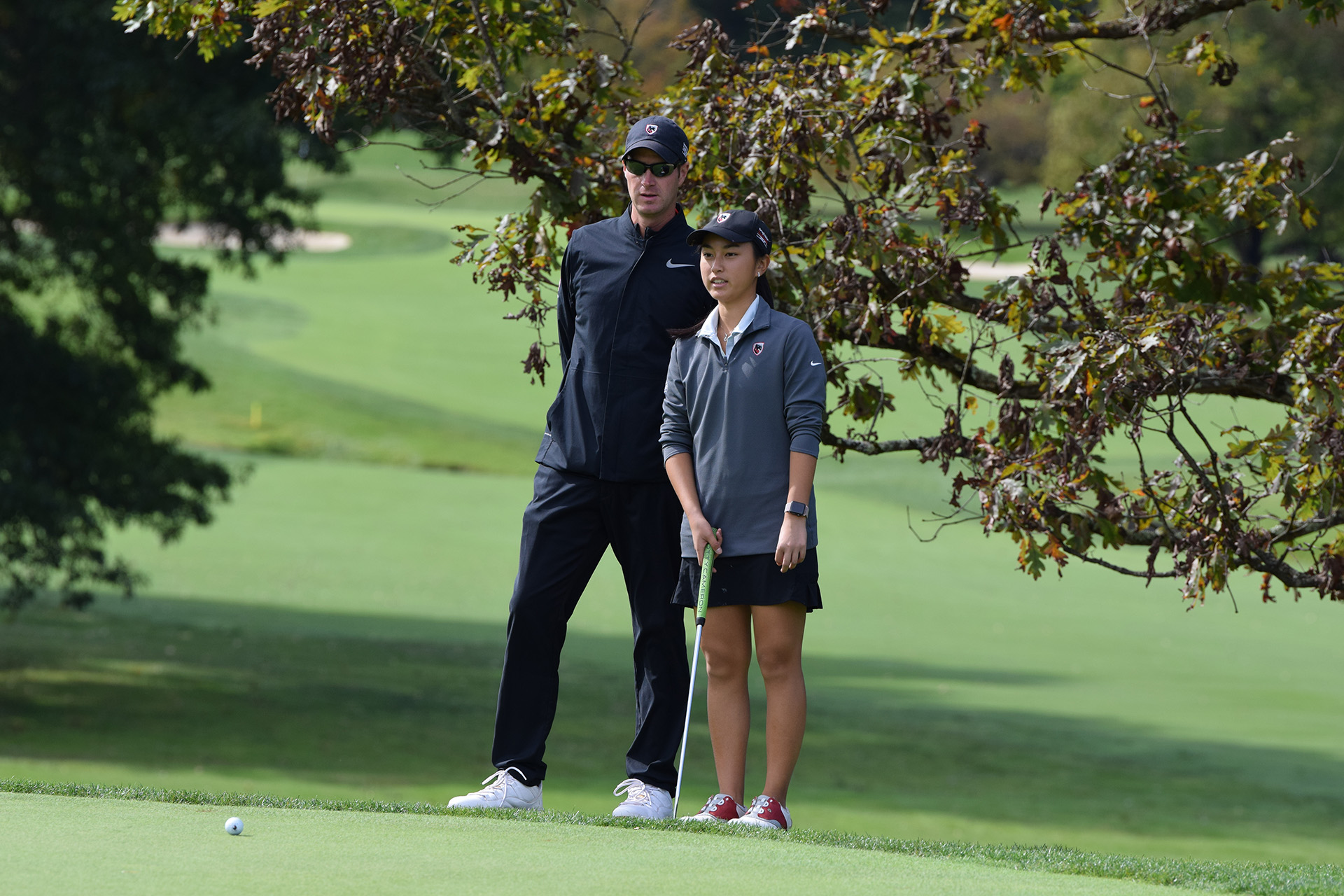 Coach Dan Rodgers works with Nadia Susanto, a rising junior on the women's golf team. Rodgers was recognized as one of the top coaches this year for both the men's and women's teams.
Rodgers recalled when he recruited Li to CMU early in his tenure as a full-time coach for both the men's and women's teams.
"I remember thinking he's going to be the catalyst going forward for the next wave of CMU golfers and the wave after that," Rodgers said. "His name will be in the record books for a long time."
Li repeated as University Athletic Association (UAA) Player of the Year and was the first CMU player to be named a PING First Team All-American last year. He made the cut this year, as well. Two of his teammates also were honored with All-American selections: Folker was named honorable mention and Raymond Li, a junior in information systems, was named to the third team.
Li said while golf is a solitary sport, being part of a team brings a special bond and understanding between everyone playing.
"Coach Rodgers always tells us 'one shot can make a world of difference,' and I cannot tell you how many times we have been one shot away as a team," Li said. "The worst part is that it stings because you think back to all your mistakes and how you could've been the one to make a difference.
"When we play at these tournaments, there is a deep understanding that everyone will hold each other accountable, and that every decision you make affects the team."
The Tartans currently are ranked No. 4 nationally at the end of the shortened season. There were no seniors on the team, so the entire squad is expected to be back next year.
At the same time, the women's team was ranked No. 1, a first for a women's team sport at CMU.
The women's team won three of its four tournaments, breaking its 54-hole (908) and 18-hole (296) school scoring records (908).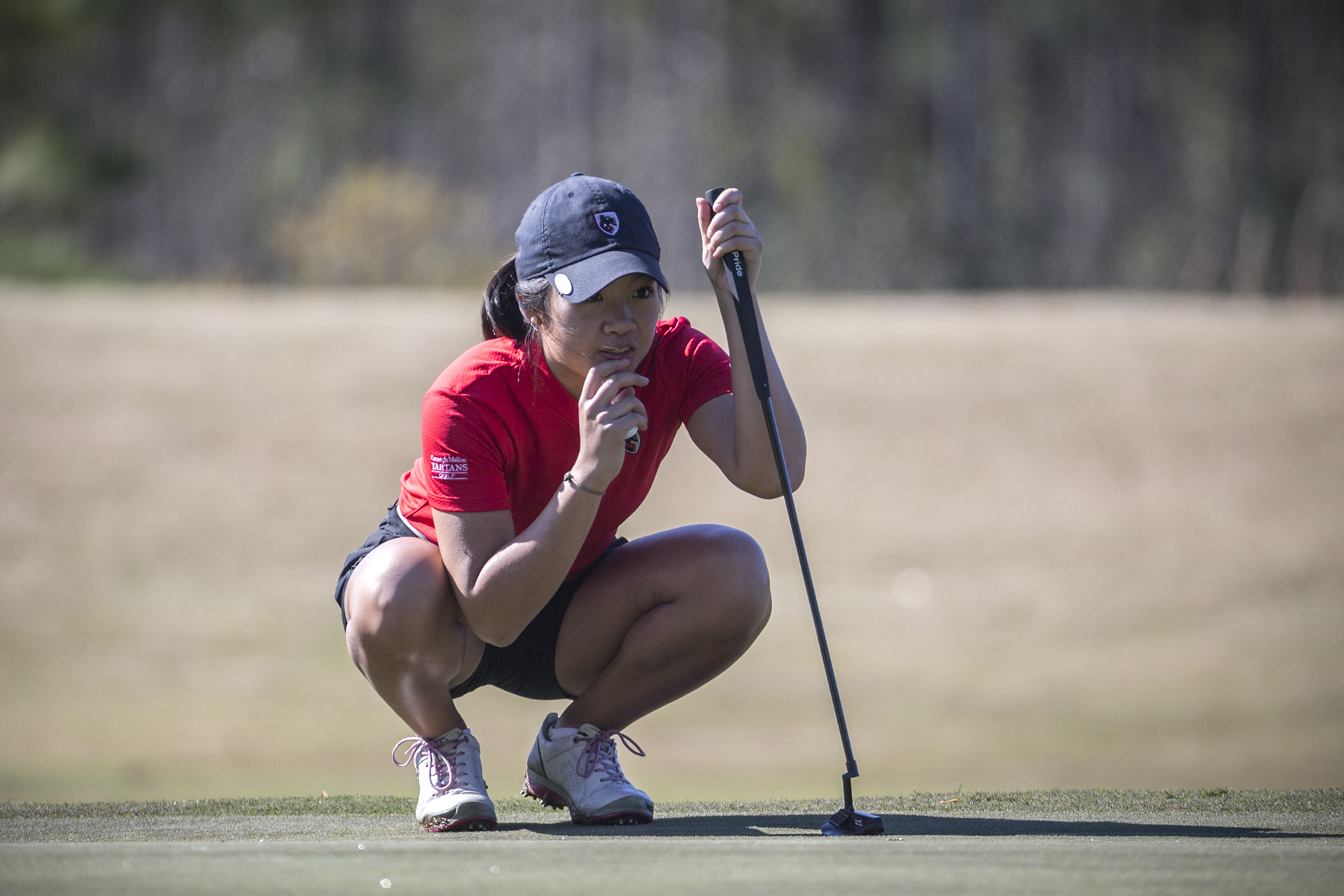 Alexis Sudjianto was named UAA Player and Rookie of the Year.
Alexis Sudjianto, a sophomore in mechanical engineering, was named UAA Player and Rookie of the Year. Sudjianto was joined on the All-UAA squad by Charlotte Simpson, a senior in business administration; Nadia Susanto, a junior in business administration and human-computer interaction; and Michelle Cao, a sophomore in art. Sudjianto, Simpson and Susanto also were named Women's Golf Coaches Association All-Americans, a first for the women's golf program, which is in its sixth year.
"We'll be in a very similar position moving forward next year and be competing at the highest level of Division III," Rodgers said. "On the women's side, we lost three seniors but we're getting five incoming first-year students. We've gotten better on both sides of the coin and will be stronger this fall to set up and contend for national titles."
Golf is among the 19 intercollegiate sports teams fielded by CMU, which competes on the NCAA Division III level.
"It was a remarkable year for our men's and women's golf programs," said Josh Centor, associate vice president for Student Affairs and director of Athletics. "We have developed into national contenders and Dan has laid the foundation for that to be true for a long time. We have incredible golf student-athletes, and they excel academically and athletically at the highest level."
Rodgers, who has led the Tartans for four years, was named 2019-2020 Golf Pride Grips Women's Golf Coaches Association National Coach of the Year for Division III. He also was a finalist for the Dave Williams Award, which honors the men's national coach of the year in NCAA Division III men's golf.
"There is so much to be proud about and I am looking forward to seeing what they can do when we get back out on the course," Centor said.