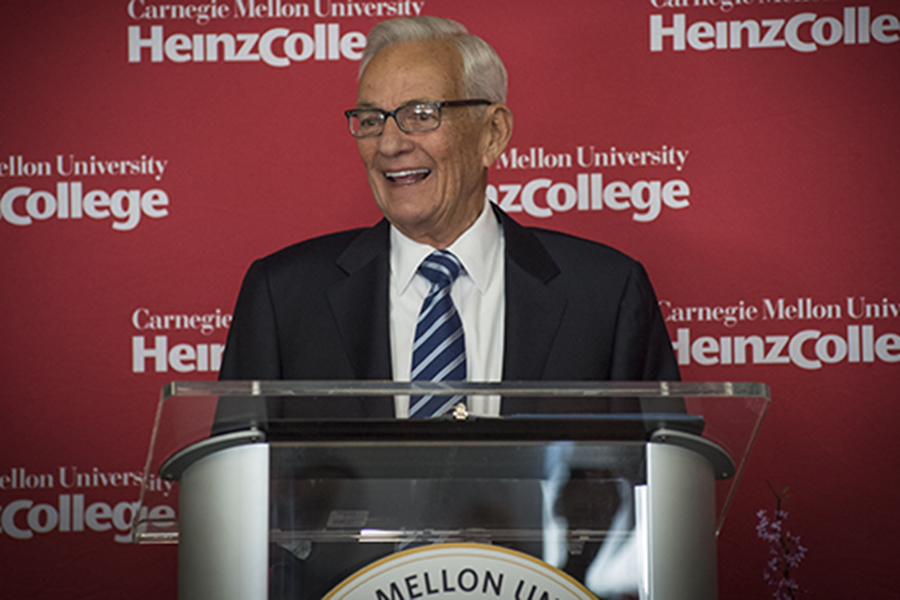 April 18, 2020
Remembering Paul O'Neill's Legacy of Impact
Media Inquiries
Jason Maderr
Marketing & Communications
Paul O'Neill, former secretary of the Treasury, head of Pittsburgh-based aluminum giant Alcoa Corp., chairman of RAND Corporation, and dear friend and advisor to Carnegie Mellon University, passed away following complications from lung cancer. He was 84.
"Paul was my trusted advisor, generous supporter and close friend. His career in private industry and government are an inspiration to me and to the Carnegie Mellon community. I will miss him dearly," said Ramayya Krishnan, dean of the Heinz College of Information Systems and Public Policy.
Mr. O'Neill was a visionary leader with a practical leadership approach, who championed workplace safety and health care quality during his career in public service and private industry. Prior to his role as Treasury secretary under President George W. Bush, his public service included roles with the Veterans Administration and the U.S. Office of Management and Budget. Mr. O'Neill's alma mater, Indiana University, renamed its School of Public and Environmental Affairs the Paul H. O'Neill School of Public and Environmental Affairs in 2019.
Mr. O'Neill also had longstanding connections to Carnegie Mellon. He was awarded an honorary doctorate in public policy in 2003. He also served on the Heinz College Dean's Advisory Council since 2006 and was a member of the CMU President's Global Advisory Council. In 2017, Carnegie Mellon dedicated the Paul O'Neill Classroom in Hamburg Hall as a tribute to his outstanding leadership and commitment to the university.
"He was a great leader and a fantastic person," said fellow Dean's Advisory Council member and longtime Alcoa colleague, Nancy Wolk, "This is sad day for all who knew and loved him."
Paul O'Neill is a sterling example of the impact a single person can have when they are committed to service, leadership and unwavering ethics. His life truly embodies Heinz College's founding ideal of "intelligent action." He will be missed by the entire Carnegie Mellon community.