September 11, 2019
Inaugural Excellence in Theatre Education Award Reinforces the Power of the Arts
By Pam Wigley pwigley(through)andrew.cmu.edu
Media Inquiries
Corey Mitchell watched the 2014 telecast of the Tony Awards as Carnegie Mellon University School of Drama alumni Matt Bomer and Zachary Quinto announced that through a partnership with the American Theatre Wing and The Broadway League the school would bestow the first Excellence in Theatre Education Award (EITEA) at the following year's awards show.
Tuning in that night was the start of a journey for Mitchell that ultimately led to his receiving the inaugural award in June 2015. His adventure continues still.
"The minute I heard about the award, I changed my Facebook status to reflect that I wanted that award," said Mitchell, theater arts teacher at Northwest School of the Arts in Charlotte, North Carolina. "I never missed an opportunity to talk about it."
"The greatest thing about this honor has been the numerous opportunities I've had to talk about the power of the arts and arts education." - Corey Mitchell
Chosen by a panel of judges from the Wing, the League, CMU and industry professionals, Mitchell found himself on stage at Radio City Music Hall in June 2015 making an acceptance speech that earned a standing ovation from the full house. The ensuing weekend was a blur of rubbing shoulders and sharing stories with Broadway's elite.

Corey Mitchell accepted the Excellence in Theatre Education Award in 2015 during the Creative Arts Awards portion of the Tony Awards ceremony.
"What I remember so vividly was that everyone shared with me a story about a teacher who influenced their life," he said. "Helen Mirren stopped me and opened her purse to show me a gold watch that her teacher had given her. She carried it with her everywhere as a reminder of her thankfulness for her theater education."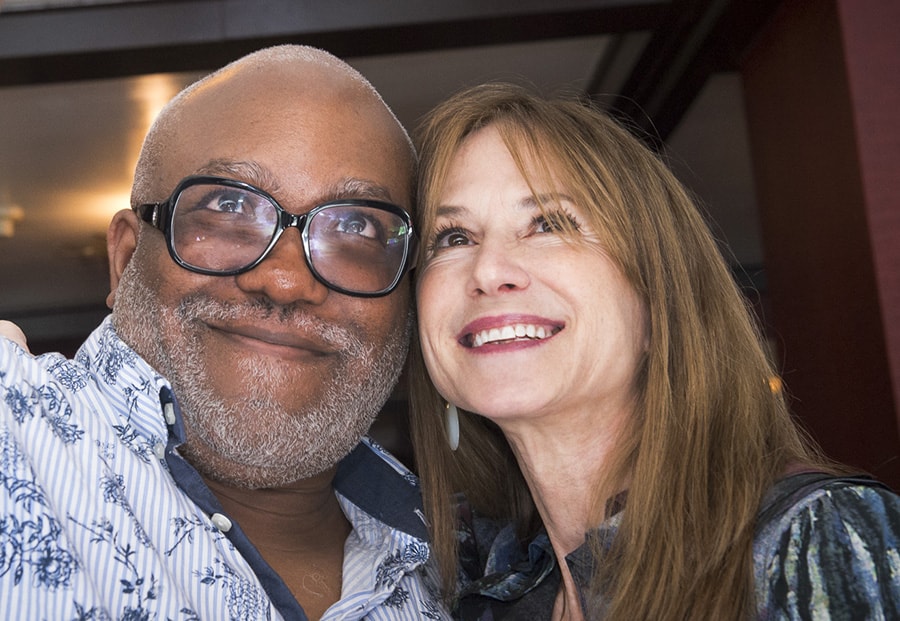 Corey Mitchell and Holly Hunter
Holly Hunter, a Carnegie Mellon alumna, shared a selfie and a story about her own teacher. So did actor and Tony Award winner Michael Cerveris and Simon Stephens, who wrote the stage version of "The Curious Incident of the Dog in the Night-Time" and received the Tony Award for best play in 2015. The accolades and recognition have continued. Mitchell has traveled the United States to offer keynote addresses to students, teachers, school and community leaders, and legislators. He also has been invited to international conferences in Dubai and Abu Dhabi.
Mitchell's visits have included the discussion of a documentary that highlighted his work. "Purple Dreams," produced by Robin Grey and directed by Joanne Hock, focused on the power of arts education, especially for at-risk students and those in underserved communities. The project was five years in the making and has been rewarded at various film festivals with 23 awards and honors, to date.
Mitchell still inspires students through his teaching. Several are enjoying successful stage careers: Eva Noblezada is a two-time Tony nominee and "Hadestown" featured actress; Phillip Johnson was in Chicago's "Hamilton;" Abby Corrigan was in the national tour of "Fun Home;" Mekhai Lee is in the current run of "Rock of Ages;" and new talent Renee Rapp just joined the cast of "Mean Girls" as lead Regina George.
The award brings with it a $10,000 grant. Mitchell used it toward a matching campaign to raise a total of $20,000 to purchase a lighting system for the Laborde Theater at Northwest School of the Arts.
Currently directing "Hair" for a theater company outside Charlotte, Mitchell and his students at Northwest will present "A Chorus Line" beginning Dec. 6 and then "Anything Goes" next spring. "A Chorus Line" will be adjudicated for the International Thespian Festival at Indiana University in Bloomington, Indiana. If the group is selected, they will perform it live there on the main stage. What a way that would be to go out, he said, as he plans his retirement after this school year.
That would be yet one more memory among "too many to list, but he says one thing about receiving the EITEA stands out for him.
"The greatest thing about this honor has been the numerous opportunities I've had to talk about the power of the arts and arts education," he said. "It truly reinforces that what we do as teachers matters."