October 28, 2019
ChairJam Puts Spin on Hackathon Concept
By Nick Keppler
Media Inquiries
Byron Spice
School of Computer Science
Julie Mattera
Amelia Li is threading wires into bits of hardware scattered on a table. As she alternates between red, yellow, blue and green, the master's student of entertainment technology at Carnegie Mellon University keeps the fixated attention of a seamstress. The experimental contraption will go into the wheelchair of Jennifer Phillips who sits next to her.
Phillips is a freelance writer who has used a wheelchair since age 4 due to arthrogryposis, an inborn condition affecting muscular development around the joints. The upgrade will outfit her chair with ultrasonic sensors that cause it to vibrate when they detect nearby objects. The tech setup could help wheelchair users move around city sidewalks. It also could be a lot of fun, if utilized in a maze or obstacle course.
The object-sensing chair is one project envisioned and prototyped within 48 hours at ChairJam, a hackathon for creating tech-based entertainment experiences that incorporate wheelchairs, held Oct. 18-20 at one of CMU's Human-Computer Interaction Institute (HCII) buildings on South Craig Street. Other sponsors for the weekend included CMU's Center for Arts in Society and Arizona State University's Arts & Humanities in Games program.
The goal is to include wheelchair users as peers in designing and developing inclusive play experiences and adaptive technology. Throughout the hackathon, they work with tech makers, disability advocates and student designers from the HCII and the Entertainment Technology Center, a two-year professional graduate program for interactive entertainment across fields.
"It places us as a peer and equal in the process of creation and that's different from how we've been treated," said co-organizer Theresa Devine, a video game designer, artist, associate professor at Arizona State University and wheelchair user.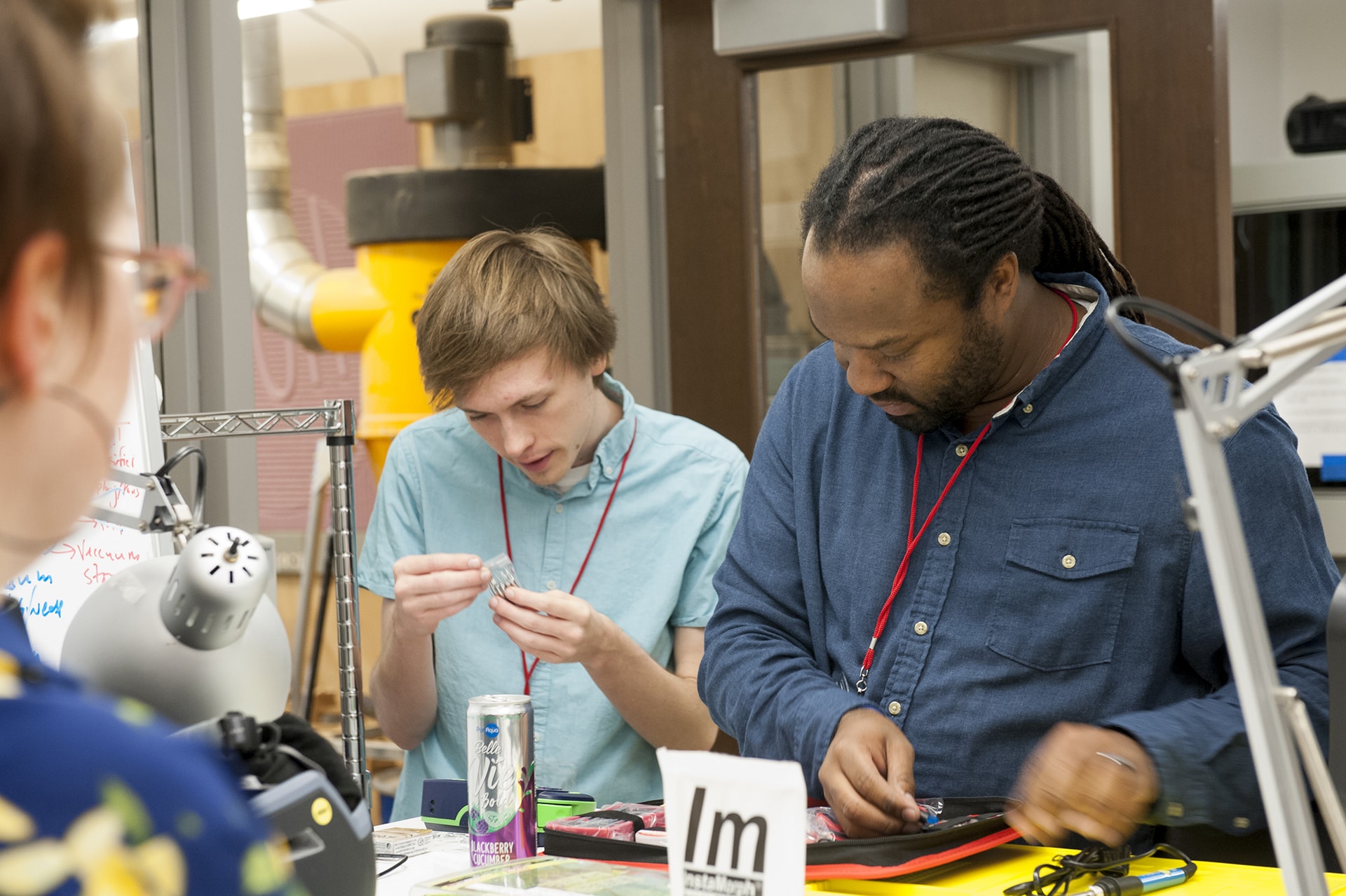 Parker Ramsey, a master's student of entertainment technology works with Patrick Carrington, an assistant professor of human-computer interaction, during ChairJam.
Devine said that end users for assistive technology are, at best, brought in as consultants and, at worst, considered pitiable dependents of it. Even among well-intentioned creators, "There is this sense, 'We have to take care of you,'" she said.
Devine and co-organizers Heather Kelley, a game designer and assistant teaching professor at the ETC, and Patrick Carrington, an assistant professor at the HCII, aim to not just involve wheelchair users at every stage of development, but also show that fun and expressiveness can be aspects of assistive technology, a field where devices are judged mostly on usability.
"We're trying for something more poetic," Kelley said.
ChairJam is one of multiple collaborations for Devine and Kelley. Carrington joined the group this summer, contributing his background and experience co-designing interactive technologies with wheelchair users.
"ChairJam brought together co-design, hardware hacking, and games in a playful way to create new inclusive experiences," Carrington said.
It was the first marathon invention session of its kind, said Devine, and organizers may hold similar events in the future.
The event was also an opportunity for project-based learning, a facet of the path ETC students take as they earn a master's degrees in entertainment technology. Founded as a joint venture between CMU's School of Computer Science and the College of Fine Arts, the ETC is under the direction of Drew Davidson. The ETC student team, named Joyride, helped set up the event as part of a project assignment.
Devine spent much of the weekend with Randy Huzinec, a physical therapist, and two Joyride students, Yuki Cheng and Jiajun Tan, working on a drawing method that translated movements of a sensor at the bottom of a wheelchair and a set of crutches into a digital image. Their group piled a white board with taped printouts of swirls and movements including labels like "moving along with jazz music" and "exploring the wood floor." Combine these shapes on a laptop and you could create a mural, said Devine. The movements can also be printed as 3D shapes.
"The beauty of it," said Tan, "is that it's fun and accessible to anyone."