October 14, 2019
Taking the Scenic Route to CMU
First-year student Eva Gerstle spent her gap year hiking the entire Appalachian Trail
By Michael Henninger mhenninger(through)cmu.edu
Media Inquiries
Julie Mattera
Marketing and Communications
As rain poured on a frigid Georgia day, Eva Gerstle saw her first white blaze, a painted rectangle marking the passage of the Appalachian Trail. One of her two moms and her cousin had accompanied her to say farewell on the approach hike to Springer Mountain where the trail begins, but now she was alone, taking the first steps of a 2,200-mile solo trip that she had planned for several years. The rain couldn't douse her excitement to begin the journey.

Gerstle's fascination with trail hiking came from her family, who raised her to appreciate outdoor activities like canoeing, biking, and camping in Northampton, Massachusetts. She did her first backpacking trip with her biological father, a family friend who planned a 30-mile, three-day loop in the White Mountains.

Every summer throughout high school, Gerstle signed up for progressively longer group hiking trips, culminating in a ten-day White Mountains trip with her half-brother Jessie that convinced her that she wanted to hike the full Appalachian Trail.

Dead set on taking a gap year, Gerstle applied to colleges her senior year and was accepted to Carnegie Mellon University where she's now a first-year student at the Dietrich College of Humanities and Social Sciences. She submitted a request to defer her admission to the university in order to achieve her hiking goal.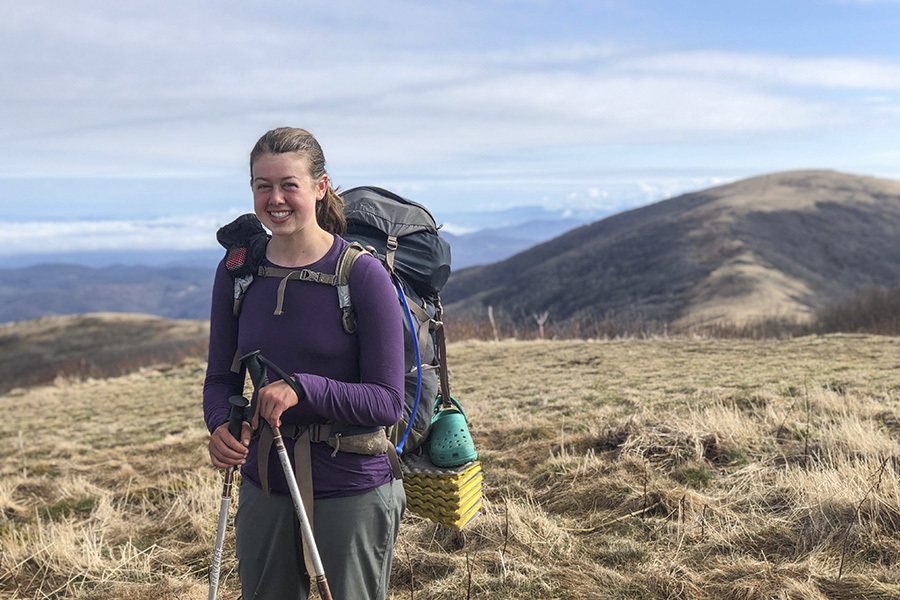 Gerstle in the Roan Highlands in Tennessee.

With her university future decided, Gerstle set out in March of 2019 with a 50L Gregory backpack that held extra clothes, a three-to-six day resupply of food, a pot, a stove, a lighter, a spork, a headlamp, a knife, a satellite phone, her regular cell phone, a sleeping bag and a sleeping pad, a one-person tent, a bandana that her mentor had carried when he hiked the trail in 1999, and her Kindle. Her affinity for reading on hikes had earned her the trail name "BookBag."

At the start of the trail, hikers talk about being in the bubble. Thousands of hikers start the trail every year, and it can seem crowded. But according to Gerstle, only 20 percent of the hikers who attempt the entire trail successfully finish.

"There's a quick drop off after the first 35 miles. People just decide they're done. Or their bodies can't take it, either mentally or physically," Gerstle said.

She chose to do the trip alone, both because she didn't have a practical option for a five-month companion and because she felt like that was how she would get the most out of the experience.

"For me, hiking for five months is so innately an individual journey," Gerstle said.

Along the way, "BookBag" befriended fellow travelers. She hiked 800 miles of the trail with "Sneak Attack," a 20-year-old girl who was taking a year off from college. The two had to separate when "Sneak Attack" got injured.

"That was a constant fear on trail," Gerstle said. "I saw people get injured and have to end their hikes all the time. For some people it's overuse. 'Sneak Attack' fell and banged up her back. She had this serious muscle bruise that needed to heal. I only had five months to do this thing. If I had been injured and had to pull off trail for more than a week or two, that would have been it for me."

Hazardous thunderstorms, the anxiety of potential late-night bear encounters, and a powerful summer virus weren't enough to keep Gerstle from completing the trail. She met up with her half-brother Jessie for the final climb up Mt. Katahdin where the trail ends in Maine. It was a beautiful day, antithesis to the origin of her trip.

Upon reaching the famous tri-fold sign marking summit, Gerstle realized how hard it would be to give up the identity of being an Appalachian Trail hiker. It was now something she had done, past tense, even if the trip would be a part of her forever.

"On the trail, I learned that I can be alone in my head for hours and hours, and that can be really centering," Gerstle said. "I learned that I can push through some tough stuff. It took so much perseverance and discipline to go and do this one thing every single day for 151 days. I aim to bring that centeredness from the trail with me to Carnegie Mellon."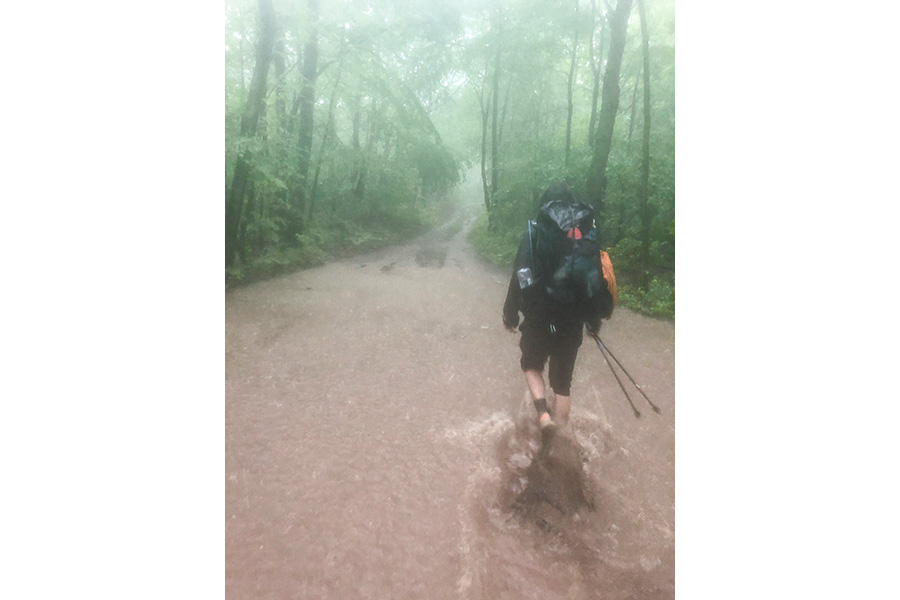 "Shaggy," one of the thru-hikers Gerstle met while hiking the Appalachian Trail, walks through heavy rain on a section of the trail in Pennsylvania.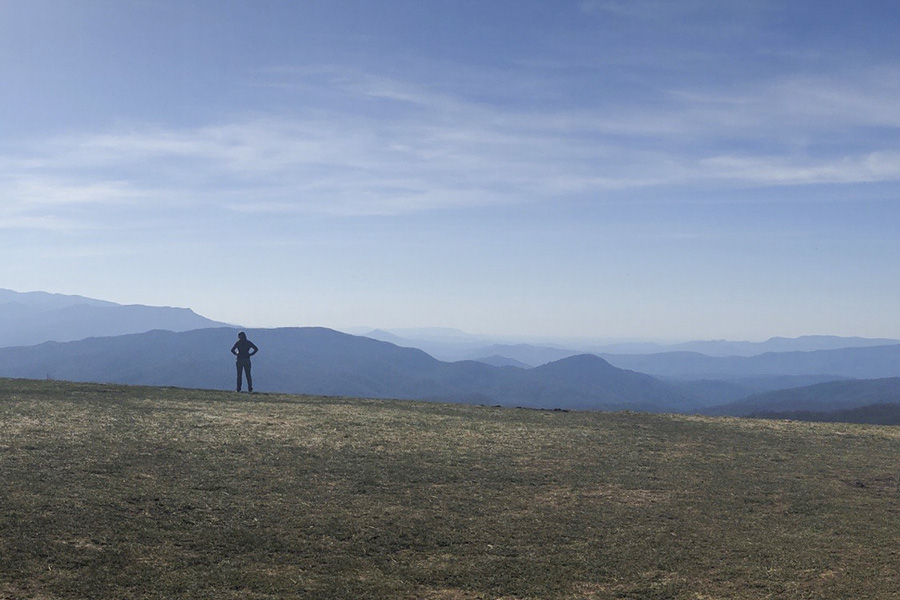 Gerstle stands atop Max Patch, a mountain in North Carolina on the Tennesee border.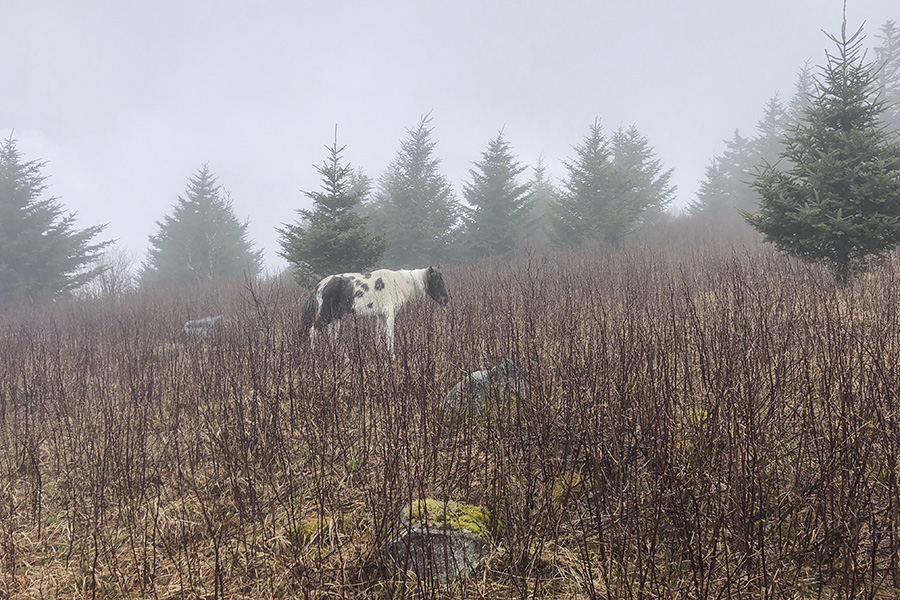 Gerstle encountered these wild ponies while hiking the Applachian Trail through Grayson Highlands State Park in Virginia.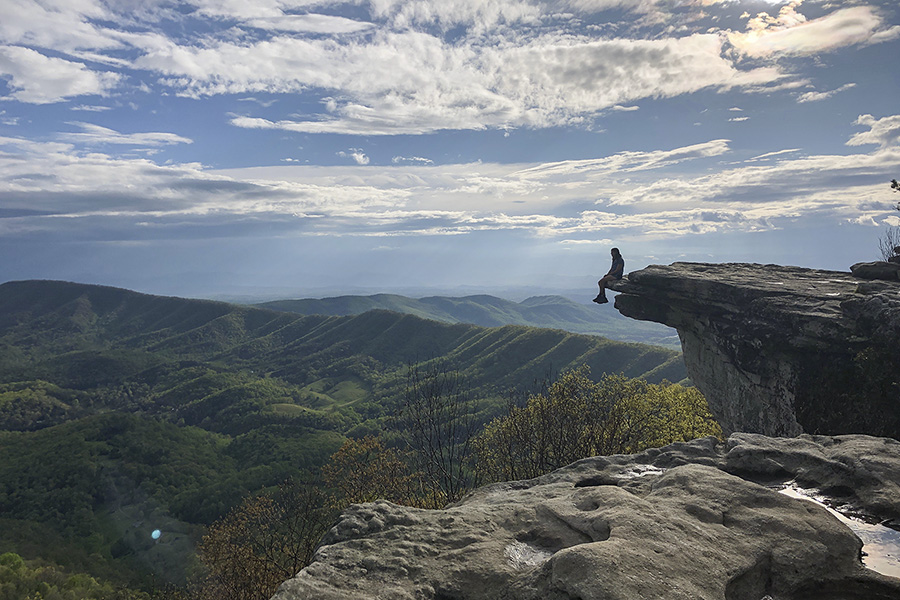 Gerstle sits atop McAfee Knob in Virginia.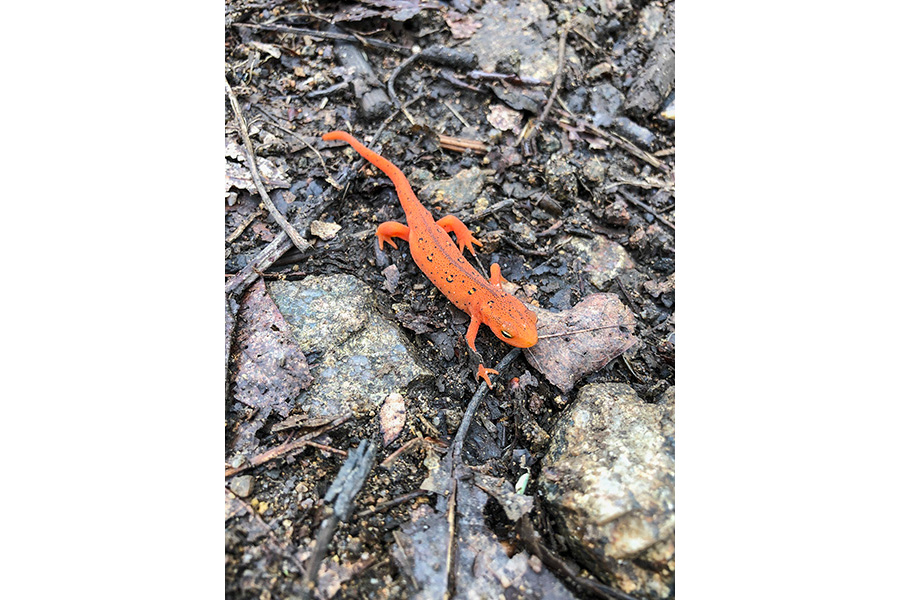 Gerstle encountered hundreds of these orange newts after rainstorms in Virginia, Maryland and Pennsylvania.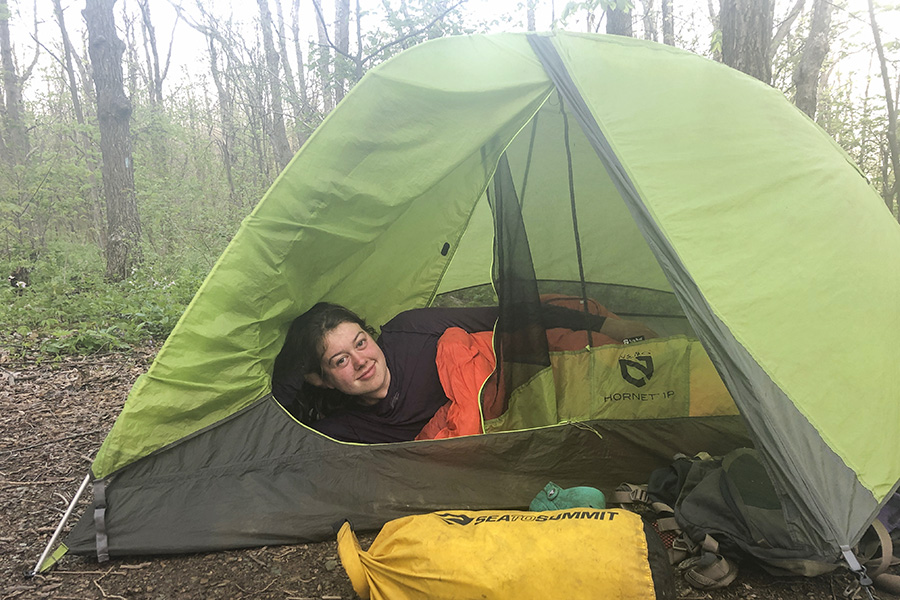 Gerstle lies in her tent in Shenandoah National Park.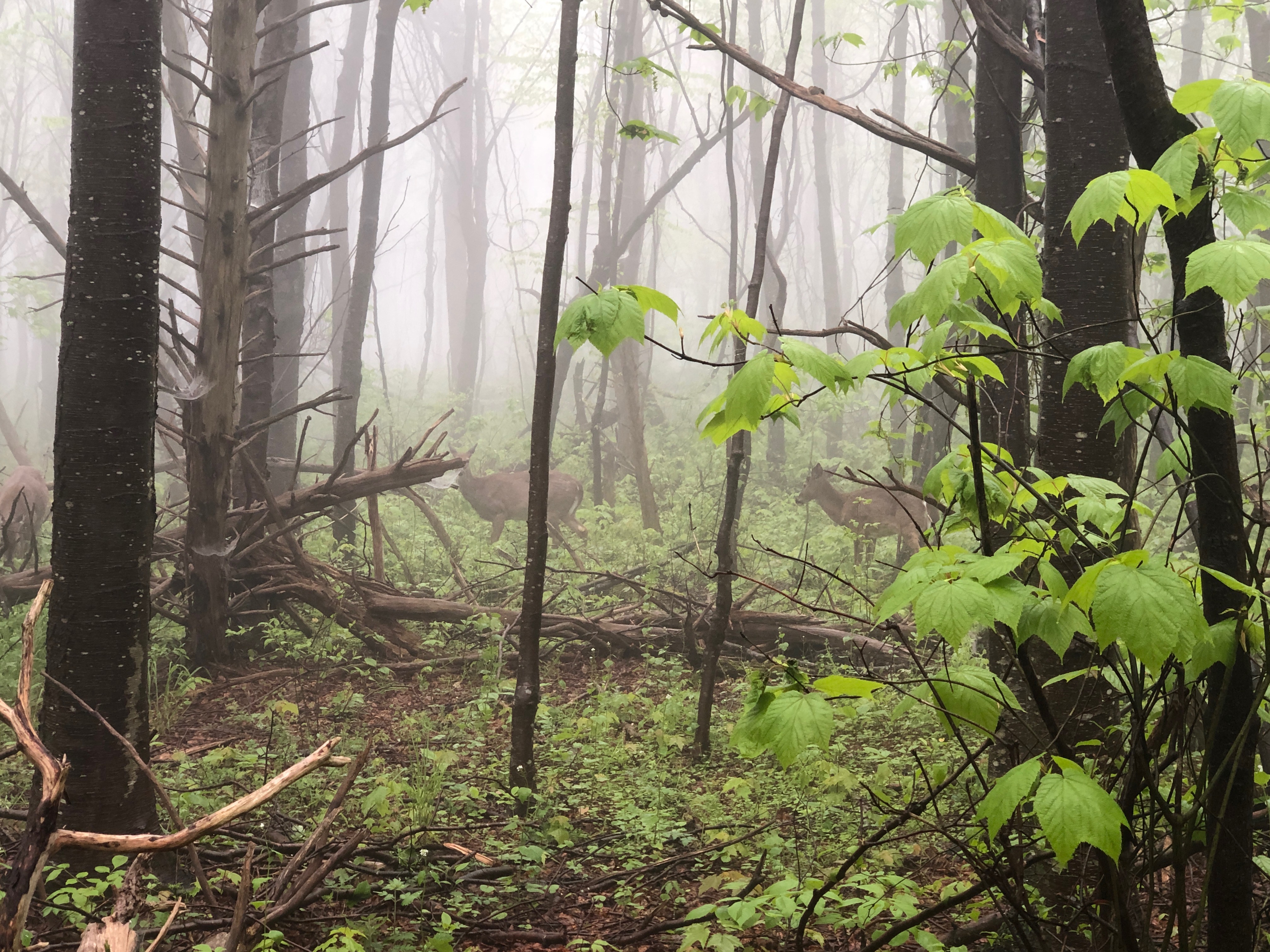 Several deer are seen along the Applachian Trail in Shenandoah National Park.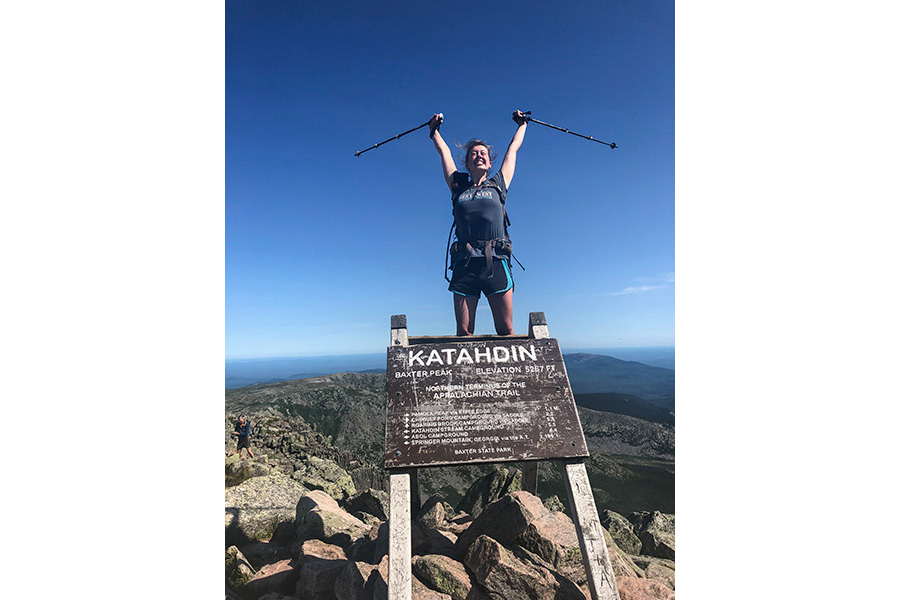 Eva Gerstle completes her journey at Mt. Katahdin.