May 06, 2019
Carnegie Mellon University In Qatar Celebrates 78 New Graduates
Carnegie Mellon University in Qatar (CMU-Q) celebrated the graduation of the Class of 2019, with 78 students receiving their degrees in front of a proud audience of family, friends, faculty members and alumni.

Michael Trick, dean of CMU-Q, noted that the campus is celebrating 15 years in Qatar: "We have changed a lot over the past 15 years, but one thing has stayed the same: our mission to provide a world class Carnegie Mellon education to students in Qatar."

The Class of 2019 is comprised of 10 graduates in biological sciences, 32 in business administration, one in computational biology, eight in computer science and 27 in information systems. Members of the graduating class represent 16 nations, including 46 percent Qatari nationals.

At the ceremony, Farnam Jahanian, president of Carnegie Mellon University, remarked: "Never has life been more complex or so full of potential — and more in need of CMU graduates like you. The story of this century will depend on the things that you do best: answering the questions that will be critical to our future and exploring exciting new modes of discovery."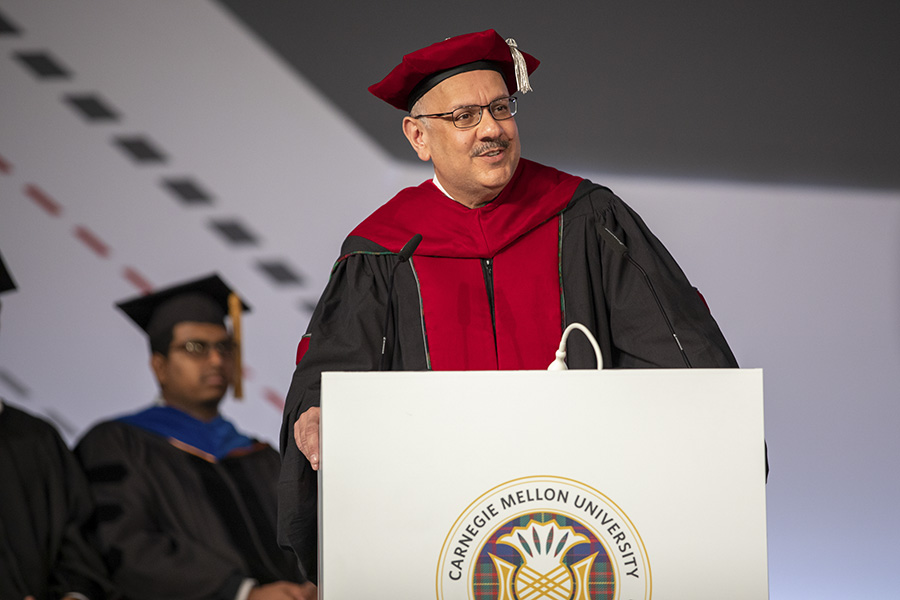 Farnam Jahanian speaks at the CMU-Q graduation ceremony.

The graduation ceremony featured a keynote address from Michael Zamagias, a member of Carnegie Mellon's Board of Trustees and an entrepreneur and business leader based in Pittsburgh, Pennsylvania. Zamagias, who has built a successful network of businesses, is a dedicated philanthropist, particularly in the areas of health care and education.

Zamagias said, "Education City is an investment that Qatar has made in each of you. You have been endowed with the knowledge and skills to make an impact on your community. It is my hope that your CMU experience will continue to be a source of inspiration to you."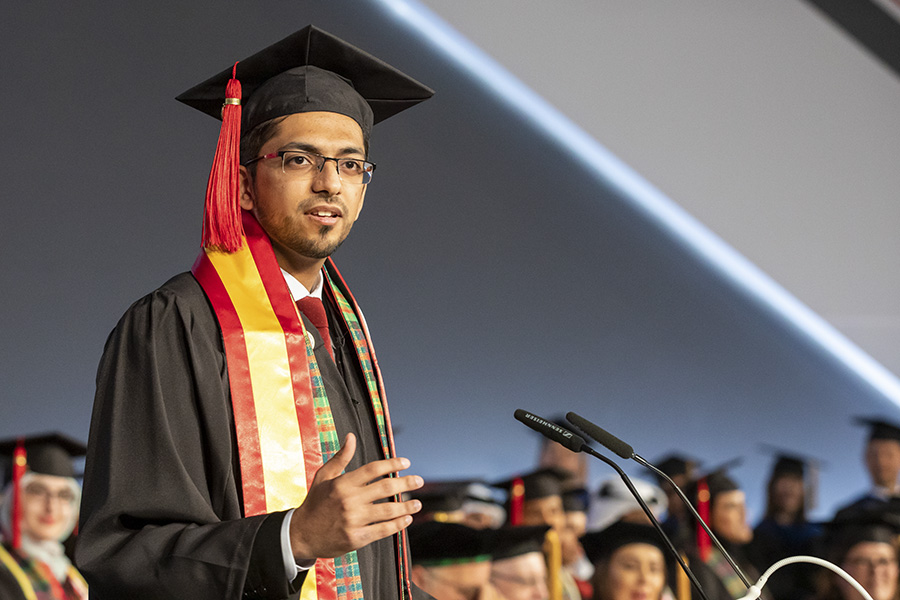 Student speaker Amer Ahmad delivers his address.

The student speaker for the Class of 2019 was Amer Ahmad, who graduated with a degree in information systems. Ahmad commented on the global responsibility that Carnegie Mellon has instilled in the graduates:
"CMU has taken us to so many corners of the world and has provided us with opportunities that are truly once in a lifetime," Ahmad said. "We learned that the responsibilities of an educated young individual extend far beyond our backyards."

The Class of 2019 brings the total number of CMU-Q alumni to nearly 850, and they join more than 110,000 Carnegie Mellon graduates worldwide.