March 11, 2019
Carnegie Mellon University and Army Research Lab Announce $72 Million Cooperative Agreement
Media Inquiries
Matthew Nagel
Marketing and Communications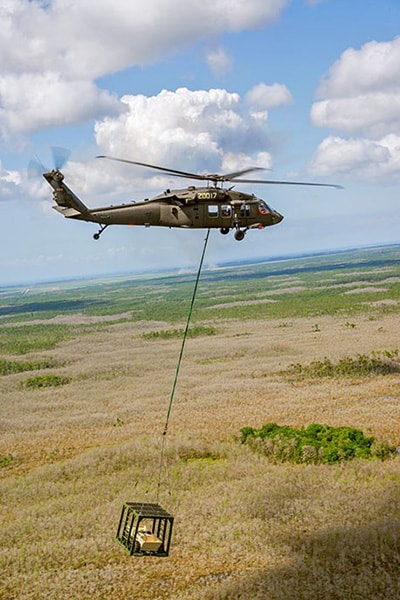 Carnegie Mellon University and the Combat Capabilities Development Command Army Research Laboratory (ARL), the corporate laboratory that provides world-class research for the Army, announced the award of a new Cooperative Agreement totaling $72 million over 5 years. Carnegie Mellon will lead a consortium of multiple universities that will work in collaboration with ARL to accelerate the research and development of Advanced Algorithms, Autonomy, and Artificial Intelligence (A4I) to enhance National Security and Defense.
"For almost 30 years, the Army Research Laboratory has been at the forefront of bold initiatives that foster greater collaboration with U.S. universities," said CMU President Farnam Jahanian. "At this time of accelerating innovation, Carnegie Mellon is eager to partner with ARL and with universities across the nation to leverage the power of artificial intelligence and better serve the Army mission in the 21st century."
"Tackling difficult science and technology challenges is rarely done alone and there is no greater challenge facing the Army than Artificial Intelligence (AI). That's why ARL is partnering with Carnegie Mellon University, which will lead a consortium of universities to study AI," according to Dr. Philip Perconti, Director, Army Research Laboratory. "The Army is looking forward to making great advances in AI research to ensure readiness today and to enhance the Army's modernization priorities for the future."
The cooperative agreement is the contractual vehicle that supports fundamental (publishable) AI research, which aims to collect, synthesize, and annotate massive amounts of sensor data and information; to understand the contextual importance and enable strategic reasoning and insights; to enable human augmentation by accelerating and optimizing decision-making; and to deploy autonomous systems. The research will also support the increased integration of autonomy and robotics as part of highly effective human-machine teams.
The Army currently produces and collects more information than it can ever meaningfully process relying solely on human analysts — including full-motion video, acoustics, and massive, text-based data sets for a wide variety of missions (e.g. health care, maintenance, logistics, acquisition, intelligence, and operations). This overwhelms traditional, human-centric solutions for collecting, processing, exploiting, and disseminating actionable intelligence in a timely manner.
This Cooperative Agreement for fundamental research was formed as a result of collaboration that initially started between the Army Research Laboratory and Carnegie Mellon under ARL's "Open Campus" initiative, which Carnegie Mellon joined earlier in 2018. Carnegie Mellon and the team of academic research institutions will focus on fundamental research to develop robust operational solutions to enable autonomous processing, exploitation, and dissemination of intelligence and other critical, operational, decision-support activities for the Army and the across the Department of Defense. This Cooperative Agreement will also provide initial funding and support for the Army's AI Taskforce since Army Futures Command decided to locate the AI Hub at Carnegie Mellon University as well.
About Carnegie Mellon University
Carnegie Mellon (www.cmu.edu) is a private, internationally ranked research university with programs in areas ranging from science, technology and business, to public policy, the humanities and the arts. More than 14,000 students in the university's seven schools and colleges benefit from a small student-to-faculty ratio and an education characterized by its focus on creating and implementing solutions for real problems, interdisciplinary collaboration and innovation.

About the US Army Research Laboratory
The US Army Research Laboratory (ARL) is an element of the U.S. Army Combat Capabilities Development Command (CCDC). As the Army's corporate research laboratory, ARL discovers, innovates and transitions science and technology to ensure dominant strategic land power. Through collaboration across the command's core technical competencies, CCDC leads in the discovery, development and delivery of the technology-based capabilities required to make Soldiers more capable to win our Nation's wars and come home safely. CCDC is a major subordinate command of the U.S. Army Futures Command.