January 22, 2019
Puppet Master Brings His Art to CMU Opera
By Heidi Opdyke opdyke(through)andrew.cmu.edu
Media Inquiries
Emily Rybinski-Benish
Pam Wigley
In the upcoming opera "Zémire et Azor," there is beauty in its beast.

One of the earliest tellings of the "Beauty and the Beast," the opera has been adapted by Carnegie Mellon University Guest Director James Ortiz with the use of a massive 8-foot-tall puppet operated by four performers, while a fifth provides its voice. The show includes French songs with English dialogue.

"It's a very unusual challenge as a performer," said William Ottow, a vocal performance graduate student who is one of two actors cast in the role of Azor's voice. Each role in the opera is double cast so more students can participate. "As a performer you get used to taking ownership of your role and you have to get used to different acting choices that the puppeteers may need in a scene."

Carnegie Mellon's School of Music performance of "Zémire et Azor" includes an 8-foot-beast puppet.
Ortiz created the beast puppet, known as Azor, and several others used in the upcoming show for productions at Opera Saratoga and Skylight Music Theatre in Milwaukee, with the help of the latter's prop shop.

"Puppetry is an exaggerated form of acting," Ortiz said. "I hope what students learn from this is that there's no reason you can't do everything, opera, musical theatre, straight theater, etc. It's about attacking a performance from an emotional place, and puppetry is another tool to do that."

Thomas W. Douglas, director of opera studies at CMU's School of Music, invited Ortiz to Pittsburgh. He said Ortiz was an actor before he was a director, and he has helped students understand opera is more than singing.

"It's probably the most practical experience that they get because they actually work with professional conductors and directors and they get a sense of ensemble that happens when they're part of a larger process," Douglas said. "In opera, everything comes together in an important way. The singing, the movement on stage, the costumes, the sets, the lighting. And it causes you to be aware of what your part of that picture is."

While the singers and orchestra musicians are School of Music majors, students from CMU's School of Drama work behind the scenes as stage and production managers. Drama students also created the scenes, sets, costumes and more. Douglas said the entire production relies on many collaborations.

"There's so many people doing things that they specialize in. Between departments, between schools, between the crew and production team, a lot of great things happen behind the scenes that no one really sees," Douglas said.

Additional visiting professionals for the performance are Conductor Lidiya Yankovskaya and Puppet Captain Alex Mace.

"What I love about CMU is they bring in all this leadership with a lot of special skills," Ottow said.
Sophomore Hannah Wolfe is among the puppeteers working with Mace, who, through physical cues, guides the other three puppeteers to bring the beast to life as a team.

"I came to CMU because it's very focused on undergraduate education in opera and focuses on the foundations," Wolfe said. "And I think this production is going to be really exciting."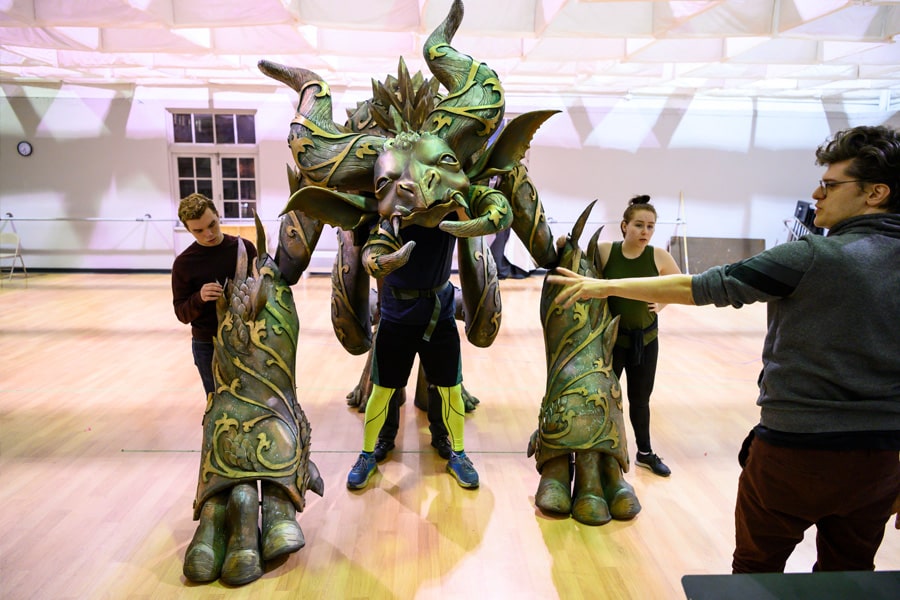 Matthew Lintern, left and Hannah Wolfe, right, listen as guest director James Ortiz provides notes during a rehearsal of the School of Music's produciton of "Zémire et Azor." 

Not only does the team animate the character, but the puppeteers at times roar or amplify Azor's voice.

"Azor doesn't really live until you hear the puppeteers breathing and inhaling and exhaling," Ortiz said.

Ortiz won a 2016 OBIE Award for puppet design for his off-Broadway show "The Woodsman," and has designed for The Public Theatre in New York City and Shakespeare Theatre of D.C., among others. He said working with the students has been great.

"It's a really magical and special show. An effervescent soap bubble that does everything you want a story to do with romance, magic, fun bawdy humor, pathos, family drama — it's a wackadoodle mashup of genres and drama," he said.