December 16, 2019
Moving and Grooving
School of Drama professors present master class to EITEA winner's high school
It was November sweater weather in Charlottesville, Virginia, when Carnegie Mellon University
School of Drama
professors visited Monticello High School to present a master class to students in the drama program there. But
Madeline Michel's
classes didn't have a chance to get a chill — they were too busy moving and dancing.
Michel, winner of the 2019
Excellence in Theatre Education Award (EITEA)
, hosted drama faculty members
Catherine Moore
and
Tome' Cousin
, as well as a team from CMU and The Broadway League, for the class experience. School of Drama 2017 alumnus John Clay III, fresh off his stint in "Choir Boy" on Broadway, also attended and shared his experiences with students. The class was part of Michel's benefits as the EITEA winner this year, and she couldn't have been happier with the visit.
"I never thought I would win this award, but I did, and the rewards have been so wonderful for my students," Michel said. "You get these professionals coming to your school to do master classes, and you get a $10,000 grant ... and more."
The funding, Michel acknowledged, will be of great benefit, but it was the master class experience that has stood out among the many perks she received as this year's winner.

"I feel like just these master classes alone made my students see themselves in a way they had never seen themselves before," she said.

Moore and Cousin focused on movement and choreography, respectively, as they apply to stage work. From the beginning of the two-day session to the end when a choreographed routine came together, all involved were active non-stop. Students were engaged and eager to learn, sharing high fives and shouts of excitement when they finished the classes. In a rare sit-down session, Clay talked about how he went from star high school basketball player to Broadway actor, including his time at CMU.

"I loved playing, but I knew in my heart this is what I wanted to do," Clay said of his desire to purse acting and singing. He watched the sessions with Cousin and Moore with a slight smile on his face, saying that he remembered learning dance from Cousin at CMU. That came in handily for his "Choir Boy" role, a performance of which was featured at the 2019 Tony Awards.

At the end of his session, Clay and a student harmonized together, and more high fives filled the air. Michel looked on from the side of the auditorium where the classes were conducted, snapping photos and taking videos on her phone, like the proud mother of this extended family.

"What I loved about the classes and what the students get out of this experience is that they are learning life lessons," said class attendee Ellen Greenwald, a representative of the Tony Awards, co-sponsor of the EITEA. "It's not just about movement and dance and acting, but it's also about learning to work with others, taking constructive feedback and seeing hard work come together."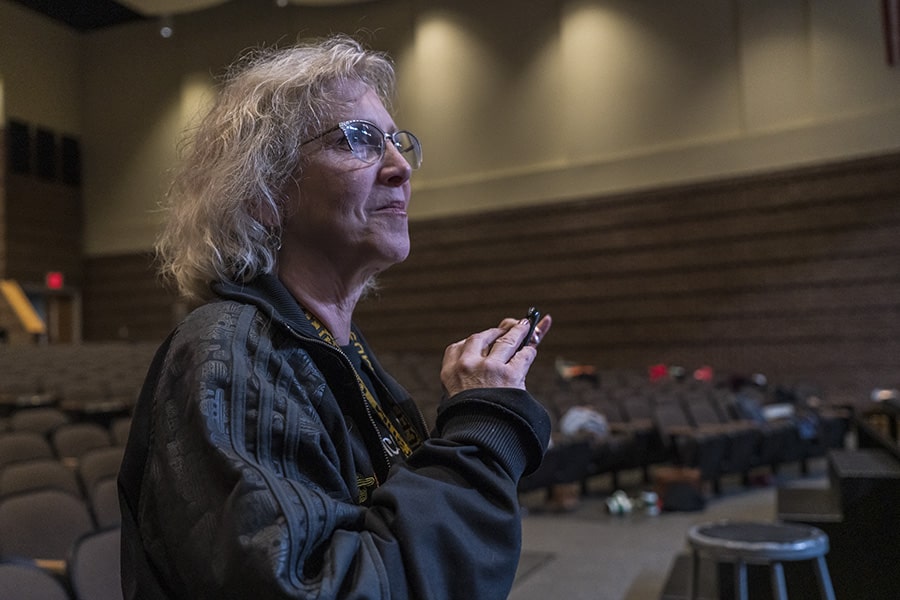 Madeline Michel watches her students participate in the master class. 

"The students already asked me when they [Moore and Cousin] are coming back," Michel said. "I cannot possibly describe how grateful I am for their work with my students. I expected professors at CMU to be knowledgeable and to be excellent teachers; I did not expect that they would also be so kind, patient, humble and loving to my sweet high school kids. Carnegie Mellon is so fortunate to have professionals like them on their faculty."

She encouraged people to submit their teachers' names for the 2020 EITEA, to be presented at the Tony Awards next June at Radio City Music Hall. Now, with the submission deadline extended to January 6, 2020, she hopes people will be inspired to act.

"In addition to what I've already received, I get the chance to send two students for free to the Carnegie Mellon School of Drama Summer Pre-College Program next year," she said.

"That's what's so great about this award. It's not about you, it's about them," she said, gesturing to her class. "You get the whole world opened to your students."

To submit your teacher's name and learn more about the EITEA process, go to tonyawards.com/educationaward