April 03, 2019
The Art of Blockchain
A hot technology could reshape creative industries
By Scottie Barsotti sbarsotti(through)cmu.edu
Media Inquiries
Scottie Barsotti
Heinz College of Information Systems and Public Policy
Blockchain — the decentralized ledger system that powers Bitcoin, among other things — is a hot technology that organizations are racing to understand and monetize. Startups abound, SXSW had a conference track dedicated to it, and many insist that blockchain will in time revolutionize fields from finance to manufacturing. But some of the most compelling uses for the technology may well emerge in the arts.
Students and faculty at Carnegie Mellon University have been investigating blockchain for years to better understand how it might transform business processes. Arts and cultural organizations may be able to derive value from blockchain even more quickly than other sectors.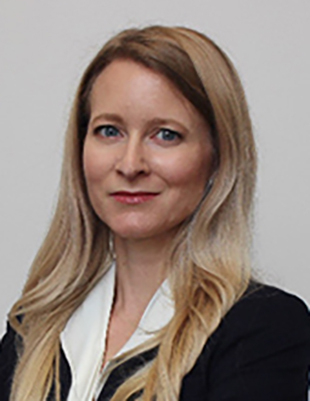 "It's pretty apparent how the arts can benefit from blockchain, in particular art buying and selling. It's an industry that relies on provenance and transaction history, and blockchain is well suited to that," said Jenée Iyer, a student in Carnegie Mellon's Master of Arts Management program along with the University of Pittsburgh School of Law. In her MAM-JD dual degree studies as well as in her role as chief editor of research at CMU's Arts Management and Technology Laboratory (AMT Lab), Iyer has done extensive research into blockchain and its applications for arts, cultural institutions and artists.
Where provenance is concerned, Iyer said that services have already entered the market, such as Artory, a blockchain-powered registry for artwork and collectibles. Auction house Christie's has been experimenting with blockchain to establish provenance and create trackable records for art sales. For living artists, placing their work on a blockchain registry would establish a chain of ownership tying back to the artist and the work's creation.
"This not only increases the value for art purchasers, but also increases transparency in an industry that is not always known for being transparent," Iyer said.
Blockchain and cryptocurrency could also create new opportunities to invest in art. Iyer mentions an increasing interest in fractional ownership of art, including the recent sale of fractional shares in Andy Warhol's painting "14 Small Electric Chairs" via the auction of crypto tokens.
The arts and blockchain — a perfect match
Strategies from the for-profit world often find their way into nonprofits, and Iyer said that's not a bad thing.
"It's important [for arts managers] to be abreast of any widely adopted customer service technology, because customers' expectations are evolving," Iyer said. "At the same time, taking advantage of tested technology that has improved efficiency in other sectors can help to reduce costs and better utilize assets."
While blockchain is still a new technology, Iyer said interesting opportunities for art collectors and museums are on the horizon, particularly as blockchain becomes further engrained in the shipping and logistics sectors.
"When museums put art on loan, they need to have a secure system and have a better idea of exactly where everything is and have a complete loan history," Iyer said. "The implementation of blockchain-based shipping systems may mitigate some of the risk of shipping art by enabling real-time tracking of shipments, increasing transparency, and lowering costs, [potentially] including insurance premiums."
Iyer also sees potential for the development of industry-wide cohesive systems run on blockchains.
"Open educational resources placed on a national blockchain would ensure a trusted content source for teachers and educators," Iyer wrote in a blog post for AMT Lab. She sees similar opportunities for libraries.
A new world for both artists and consumers
There are many ways that a decentralized system like blockchain can benefit institutions. But what about artists? Blockchain could create new opportunities for artists as well, in particular artists working with digital media.
"We live in such a connected society that it's very easy to share a digital artwork, but it's hard to maintain ownership or authenticate something that's been shared multiple times," Iyer said.
"Blockchain systems such as Verisart and Codex may be useful for artists who create work solely in the digital medium. Other platforms, such as R.A.R.E, allow artists to create limited edition 'lithographs,' so to speak. This allows them to establish scarcity, and thus generate ownership value."
The decentralized nature of blockchain makes it so artists and institutions can deal with collectors and consumers directly if they so choose, without involving a middleman. There are dozens of "blockchain music" startups and services, for example, that have entered the space promising broad benefits such as mitigating ticket scalping, streamlining rights management and payments, and more.
Blockchain systems also can improve data security, which tends to be a key concern for arts and cultural institutions, particularly those with high-value donors. But Iyer noted that not every solution is the right fit for every organizations, and that recent regulation, like GDPR, adds some complexity as well.
"Also, I think the nonprofit sector in general tries to be resource conscious, so the issue of blockchain's energy consumption needs to be addressed moving forward, but that shouldn't stop managers from investigating it," Iyer said.
Ready for a technological art world
Future arts managers and entrepreneurs need to know their way around technology, from artificial intelligence to augmented reality. The MAM program is designed to get the next generation of arts leaders comfortable and confident talking about technology and analytics and how they can help artistic and cultural organizations deliver on their missions.
Iyer said that's a big reason why she's at CMU. She has the ability to do deep research into technology in the arts, an opportunity she might not get anywhere else.