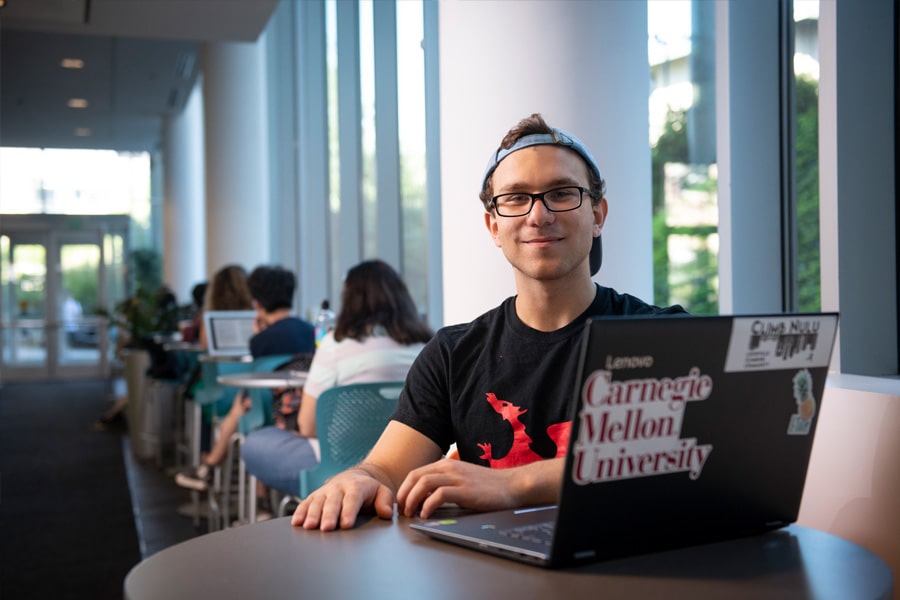 October 10, 2018
Lights, Camera, Science
SCS sophomore Abe Riedel-Mishaan featured in "Science Fair" documentary
By Byron Spice bspice(through)cs.cmu.edu
Media Inquiries
Byron Spice
School of Computer Science
Abraham Riedel-Mishaan seems an unlikely movie star. He's not an actor. No one stops the sophomore computer science major on the Carnegie Mellon University campus to ask for autographs. But he is featured in "Science Fair," a film festival darling now showing nationwide.
The documentary follows Riedel-Mishaan and eight other high school students as they prepared for and competed at the 2017 International Science and Engineering Fair in Los Angeles. Critics have described the film as "immensely likeable," "brilliant and quirky" and an "ode to the teenage science geeks on whom our future depends."
"'Science Fair' is a love letter to the subculture that saved me," said Cristina Costantini, who co-directed the film with Darren Foster. "As a dweeby kid growing up in a sports-obsessed high school in Wisconsin, the international science fair became my lifeboat. ... Science fair is where I found my tribe."
Riedel-Mishaan had already found his tribe by the time Foster, Costantini and director of photography Peter Alton showed up at duPont Manual High School in Louisville, Kentucky. He was enrolled in the school's acclaimed math and technology magnet program. A summer course in programming robotics sparked an interest in computer science.
"I really enjoyed how it was a perfect blend of mathematics and practicality, being able to do computer science both through a mathematical lens and also through the lens of a builder and being able to actually create something," he said.
The filmmakers came to duPont Manual because they knew the school regularly sends top competitors to the international fair. In fact, the school has its own regional qualifying fair.
"It was cool to have a film crew following us around," Riedel-Mishaan recalled, "but no one really knew what would come of it." The three filmmakers were gathering material on a number of students who had projects that might make it to the international fair. Just who would make the final cut and what would become of the little film was unknown.
Inspired by the 200th anniversary of French physician René Laennec's invention of the stethoscope, Riedel-Mishaan and two friends, Ryan Folz and Harsha Paladugu, decided their science project would be an inexpensive, 3D-printable stethoscope that could be used to detect heart disease in medically underserved areas. Paladugu focused on the big picture, including the design and testing of the stethoscope, while Folz concentrated on developing an easy-to-use app and Riedel-Mishaan devised an algorithm that could diagnose heart problems.
"Given our use case, we figured it was better to have a false-positive diagnosis rather than to have a false negative," Riedel-Mishaan said, noting that users would be prompted to go to a hospital or a physician for a definitive diagnosis. With that in mind, he selected three previously published diagnostic algorithms and merged them together, weighting the result of each algorithm.
"The idea was that the three algorithms together could beat any single existing algorithm," he explained.
The team began work on the project in mid-fall 2016, entered their first competition in March 2017 and ultimately qualified for the international fair in May.
The Louisville guys had their share of drama at the international fair, at one point being cited for an infraction when one judge mistakenly thought that the team had done human testing. The discrepancy was cleared up. Though the team didn't win any of the major prizes, it did scoop up a number of specialty awards, including one from the Acoustical Society of America.
The teammates went their separate ways at graduation— Paladugu to Harvard, Folz to Northeastern and then the University of North Carolina, and Riedel-Mishaan to Carnegie Mellon and the School of Computer Science.
"I chose CMU because of how much it embodied that mathematics and theory focus of computer science, and so far I have been really enjoying the ability to dig deeply into theoretical concepts with computer science," Riedel-Mishaan said. The film documentary receded into the background.
But then "Science Fair" won the audience award at the Sundance Film Festival and then again at SXSW. And then National Geographic bought the rights. Suddenly, "Science Fair" was no longer a little film.
"From there, it became really, really big," he said.
Riedel-Mishaan attended the premiere in Los Angeles in September, as did all the featured students except Paladugu, and later participated in a question-and-answer session at the Carnegie Science Center in Pittsburgh, where Science Fair is now showing. Even his friends on campus are beginning to become aware of it, he added.
Riedel-Mishaan said he is happy with how the movie turned out.
"It's not boring, for sure," he said. "I think it shows a true image of us."