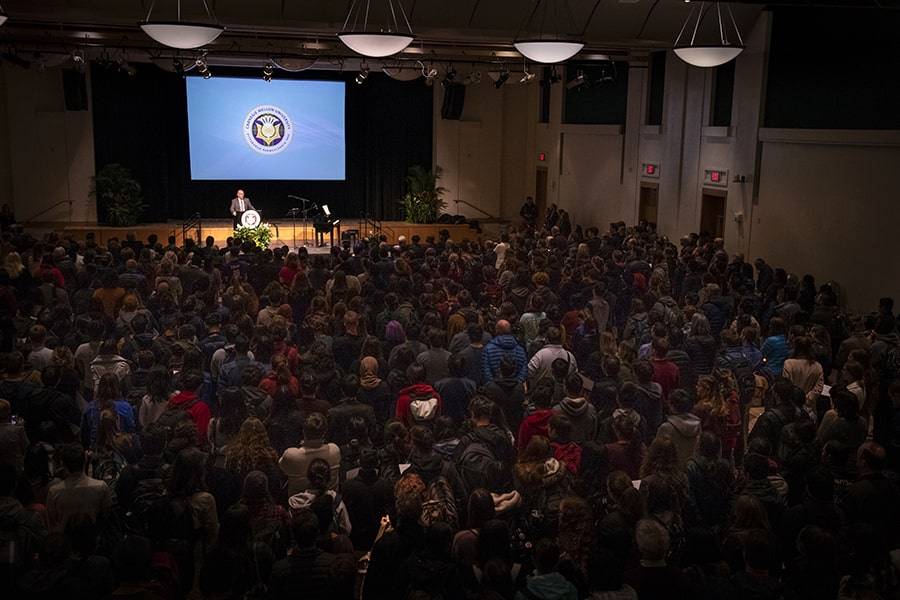 October 30, 2018
Campus Community Gathers To Grieve, Unite, Heal
By Bruce Gerson bgerson(through)cmu.edu
Media Inquiries
Jason Maderer
Marketing & Communications
The Carnegie Mellon University community gathered Monday to honor the victims at the Tree of Life Synagogue, to reaffirm its values of inclusion, diversity and respect, and to support and comfort one another.
In an emotional, one-hour service in a full Rangos Ballroom, speakers denounced hatred and bigotry, and praised the Squirrel Hill and CMU communities for their solidarity, compassion and resiliency.
"I want to take a moment to address our Jewish students, colleagues and neighbors," Carnegie Mellon President Farnam Jahanian said. "We love you. We support you. You are not alone. We surround you and we protect you. We stand together in solidarity with the Jewish community and with the city of Pittsburgh."
Jahanian noted many in the CMU community are members of the Tree of Life, Dor Hadash and New Light congregations, groups that were praying in the Tree of Life Synagogue at the time of the shooting. One member was Joyce Fienberg, wife of the late CMU Professor Stephen Fienberg. Jahanian said he saw Joyce and spoke with her at the symposium during his Inauguration Day.
"We stand together in solidarity with the Jewish community and with the city of Pittsburgh." — President Farnam Jahanian
"For me, it's a poignant reminder of just how important our everyday interactions really are. And just how fragile life can be," he said.
Jahanian encouraged the CMU community to begin the healing process by comforting and supporting each other.
"Our community is strong, resilient and united. A place where all are welcome, where empathy, compassion, inclusion and respect are embedded in our very foundation," he said. "There is no more important time to join hands with one another and showcase those values to the world."
Interim Provost Laurie Weingart has called Squirrel Hill home for 18 years. She said for every action, there is a reaction.
"We will remember Joyce [Fienberg] and all of the victims and dedicate ourselves to replicating the warmth they brought to this world. And we will strengthen as a community with our Jewish and Squirrel Hill neighbors and with the city of Pittsburgh," she said.
Weingart asked members of the CMU community to reach out to one another to talk about their emotions.
"Take comfort in knowing that we are all suffering in our own ways. But, we are resilient, and together, we will come out of this stronger than before. Together, we are a community. We are a home. We are Carnegie Mellon University."
Statistics Professor Joel Greenhouse also will remember Joyce Fienberg.
"Joyce was a person who reached out to everybody and would embrace them and make them feel welcome in Pittsburgh," he said. "When my future wife came to Pittsburgh, she had lunch with her on a regular basis. She was a very loving and caring person, who had the ability to make everyone feel as if they were the most important person in her life."
Rabbi Jamie Gibson of nearby Temple Sinai Synagogue said he was blessing a new baby when the shooting occurred. He was experiencing new life as tragedy struck across the neighborhood.
"I will never forget this act of cowardice, but I also will never forget that life will and must go on. Do not be afraid. Love and hope shall carry the day," he said.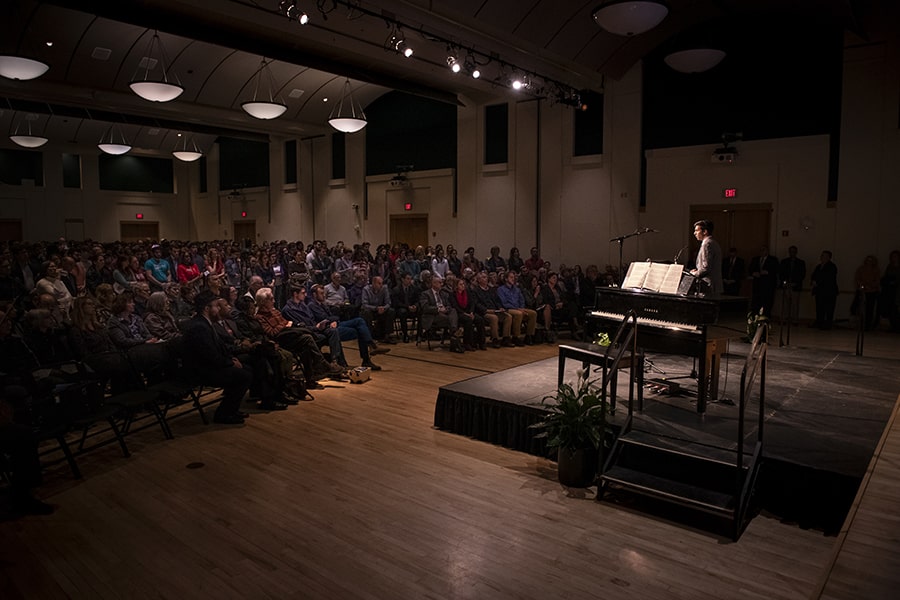 Student Alan Menaged was among the speakers at the community gathering.
Alan Menaged, a senior mathematical sciences major from New Jersey, was praying at Shaare Torah Synagogue on Murray Avenue on Saturday. He spoke about the welcoming and nurturing environments at CMU and Squirrel Hill.
"Families of Squirrel Hill have welcomed me with open arms. Many people have invited me to their homes and into their lives. I'm proud to be a Jew and empowered to adhere to my beliefs," he said.
Jonny Cagwin, coordinator of religious life programs, and Gina Casalegno, vice president and dean of students, reminded those in attendance of the many health and wellness resources that are available, including the Council of Religious Advisors, mindfulness room programming and the Counseling and Psychological Services center.
"You are not alone. You are surrounded by those who care about you," Cagwin said.
Casalegno said she was grateful for the work students were doing to organize events in support of the victims.
"I have seen CMU students step up in times of tragedy time and time again," she said.
Casalegno noted Sigma Alpha Iota sorority is sponsoring an Open Mic Night at 8:30 p.m., Friday, Nov. 2 in the Alumni Concert Hall. The event is free, but donations are being collected to benefit the Tree of Life Synagogue.
First-year student Tahlia Altgold appreciated the service.
"It really means a lot to me for CMU to hold an event like this," Altgold said.