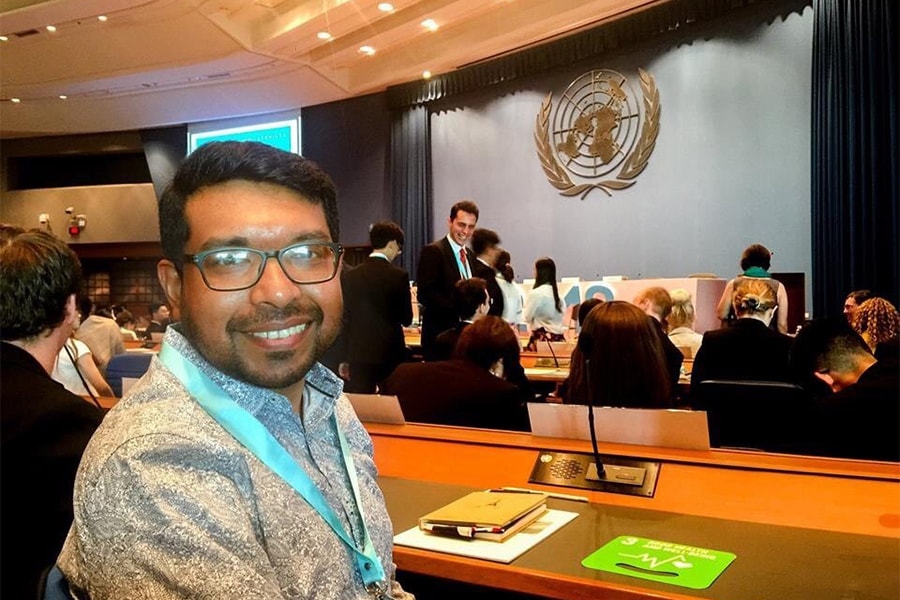 November 19, 2018
Student Joins International Delegates To Help Create Positive Social Change
By Kathryn Mitchell kmitchell(through)australia.cmu.edu
Carnegie Mellon University Australia student Zaidul Alam is using his skills and expertise to help young people learn more about the technology industry.
His volunteer efforts led him to be the first CMU-A delegate to the University Scholars Leadership Symposium in Thailand earlier this fall.
The symposium, run by the Humanitarian Affairs Asia and the United Nations Development Program, brings together young people to network and hear from world leaders who are making a difference through their leadership and innovative ideas.
More than 1,000 delegates from 87 countries participated Aug. 1-7 at The United Nations Conference Centre in Bangkok. The mission of the gathering was to empower university students and facilitate youth who are passionate about positive social change.
"Attending the University Scholars Leadership Symposium enabled me to network with other students who have the same passion and commitment to make the world a better place to live for everyone," Alam said.
A part-time student in the Master of Science in Information Technology program and a systems analyst for the South Australian Public Sector, Alam volunteers with STEMSEL Club Adelaide, which encourages early secondary school students to pursue science, technology, engineering and math as well as social entrepreneurship. He also mentors young graduates in the South Australian public sector.
"Education, particularly focused on technology, is the key to building a sustainable world," Alam said.
While in Bangkok, Alam participated in service activities, such as taking refugee children for their first-ever trip to a zoo. Other delegate projects included repainting the Suroutmaijaroen School in rural Thailand; collecting weeds and rubbish from local rivers; teaching English to elementary school students; and working on projects to improve education, reduce child abuse and care for the elderly in Thailand slums.
The symposium also included sessions and panels designed to build contemporary leadership skills with a global perspective. The student leaders were asked to consider ways they might lead and design change to address the suffering, hardship and poverty in many parts of the world. Former UN Security Council President Kishore Mahbubani delivered the keynote at the symposium.
"It was an outstanding event and one I hope other CMU-A students might consider in future years," Alam said. "While I was the first CMU-A student to attend the symposium, I hope I'm not the last."
Since 2006, Carnegie Mellon Australia has graduated nearly 500 students in information technology and public policy and management. The program, which is located in Adelaide, South Australia, is part of CMU's Heinz College of Information Systems and Public Policy and has attracted students from 26 countries.