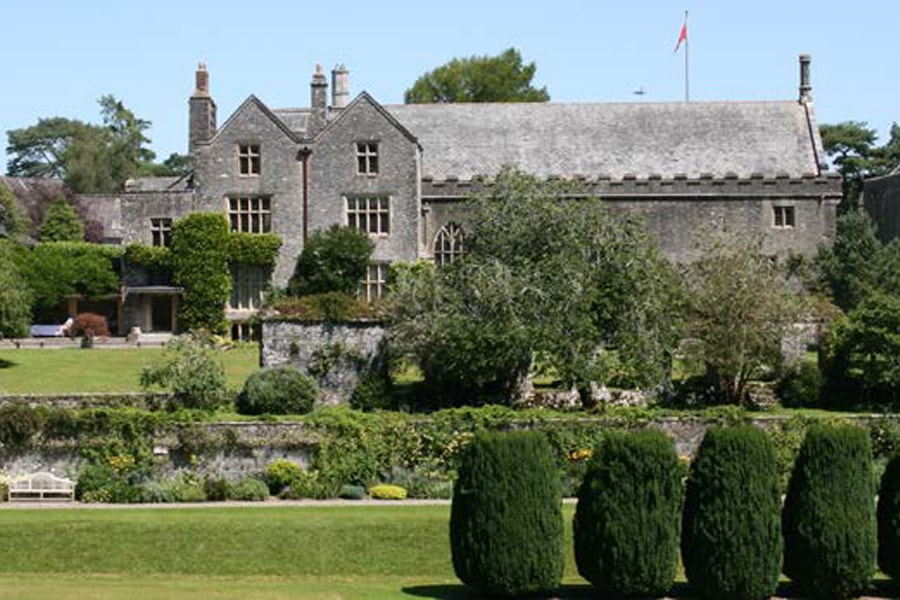 May 25, 2018
Global Experts Prepare To "Transition Together" Toward Sustainable Society
By Joe Lyons jwlyons(through)cmu.edu
Media Inquiries
For the first time, representatives from major movements and initiatives will come together to discuss the urgent need for sustainable societal transitions and systems-level change at "Transition Together 2018," June 21-22 on the Dartington Hall Estate in Devon, England. The 4th Transition Design Symposium will initiate connections that will make rapid transition possible.
Transition Design, an area of design research, practice and study conceived at Carnegie Mellon University's School of Design in 2012, acknowledges that we are living in "transitional times."
"It takes as its central premise the need for societal transitions to more sustainable futures and argues that design has a key role to play in these transitions," said Terry Irwin, head of the School of Design and co-organizer of "Transition Together 2018." "It applies an understanding of the interconnectedness of social, economic, political and natural systems to address problems at all levels of spatiotemporal scale in ways that improve quality of life.
"Transition Design advocates the reconception of entire lifestyles, with the aim of making them more place-based, convivial and participatory and harmonizing them with the natural environment."
The symposium's invited panelists, each representing a different area of transition-related activity or system change, will present their perspectives on societal transformation, which will inform and guide the two panel discussions on the first day.
Joining Irwin as panelists are Carnegie Mellon School of Design Distinguished Adjunct Of Professional Practice Cheryl Dahle from Flip Labs and Future of Fish; Laura Winn, head of the School for System Change and Forum for the Future; Sarah McAdam, delivery director for the Transition Network; Andrew Simms, co-founder of The New Weather Institute; Peter Newell of STEPS Centre at Sussex University; Jules Peck of The Next Systems Project; Damian White of Just Transitions and Rhode Island School of Design; Michel Bauwens of P2P Network and Commons Transitions; and Idil Gaziulusoy of Socio Technical Research Network and Aalto University.
Participants will take part in the discussions and join a growing worldwide network of people engaged in transition-related projects, initiatives and research.
On the second day of the symposium, a visioning session led by the renowned futurist and Carnegie Mellon School of Design Associate Professor Stuart Candy, will introduce panelists and participants to the role future visions play in societal transitions and the value of the foresighting process in catalyzing systems-level change.
"We really wanted to introduce the idea of long-term visioning as a transition strategy," Irwin said. "This is the first time all of these transition-related strands are coming together, and we're facilitating an opportunity for them to network and connect as a strategy for even bigger global change."
For Irwin, the inclusion of design and design thinking is key to addressing societal transitions.
"The argument here is that entire societies need to transition, and one-off disconnected solutions are no longer enough," she said. "Surprisingly, design has been absent from these conversations, yet it is responsible for making the physical artifacts and infrastructures of our world. Transition Design aspires to develop tools and approaches that can aid transdisciplinary teams working on transition and systems-change related projects and initiatives.
"We're using design to convene a global conversation," Irwin added. "Designers are always in service of something bigger, and every discipline needs to take up that posture. No one discipline can lead these transitions, nor can they solve these problems on their own."
The day-and-a-half symposium will feature keynotes from Michel Bauwens P2P Theorist & Founder; Stuart Candy; Rob Hopkins, Transition Town Totnes & Transition Network; Wendy Schultz, director of Infinite Futures; John Thackara, author of How to Thrive in the Next Economy; and Cameron Tonkinwise, Professor of Interdisciplinary Design at the University of Technology, Sydney.
Prior to Transition Together 2018, a 10-day short course on Transition Design will take place at Schumacher College, taught by Irwin, Gideon Kossoff, Cameron Tonkinwise and Cheryl Dahle.