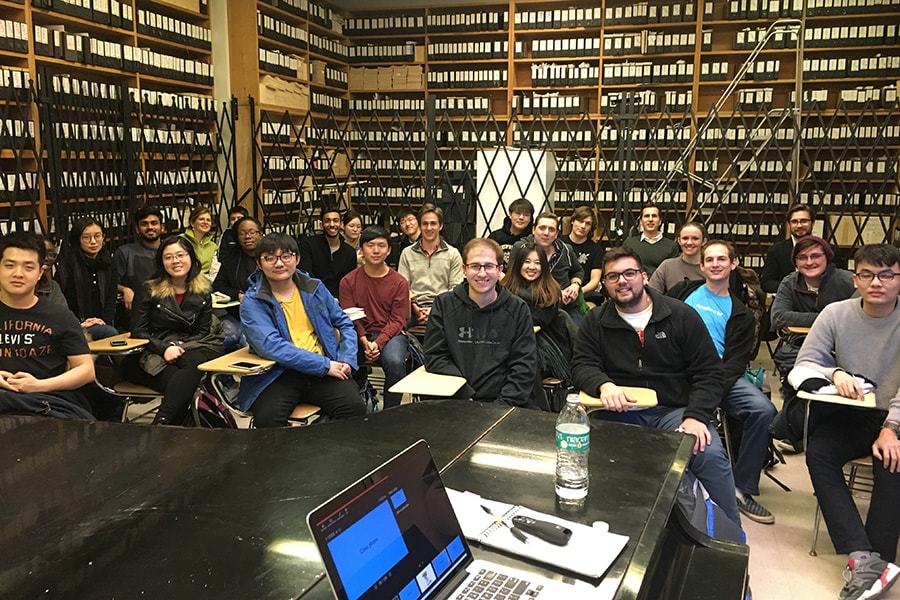 May 01, 2018
New Mini-Course Strikes Chord with Students
Inside the music and video technology industry
By Kelly Saavedra ksaavedra(through)cmu.edu
Carving a career path in the music tech industry just became easier for students at Carnegie Mellon University.
A new mini-course, "Inside the Music and Video Technology Industry," debuted this spring and was a hit among those looking to land unique gigs after graduation.
Students met face-to-face with people from some of the biggest brand names in the business, including Bose, Sonos, Adobe, Pandora, Dolby and more. From musicians to marketers, engineers to executive directors, guests shared their personal journeys, an insider's look at their corporate structure and the breadth of roles available to creative minds with a music background.
"A lot of people have the assumption that every job at a tech company requires you to be a coder, but that is not true," said Lance LaDuke, assistant teaching professor of music at CMU. LaDuke co-facilitated the course with Jay LeBoeuf, executive director of the nonprofit
Real Industry
. "Often what they are looking for are people who speak music, who can speak to the problems musicians have and how they are using the products."
LeBoeuf, a musician, entrepreneur, and an electrical engineer, is a lecturer at Stanford University. He opened and closed the mini-course with anecdotes and advice stemming from his 15 years working at leading media technology companies, such as Avid, Imagine Research, and iZotope, an audio technology company based in Massachusetts.
"My goal was to expose students to Real Industry's mentors, some truly amazing guests at the intersection of music technology and creative technology," LeBoeuf said. "We also provided students with access to an online library of 20 hours of video interviews and case studies that Real Industry created."
Gino Mollica, who studies vocal performance, learned how he could apply his marketing background in the industry and how different roles in the companies interact in terms of product management, development and testing.
"I would definitely recommend this class to others," Mollica said. "Students who have interests in computer science, music, technology, communications, business or marketing could all benefit from this unique course."
Abigail Lannan, who is working toward a master's degree in euphonium performance, said she was "hooked after the first class."
"Through our meetings and discussions, we gained a small group of diverse people to add to our professional networks," Lannan said. "Everyone who spoke to this class has been incredibly hardworking, insightful and generous, and a source of inspiration as we begin our journeys."
The mini-course will be offered again next spring. Meanwhile, students can look forward to more from CMU's partnership with Real Industry in the near future, namely the CMU Pandora Challenge coming this fall.
The CMU Pandora Challenge, first in a series of design challenges being planned, invites students to join Pandora and a famous artist in launching a national music marketing and playlist campaign. In the kickoff event, which takes place Sept. 17, and the four weeks that follow, students will work in teams with top industry mentors to design, launch, engage, optimize and drive traffic to a famous artist's social impact campaign while learning best practices for digital marketing and fan engagement. Early RSVPs are now being accepted. (
Learn more or RSVP now
.)
"Jay has done a really good job of de-mystifying how you might go about a career in this industry, and also what kinds of experiences can you put yourself through while you're here at CMU to position yourself to be that person these companies are looking for," LaDuke said.
"The students just seemed very, very stoked, and there was always a big, long line to talk to the guests after class. So, that means we did something right."