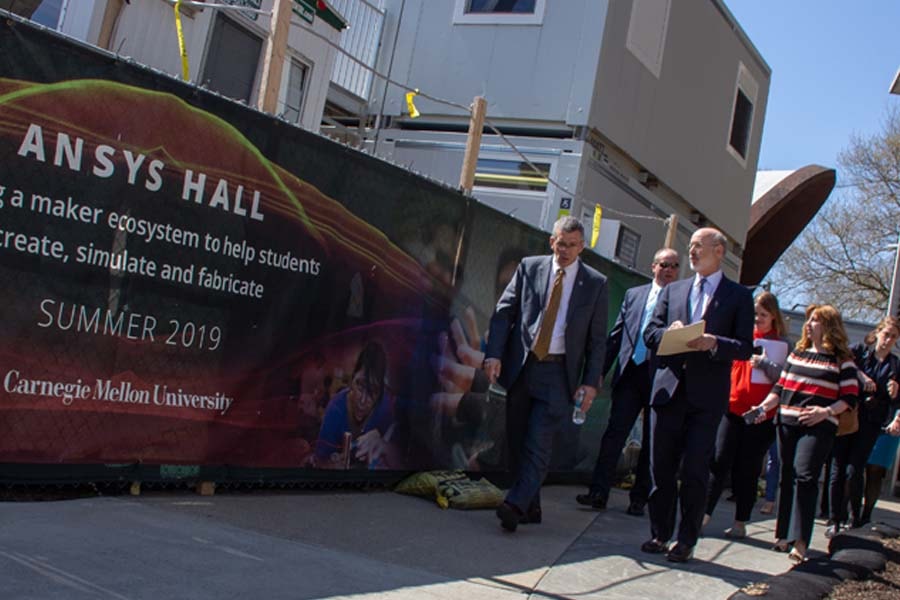 May 03, 2018
Governor Launches Manufacturing Initiative at CMU
Governor Tom Wolf announced the launch of the Pennsylvania Manufacturing Initiative, which leverages the internationally acclaimed science and engineering talent and discovery capacity of Pennsylvania's institutions of higher education to ensure that Pennsylvania remains a national and international leader in manufacturing and achieves the full economic potential for high-paying manufacturing jobs. Wolf made the announcement on Tuesday, May 1, at the Tech Spark on Carnegie Mellon University's Pittsburgh campus.
"We are going to do more in Pennsylvania to try to encourage manufacturing," Wolf said. "And we're trying to do that not by creating another silo, but by actually trying to get more collaboration across organizations that are already doing amazing work in this field, like Carnegie Mellon."
Tech Spark is the cornerstone of CMU's College of Engineering's maker ecosystem, an integrated set of resources where faculty and students create and develop new ideas, concepts and products for courses and research. The space houses a simulation cluster, 3D printers, rapid prototyping equipment, electronic fabrication facilities, and traditional manual and CNC machining to allow students and faculty to design and fabricate at the nano, micro and macro scales.
A main component of the Pennsylvania Manufacturing Innovation Program is the Manufacturing Fellows Initiative, which will support designated undergraduate and graduate student fellows at universities within the state to work with manufacturers. University faculty and students will address projects identified by industry to help advance new products or process innovations. Students will be paired with a Pennsylvania company, and the program will provide research funding for projects that will be catered to each company's needs.
"Partnering college students with local manufacturing companies will advance innovation statewide and prepare students for leadership roles in advanced manufacturing," said James H. Garrett Jr., dean of the College of Engineering.
.@GovernorTomWolf launches the PA Manufacturing Fellows Initiative from @CMUEngineering's Tech Spark maker space today. https://t.co/fQoNJldmmD https://t.co/cty6VSCs71 https://t.co/cty6VSCs71

— Carnegie Mellon (@CarnegieMellon) May 1, 2018
Ross Cunningham, a doctoral student working with Professor Anthony Rollett, professor of materials science and engineering and NextManufacturing associate director, spoke at the event. Cunningham participated in the Pennsylvania Manufacturing Initiative's pilot program.
"Through the pilot program, I was able to make connections and have conversations with industry engineers at Alcoa, now Arconic, early enough in my tenure as a graduate student to help guide my research in a direction that I can confidently say has made significant benefits to the 3D printing additive manufacturing industry as a whole," Cunningham said.
The initiative emerged from the collaboration of seven of Pennsylvania's engineering research universities: Carnegie Mellon University, Drexel University, Lehigh University, Pennsylvania State University, Temple University, University of Pennsylvania and the University of Pittsburgh, the Industrial Resource Centers, and the Department of Community and Economic Development. The goal of the program is to enable these institutions to seamlessly bring their capabilities to bear and support industrial innovation and position the Commonwealth at the forefront of the next wave of manufacturing.
The program will help reshape industries, from electronics to energy, materials, consumer goods and heavy equipment. Universities can submit project proposals at manufacturingpa.org until June 12, 2018, and will be notified by the end of July.
The Manufacturing Fellows Initiative utilizes many organizations that are on the front lines of working with Pennsylvania industry as referral partners. The Department of Community and Economic Development, Industrial Resource Centers, Ben Franklin Centers, Local Development District, Small Business Development Centers, Industrial Development Organizations and university corporate relations offices foster the development of university-industry partnerships and establish university fellow-industry mentor engagements.
Carnegie Mellon's global leadership in the research and development of advanced robotics, artificial intelligence, materials science and 3D printing is rapidly transforming manufacturing and catalyzing economic development in Pittsburgh and beyond. This transformation of the manufacturing industry is a new chapter for Pittsburgh, where the forging of steel was the bedrock of economic viability for more than a century and put the city on the map as a global economic powerhouse. Along with working with the state, research conducted by CMU's Manufacturing Futures Initiative and the Advanced Robotics for Manufacturing Institute epitomizes the Pittsburgh's ongoing evolution toward its global leadership and manufacturing future, attracting public and private sector partners and bridging the gap between manufacturing research and industrial use.