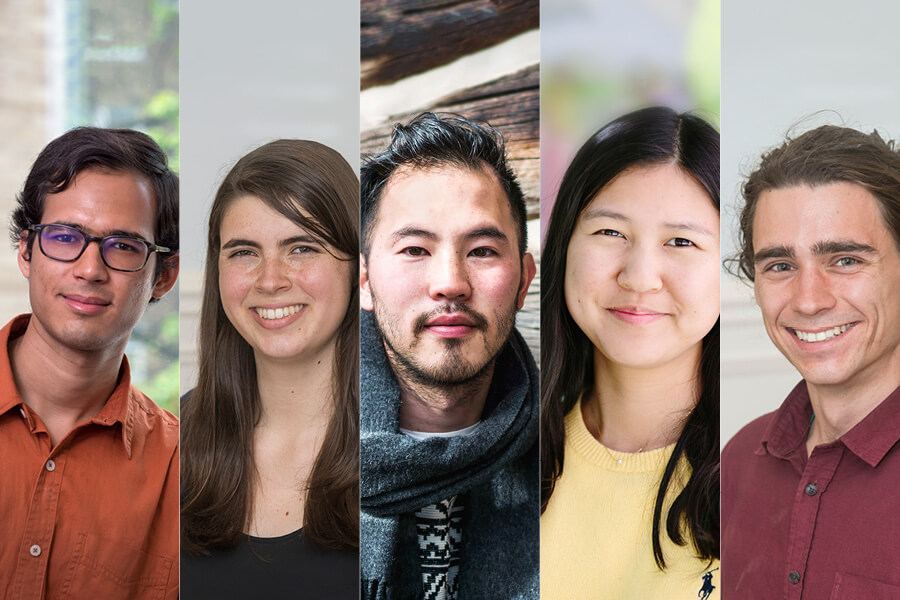 May 14, 2018
CMU Students, Alumni Receive Fulbright Awards To Study Abroad
By Julie Mattera jmattera(through)cmu.edu
Media Inquiries
Julie Mattera
Marketing & Communications
Carnegie Mellon University's five Fulbright Award winners for 2018 will conduct research and teach in Israel, Germany, Japan, Serbia and South Korea.
The U.S. Department of State's Bureau of Educational and Cultural Affairs sponsors the Fulbright U.S. Student Program to "increase mutual understanding between the people of the United States and the people of other countries." Winners are selected based on a number of factors, including their proposal, called a "Statement of Grant Purpose," academic record and personal qualifications.
CMU's Fellowships and Scholarships Office provides support to students who are interested in applying for nationally competitive fellowships and scholarships.
Richelle Bernazzoli, assistant director of undergraduate research and national fellowships in CMU's Fellowships and Scholarships Office said that the graduating seniors and alumni are excellent examples of the CMU community who will go on to make important contributions in their host countries through cutting-edge research, transformative teaching and meaningful community engagement.
"They have each, in their own way, made their mark on the campus and off-campus communities through their research, leadership and service, and have shown that they embody the Fulbright mission: engaging with the world to create deeper knowledge and mutual understandings," Bernazzoli said.
This year's Fulbright winners are:
Isabel Bleimeister, Class of 2018, Bachelor of Science in Cognitive Neuroscience with a minor in Biomedical Engineering
Bleimeister, of Los Angeles, has been awarded a Fulbright Study/Research Grant. She will work with Associate Professor Ilan Dinstein at Ben-Gurion University of the Negev in Beersheba, Israel, on autism spectrum disorder research. Bleimeister said she will study autistic children's pupil dilations and eye movements to differentiate between subcategories of autism.
Zhiwan Cheung, Class of 2016, Master of Fine Arts
Cheung, of Hanover, New Hampshire, will study the 1960s international art movement, Fluxus, as part of his Fulbright Study/Research Grant. In Germany, Cheung will study the art movement's origins and impact on German artists. By investigating Fluxus' visual, verbal and performative languages through archival research and workshops, he expects his work will enrich his understanding of the complexities of cultural identity within an international art context.
Amal Nanavati, Class of 2018, Bachelor of Science in Computer Science and Global Studies
Nanavati, of Fremont, California, will be traveling to Kyoto, Japan, for his Fulbright Study/Research Grant. He will be conducting research in human-robot interaction under the supervision of Professor Takayuki Kanda at Kyoto University. Nanavati's research will investigate how robots can learn to work and communicate with humans in smooth, natural ways by observing human to human interactions.
Theodore Teichman, Class of 2018, Bachelor of Science and Arts in Neurobiology and Music Composition
Teichman, of Loma Linda, California, will study music composition at the University of Arts and the Serbian Academy of Sciences and Arts in Belgrade, Serbia, as part of his Fulbright Study/Research Grant. His work will focus on the Balkan epic poetry tradition. Teichman will investigate the metaphorical connections between landscape, biological systems and mythology, and the human experience of coping and memory.
Louise Zhou, Class of 2017, Bachelor of Science in Business Administration and Human-Computer Interaction
Zhou, of Cupertino, California, will be traveling to South Korea for her Fulbright English Teaching Assistantship. Following orientation in Seoul, Zhou will teach English to middle school or high school students in a city outside of Seoul. She also plans to work with the Korean-American Educational Commission to help teach English to North Korean defector students looking to study abroad.