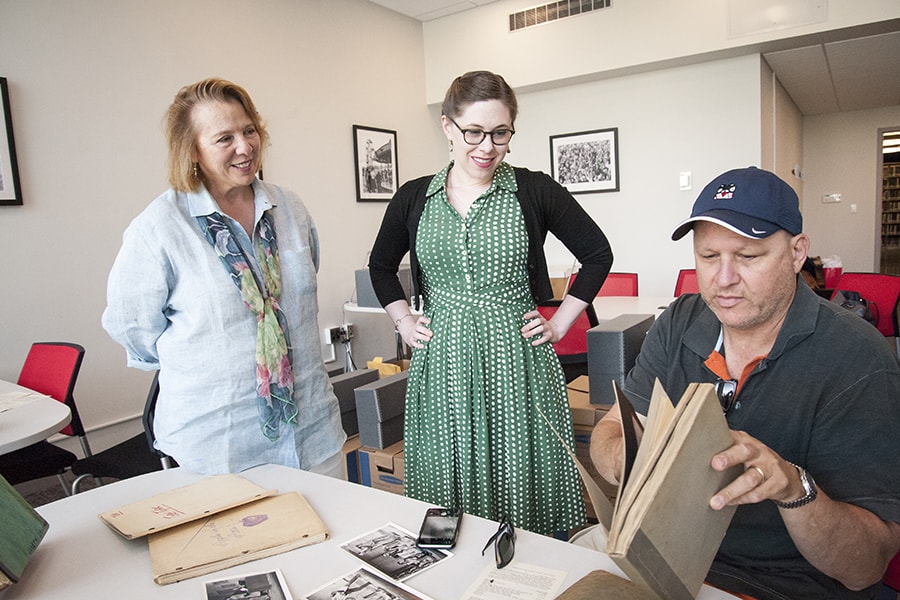 March 13, 2018
Carnegie Mellon University Acquires William H. Putch Archives
By Shannon Riffe
Media Inquiries
A collection of materials from Carnegie Mellon University alumnus William H. Putch documenting his career as the artistic director of the Totem Pole Playhouse has been gifted to the Carnegie Mellon University Archives by his daughter, Pamela Putch, and son, John Putch.
Under his 30 years of leadership, the Playhouse, in central Pennsylvania, developed a large subscriber base that was hungry for professional quality theater. Putch, who graduated from CMU's College of Fine Arts in 1949, ran the Playhouse from 1954 to 1983, directing over 300 productions, many starring his wife, Emmy Award-winning actress Jean Stapleton from the classic TV series "All in the Family." It was during his tenure that the Playhouse came to national prominence.
The William H. Putch Collection includes items from his life's work as a theater professional. His Totem Pole Playhouse production photo albums from 1954 to 1983 feature many CMU classmates and alumni. Along with press books, programs and posters, the donation includes journals on his approach to theater producing.
The years Putch spent at Carnegie Mellon are represented by scripts and sketchbooks for productions by CMU's Scotch and Soda theatre organization. Also included is a self-portrait that was painted in 1946 backstage at the Kresge Theater. In addition, his years at the Pittsburgh Playhouse as an actor and head of the school are documented in clippings, photos and programs.
"We are thrilled to place these archives in the institution that was our father's inspiration and artistic beginnings," said Pamela Putch, a 1981 graduate of CMU's School of Drama.
Sixty-four years ago, in February 1954, Putch answered an ad in Theater Arts Magazine searching for a "high class theater director" to head the three-year-old Totem Pole Playhouse in south central Pennsylvania. He gathered a few of his college classmates and drove four hours east to meet with the Theater Board Chairman. This trip would begin a life's work in the theater for the Pittsburgh native. Over the next 30 years, he produced, directed, acted and guided this theater to great acclaim, earning it the nickname of the "Cadillac of Summer Theaters."
"The William H. Putch Collection will be an excellent resource for students and researchers interested in regional theater in Pennsylvania. It also helps document a unique time at Carnegie Tech, when a large group of veterans returned to campus after the war," said University Archivist Julia Corrin.
The items can be viewed in the University Archives Monday, Wednesday and Friday, 1 - 5 p.m., and Tuesday, Thursday 9 a.m. - 1 p.m.